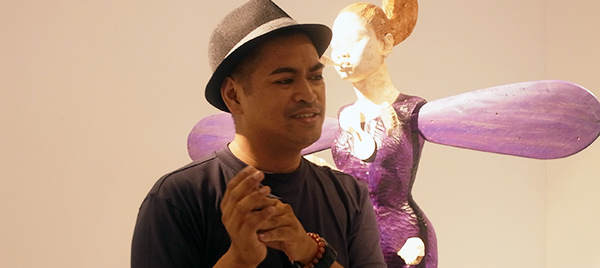 "Possible Full Body Apparitions" by Riel Hilario
Art Stage shares with us that early this month, they visited the solo show "Possible Full Body Apparitions" by Riel Hilario, on exhibition at The Drawing Room until 13 October 2013. There, they got a chance to get up-close and personal with the Filipino artist himself, going on thought-provoking journey with him as he shared with them his inspirations, motivations and how he overcame the many challenges he faced as a contemporary wood sculptor.
Please share with us on your artistic concept and inspiration for this exhibition?
The primary concept of the show was about the obsolescence of my practice as a craft-based wood sculptor in the context of contemporary art. While in New York from March to August this year – as a fellow of the Asian Cultural Council – I was frustrated with the fact that curators found my insistence of inserting craft back into discourse annoyingly retrograde. I was even told that I was desperate to resuscitate a dead trajectory of art, and that craft has fallen so much under commercial cultural trade that it was impossible for someone like me to breach the divide and be in the contemporary. Since the issue was death, I accepted it. I am indeed the last woodcarver of my family in four generations: I will be the last practitioner. However, while I accepted the fact of the death of practice, I reasoned that I could not be prevented to haunt the contemporary. That is why my show is titled so: I suggested that only by haunting and being a ghost can I find my way through the walls of the contemporary. Scare the hell out of the institutions, and also be mischievous.
The concept developed into a collaboration because of an insightful advice given to me by Janine Go Dimaranan, a literary critic and poet. She said that I should learn to locate myself in the politics of space. Having understood this, I decided to not work with New York in mind (too much politics) but with Southeast Asia and Singapore in particular.
We understand that you collaborated with a female poet in this exhibition. How is it like working together to put up this exhibition?
The collaboration brought out a lot of insights and possibilities in my practice and understanding of sculpture and space. It is ekphrastic in effect. The poet, Janine Go Dimaranan, was a former student and is a young but brilliant literary critic as well. She was the one who pointed out that my works deal with poetics more than aesthetics during an exchange of emails when I was in New York.
She is also some sort of a muse to me: I made several sculptures with her in mind for the past five years – all without the benefit of communicating with her for a number of personal reasons. When I was working in New York I wondered if an artist can make a work with an intended specific viewer/reader, so that the works' imagery are encoded messages to a particular person – and not to some abstract general public. So I sent Janine images of the works and she responded with an ekphrastic text, a poem in fact. She also wrote the exhibition essay.
Then she went a bit further and asked if she can curate the poetics of the space by dividing her poem into numbered parts that the audience can use to ambulate around the exhibition area. This was a form of social sculpture by way of poetics: the audience completes the work essentially by performing the poem by walking in the prescribed manner. I associate this process with the processions in the Philippines, in a practice called pamumuwesto, where ritual stops and pauses are made during a procession of religious images. We made a diagram of the ambulation using the gallery's floor plans and discovered that the movement suggested the idea of an infinity symbol, which was a leitmotif in all my works.
Sensing that her curatorial management of the space needed another level of resonance, I made three more sculptures when I got back from New York, as a response to her texts. One of them is a portrait of the writer (she didn't know that I'll be making that one). So in essence, the collaboration became a game of tag of sorts, a private conversation opened to people to see and be part of. Thus, in this manner, I was able to resolve (at least temporarily) the problem of authorship and authority in creative practice. The solution was: open up the process of exchange to others. Allow art to be communicative, even at least to one person.
This exhibit is the first of a series of projects we intend to explore further. We did one on psychogeography where she made a visual poem from my photographs of graffiti and signage in New York. Then I made a road map based on her poem, so that anyone can move around the city and perform the poem by going to where the images were taken. In a way, that helped me re-image New York by transforming it into a poem, akin to performative poetics.
Coming from a traditional woodcarving background, we're curious to know how has that influenced your contemporary art practice?
This question is perfectly phrased.
I used to believe that I was a traditional woodcarver looking for a platform of his practice in contemporary art. The collaboration and critique process that was part of the exchange allowed me to see that I am first and foremost a contemporary sculptor who just happens to be enamoured with the traditional woodcarving. This is because I am also a trained art historian and connoisseur of antique statuary. I am also a curator. So, how does that influence my practice? It is by studying wood carving techniques and works from different cultures that I get ideas on what and how to make pieces. It also amplifies my base knowledge of Ilocano woodcraft. That is what I have been doing for the past five years: I have been looking at and learning carving from different collections and communities all over, which explains my life as an artist-in-transit, which in turn is quite contemporary in modality.
As an artist who has participated in various International art residencies such as in Paris and New York City, could you share with us how has these residences honed your artistic practices? 
The residencies in Paris and New York gave me a sense of truth and grounding in practice. Let me elaborate:
As a student of art history in college in the 90′s I hated the fact that I was learning to "see" art from badly photocopied references and bad art reproductions. I quit the program because there was no truth in it, only simulacra. Only by sweeping through most art museums in Paris and New York and also in DC that I finally found the truth, or ground-truth, that I have been hankering after. After witnessing these works, I said: finally I have finished my education although sadly, not my degree, which is subject to a lot of hassle of re-enrolment and red tape of a state-run institution.
In the Philippines, this sense of "truth" is severely lacking in the practice of artists, because most have not travelled nor have seen the "originals" of the works they admire. This makes Filipino artists think of their profession as fanciful, artificial and inauthentic as simulacra. It makes me wonder how much the artists really understand their references due to this.
It is essential for an artist to not merely see art but also witness it. To be able to testify and say: there it is. After that, what the artist can make is based on such testimony, and hopefully brings him grounding. It happened to me.
My experience with residencies (and future engagements) made me think of authenticity as a value that I wish to pursue in my work and to provoke in others. Hence I was able to admit to myself that my work is a dead end. But I'd love to die gracefully.
In your view, what makes the Contemporary Art scene in Philippines stand out from other countries within the Southeast Asia region?
Does it really stand out? No, our struggle to articulate our aesthetics is no different from those in Southeast Asia.
We merely had the accident of being able to establish a good figurative tradition thanks to the Baroque and Academic influences brought in by the Spanish colonial period from 1600-1890. Then we had the great artists who went to the United States and came back with Modernist ideas that further made art practice more "updated". Contemporary art in the Philippines is more characterized today by more artists engaging in what has been called "post-local" projects, that is, there is not too much emphasis with "national" or "Filipino" identity – which was the byword in the 1990′s. I think we can still benefit from more criticality now. A lot of our presumptions of what Filipino art is, are but projections, speculations, propaganda and constructs of the period when we were so conscious of our own identity. As the late critic Leo Benesa asked, "What makes Philippine art, Filipino?" It is a loaded question, but also a tricky one. Artists from the post-war period until today have asked that and engaged that in their work. That is why the works of the 1990′s were so politically engaged: our sense of Modernism has been framed in Benesa's rubric. But as Singaporean curator, June Yap, proposed in her landmark show at the Guggenheim last March, "what if art practice has "no country"?"
That is why I prefer to think of my engagements with other communities in the world as city-to-city projects. The words "international" or "global" gloss over the fact that our encounters are really not that grand in scale, but in small face-to-face gatherings, coffee breaks, dates and affairs. So when I am asked about Philippine art scene, I respond, "Do you mean Manila-based art practice?" Because there are a lot of areas outside Manila where artists are engaging and transforming their communities. I, for one, am looking forward to returning to my home province, Ilocos, to bring what I have learned, back to the community; back to my family.
Please share with us your thoughts on the Filipino contemporary art scene. How do you foresee its future?
I think I have said enough about my thoughts on the scene in the previous answers but let me add another observation: the scene in the Philippines is in transit to a formalised and organised institution, which is good. This means the art market is learning to adopt good practices and do away with shady deals. The art market is good but it also makes artists a bit smug and soft. This should be a time for more experimentation and exploration. Living in an ethos where everything has to be "permissible" in order to be acceptable, I think it is high time for artists and writers to be more faithful to their craft and look for what is "possible" and not merely permissible. Even if it means going past the idea of "art", which has been the refuge of those making pornographic projects or weak protest action pieces.
I do not wish to foresee… I want to articulate what I think is needed. Also being a writer, I am currently writing a second book with other writers on the history of Philippine contemporary art for the past 30 years. Imagine the richness of our history… and yet, NO BOOK about it exists. A volume like that should be accessible to all art enthusiasts and stakeholders. It should be paperback and not some expensive coffee table book adorning shelves of collectors. This is my direct response to what Janine had told me: I am trying to help other artists locate themselves in the space and politics of Philippine art but I am also provoking young writers and critics to challenge the structure that we, of the previous generation, are going to make.
The future of Philippine art belongs to these young critics. They will be able to expose all our designs, our hubris, our false sense of security and faith. Likewise, the artists of the next generation need to be pitiless in self-criticism and be confrontational with the institutions that censor their practice and future practice. This means a confrontation with the right wing faction of the society. It will be ugly but it is necessary. I hope to make my contribution to this one day. We shall see.
About Riel Hilario
Riel Hilario was born Ronald Jaramillo Hilario in 1976 in Vigan Ilocos Sur. He is a fourth generation woodworker from the Jaramillos of San Vicente Ilocos Sur. He studied visual arts at the Philippine High School for the Arts as a state scholar and eventually took up painting and art history courses from the University of the Philippines.
While his first solo show in 1996 up to 2001 featured paintings and drawings, Hilario has perennially worked with hand-carved wood sculpture. he shifted to wood carving in 2002 even as he was a curator for galleries like Boston Gallery and Pinto Ar Gallery. He was selected as one of the representatives of artists from Luzon in the NCCA project Sungdu-an from which he received a grant to produce Iconologia (2003), which was shown in several galleries in the country, including the Cultural Center of the Philippines. 

Hilario decided to focus on full-time art practice (sculpture) in 2008. The following year he presented his series Aniwaas at Art Informal. This was followed by two more solo shows in 2010 – BaroBalasang at Art Informal and If an Apostle Looks In No Monkey can Look Out and Astral Projections (2011) both at The Drawing Room Contemporary Art in Makati City. Since then his work has appeared in shows and art fairs abroad namely, in Singapore (Art Stage Singapore 2011 and 2012) Hong Kong (HKArt11), Delhi (India Art Summit '11), London (Stories of Dreams and Realities, Rossi & Rossi Gallery), Basel (ScopeBasel 2011) and Jakarta (Lintas, Edwin Gallery, 2011). He also had solo exhibitions in Paris (2012), New York and Singapore (2013), following a spate of residencies and grants.
---
is an online showcase and magazine covering Southeast Asia's established and emerging visual artists and art scenes.
All author posts