16 is the age that is technically the threshold of womanhood. In ancient times it was earlier.
Using three colors of red , black and white as building blocks, I have deconstructed female characters from two of the greatest epics in Hindu Mythology – The Ramayana and The Mahabharata.
These two epics are the quintessential writings which are the bases for all societal and cultural 'rules, norms,guidelines' within which our society operates.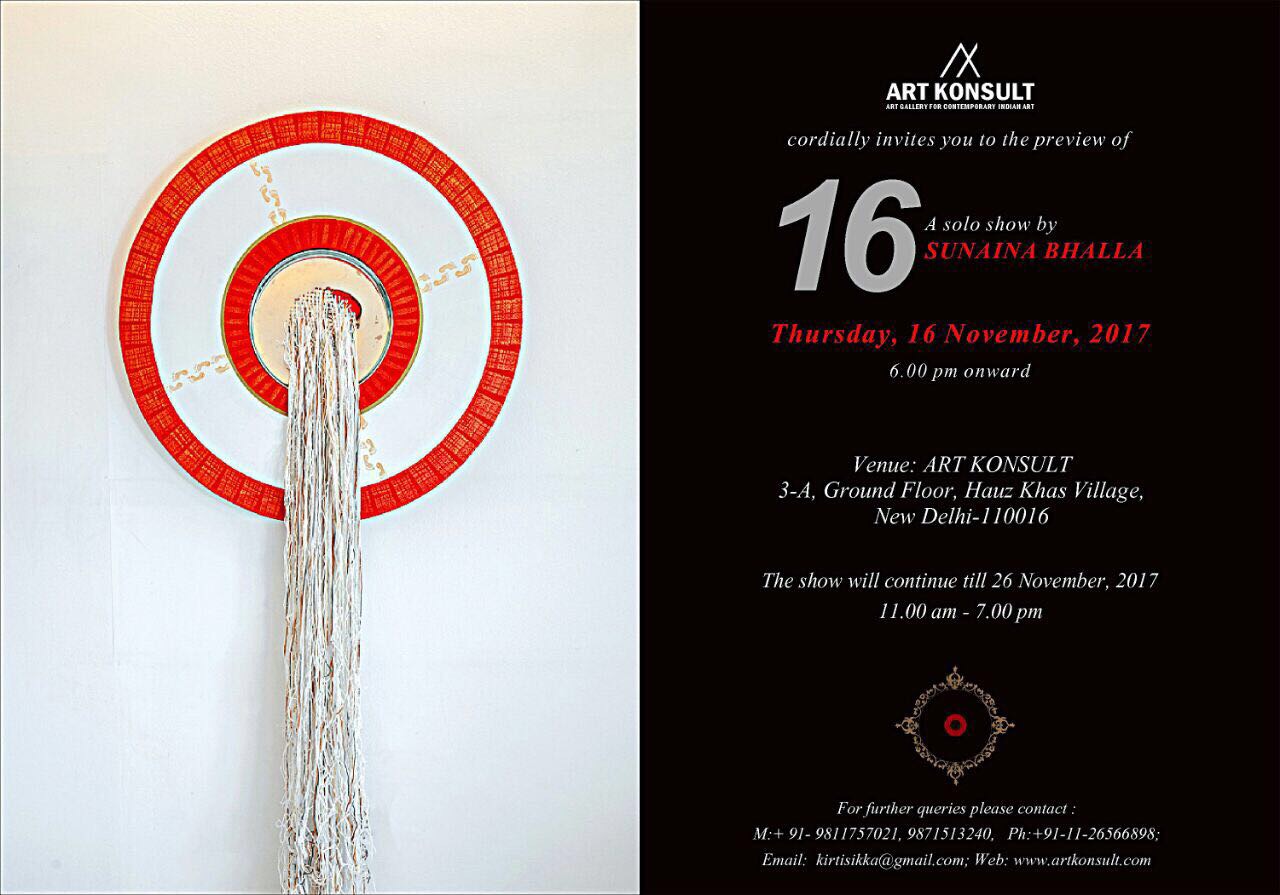 The sanctity of these texts is paramount however the interpretation is questionable. The ambiguity and the way these are interpreted becomes subjective.
Passion and aggression are two sides of the same coin, and can literally be interpreted as a metamorphosis of energy from the positive to the negative and the sexual connotations of the color red are just as vital to deconstruct. Red is the color for fertility but also the color for bloodshed and aggression.
These 16 women are examined through paintings, sculpture and installations, with the focus being on the relative balance between the three colors representing three different emotions that are experienced – with the balance of the palette denoting degrees of the dominant emotion.
Excerpt from an Essay by Ina Puri (curator and art historian)
The narratives pose a challenge; since defiance and acceptance are two sides of the coin. What the memories wash up are mythical heroines lauded and ridiculed in turns by generations of storytellers who add their own interpretation to the characters that epics had described as sacred divinities or a flawed spirit, unworthy of respect. In Bhalla's art the silent and saintly portraits are given a new spirit and soul. They speak up and demand that contemporary history give them another chance to explain their motives and to justify their deeds. Ahalya, deemed flawed, Surpanakha rejected for having dared to love the brave heart Lakshmana, Hidimba, Kaikeyi, Kunti, Amba, Savitri are the mythic protagonists who are similarly transported back into the present from ancient pages of Mahabharata and Ramayana, where they had lain for eons, consigned to a fate they did not deserve. The noble characters are aware of their alienation but instead of protesting choose to remain silent often with tragic consequences. It is as if the world of Indian mythology is reimagined and viewed with eyes that are not clouded with prejudice and narrow-mindedness. The classical tropes are discarded and in their place the artist makes imaginative use of glass, thread, fiberglass and canvas, alongside a minimal colour palate to achieve at lightness that is ephemeral, almost spiritualized.
Show:
Art Konsult Gallery
3-A, Ground floor, Haus Khas Village, Delhi -110016
16-26 November 2017
11a.m. – 7p.m.
---
Online magazine that promotes and markets Southeast Asia's established and emerging visual artists and it's art scenes. And a stepping stone for young aspiring visual artists to showcase their works to the world.
All author posts