Through A Common Ground, The Co-op investigates the act of "commoning," the creation of a space in which all resources are shared with the means of developing social processes.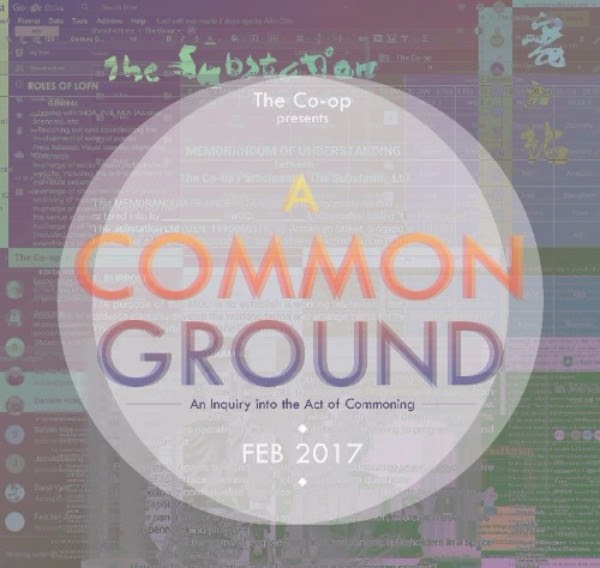 Experimental at its core, the main objective of A Common Ground is to produce a series of programmes that examine and interrogate the feasibility of establishing a commons in Singapore. A Common Ground is a month-long inquiry that will be examined through four anchor programmes:
Berita Harian Panas-Panas, a translation project; a recording project titled Something to Say; the on-site construction of an Off-Grid Autonomous Water System; and the ticketed concert togethergathergather
Find out more at https://www.theco-op.space/
7 – 26 Feb 2017
Opening hours: Tue – Sun, 11am – 7pm; Closed Mon
Opening Party: 9 Feb 2017, 7pm – 9.30pm
Gallery
Tue – Sun, 11am – 7pm
A communal translation project in which articles from Singapore's national Malay-language daily are translated to English for a non-Malay speaking audience.
3rd floor
Workshops: 4, 5, 11, 12, 17 February, 1pm – 3pm
Participate in "commoning" natural resources for all through a crowd-built water collection and cleansing system.
Box Office
Tue – Thur, 11am – 7pm; Fri – Sun, 2pm – 10pm
Got stories, gossip, songs and poems about the everyday to share? Something To Say seeks to engage people in a conversation about life, the way we live it, and what matters to us the most.
Theatre
18 February, 3pm – 10pm; $10 tickets at the door
Myanmar rock, void deck jiwang, ethnic fusion, all-girl hardcore, Japanese ska and more under the roof of The Substation.
Visit theco-op.space for full details on the above-mentioned programmes, as well as to apply / register for any one of them.
---
Online magazine that promotes and markets Southeast Asia's established and emerging visual artists and it's art scenes. And a stepping stone for young aspiring visual artists to showcase their works to the world.
All author posts