Seated in a traditional compartment inside an authentic teahouse in Chinatown, Sean Lam's steady but distant gaze makes a striking contrast with his pitch-black get-up. Amidst the peanut crunching crowd, the slow, reverberating lyrics of the timeless Cantonese song, A Moonlit Night On Spring River, suspends him in an ethereal stasis. He takes a sip of his tea and begins remarking about his upcoming franchise, the Geungsi graphic novels. His gaunt face accentuates the jaggedness of his cheekbones and jaw, and in that very moment, the transformative atmosphere images into one of Wong Kar-Wai's Hong Kong movie sets. A grim, engulfing sensation seems to be infused into the cold breezes of the harrowing air conditioner.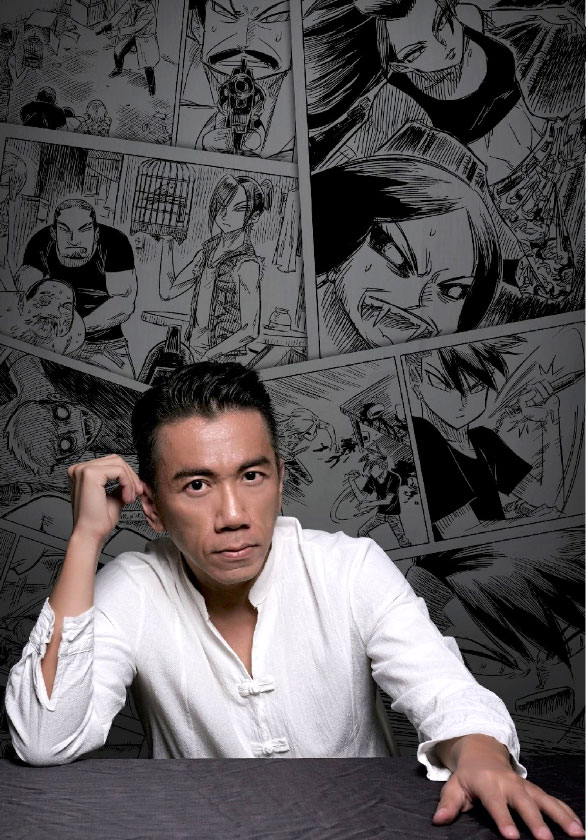 Sean Lam is still a relatively unfamiliar sounding name in Singapore. After all, he had spent the last twenty years pursuing his artistic ambitions overseas in Japan and the United States. To the Americans, Sean is a famous comics artist with more than three hundred thousand issues of one graphic novel published under his name, a hefty four hundred and eighty pages. Celebrated by his fans, he once won the AXN Art Awards and gained the Great Award and accolades at the International Comics Festival in France, 2005. Now in his early 40s, he returns to Singapore, his cherished home, with a determined aim: to transform his love for Singapore and his cultural perspectives moulded by Chinese traditions and customs into comics characters, given life by the dynamic stories they tell and breathe in.
Kampung boy
Sean Lam is a new generation Singaporean through and through. Growing up in the Kampong areas of Sembawang, Sean enjoyed watching the television. He was explicitly entranced by the legends and heroes in his favourite martial arts series and would doodle them on newspapers to recreate the stories. His parents, business owners themselves, supported his drawing hobbies, which his mom would accompany him to various drawing competitions. Every award he won became a matter of celebration for the entire family. As his gift for comic drawing began to unravel, his secondary school's art teacher encouraged him to pursue his studies in the specialised field. He enrolled in the Nanyang Academy of Fine Arts, took up graphic design courses, and focused on mastering his crafts in graphic novels and comics.
Rise of Graphic Novels
A graphic novel is a professional concept born in the new generation. It is distinctly different from what most understand of comic art and stories. Stephen Weiner, author of Faster than a Speeding Bullet: The Rise of the Graphic Novel, defined graphic novels as book-length comic books meant for reading as one story. By ascribing characteristics of literary works to comics, graphics novels can be considered an essentialised package more suitable for portraying more profound and broader themes for an adult audience.
At the end of the 1960s, as American consumers of superhero comics maintained their reading habits in their 30s and 40s, creators began altering traditional comic themes, portrayal, and publication methods to cater to their audience's growing desires for more sophisticated content. As a result, Eisner's magnum opus, A Contract with God, was identified for the first time as a "graphic novel" in 1978, a significant departure from the previous comic genre.
Not a new-comer
As an up-and-coming graphic novelist, Sean Lam will soon join the ranks with Sonny Liew and Johnny Lau as internationally acclaimed artists. Sean Lam's artworks capture the characters' instantaneous moments and transform them into immersive images imbued with vitality, expanding its readers' imagination. With vividly drawn scenes that mirror the characters' complex emotions, dreams, and desires.
The Japanese Invitation
After graduating from the Nanyang Academy Fine Arts, Sean Lam worked in several local advertising and design companies. And even spent some time working at MediaCorp, producing creatives for the theatre productions department. Then, an opportunity came when a famous mega anime studios in Japan offered him a position in 2003. It was a once in a lifetime offer which he couldn't refuse.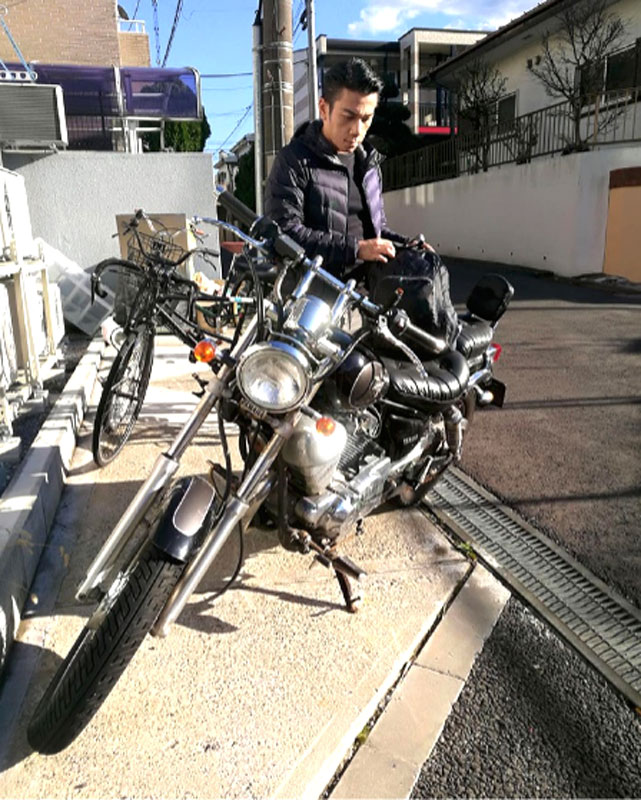 Japanese manga and anime have such a tremendous global influence that even manga and light novels published in the West strictly adhere to the Japanese's orthodox paging convention, from right to left. Be it the sweet romanticism found in widely acclaimed works of Miyazaki Hayao, or the sweeping zeitgeist of the kawaii artworks, Japan was synonymous with manga and anime, the cultural Mecca for all those profoundly passionate about its unique art style. For Sean Lam, after the initial sugar rush from embracing the industry with open arms, the inherent, immutable rules and mannerisms within Japanese culture began chipping away at his deep-seated longing for creative freedom. The traditional and conservative practices of the manga industry in Japan had shunned technology in the creative process. Unfathomable amounts of paper, ink, and colouring were expended just to complete one issue, with every edit requiring a restart from scratch entirely. Modern digital technology avoids the unnecessary wastage of time and resources and emulates the different brush strokes and colouring with uncanny precision and realism. This was the future of manga creation and illustration in which Sean Lam fervently believed.
Some esteemed artists and masters looked favourably upon Sean Lam's work; seeing his potential to scale greater heights in Japan has urged him to stay on. Nonetheless, after honing his crafts for a few years, he decided to leave Japan.
"In Japan, the traditions and rules, such as punctuality for work, were non-negotiable. Compared to their counterparts in New York or Paris, their attitudes towards upholding these standards confines that failure to comply will brand one as an outcast and alienated. Furthermore, all foreign artists who wished to publish their works in Japan had a Japanese name. A famous artist once recommends changing my name to Hayashi Ichiro, but I was proud of my identity and chose to sign off as Sean Lam. It was also a form of respect for my parents, who named me. However, I truly appreciate the recognition and support given by the Japanese masters."

Sean Lam
Next Stop: America
Having finished his work in Japan, Sean Lam left for America. He met the famous German author Thomas R. Hart, and gained support from the fourth-largest comic publisher in America, Seven Seas Entertainment. They spent four years coming up with a work that was purely drawn manually. It took three whole days to complete one page because of the demanding standards for each image. In 2009, the 480 pages work that cemented his place in the graphic novel industry, It Takes a Wizard, was finally published.
Considered as his peak, Sean Lam drew the attention and interest of many authors and publishers alike. Despite the popularity of Japanese manga in America, its somewhat restrictive distribution and publishing practices resulted in limited communicative avenues for cultural exchanges. Sean Lam understood this; his versatility, trilingual in Mandarin, English and Japanese and its cultural nuances allowed him to seamlessly meet the illustration demands of his international publishers, leading to his widespread popularity.
The graphic novel It Takes a Wizard described Manhattan as haunted by black magic, rendering technology dysfunctional. The Manhattan Kingdom, ruled by the wizard Everett Winterthorn, commands an army of giants, trolls, ghouls, and other deadly creatures. On the other side, the American military attempts to put up a resistance but to no avail. Back then, Sean Lam treated each image as an individual frame resembling a cinematographic still shot for the reader's enhanced visual immersion. With a positive reception, word spread, and producers became intensely interested in the graphic novel's movie adaptation.
Developing a comic culture mission
Like many of those returning to Singapore after time in the West, Sean Lam brought back his ambitions that are deeper and more significant.
"When you've been in this field, seeing the priority and recognition artists in Japan, US, France, and Germany give to comics and graphic novels, you begin to experience a sense of urgency. As a Singaporean, I have a mission of historical importance: to leave a legacy for Singaporean comics. Their countries take the comics industry seriously because they know that via such literary and art forms, values and customs can be passed down and used to propel the development of culture. Ninja, Samurai, Superman, Spiderman are all iconic figures of societies' cultures. They are important channels via which we seek affirmation from both society and its culture. The problem with Singapore is that it is too pragmatic, whereby everything is evaluated by its functional utility. Long ago, the master artist Feng Zikai once remarked that art and culture, being the most "useless", can be harnessed for the greatest "use" because art and culture sculpt one's mind and soul and achieve things materialism cannot satisfy. Therefore, I will create comic icons that belong to Singaporeans, companions to our mind and soul."

Sean Lam

These words were pondered upon for a long time. A reserved man, Sean Lam always appears to be deep in thoughts; a smile is seldom found on his face. But, in fact, he does enjoy thinking, meditating, and observing.
The Rise of Geungsi
"I like darkness because darkness can bring out what one feels inside. Compared to scenery, I prefer drawing people because I want to express what is inside. So many people's outsides and insides are different; they are hypocritical. The antagonism and unfriendliness we have inside of us are a self-defence mechanism against that."

Sean Lam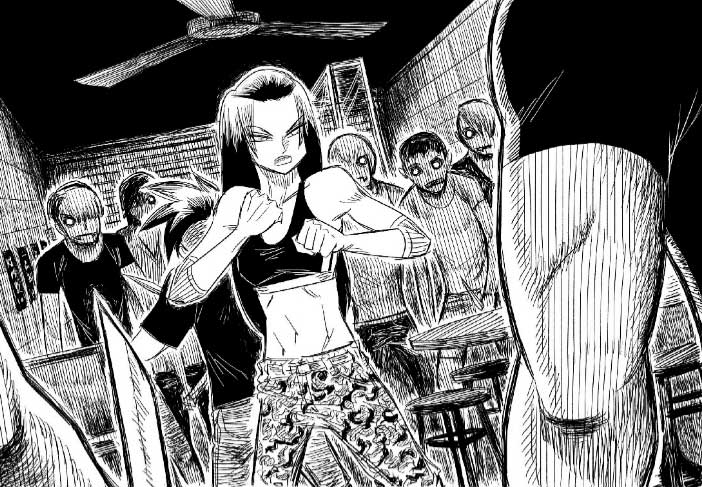 Perhaps because of this observation and judgment, Sean Lam chose the zombie (Geungsi, Cantonese pronounce) theme for his latest series. Born out of his love for apocalyptic movies, he decided to dedicate this story to the Hong Kong movies he watched. This trilogy takes place in China, Hong Kong, and Singapore, respectively, about a brother and sister whose family is tasked with eradicating Geungsi. They relocated to Singapore, studying in a junior college, with no one aware of their unusual past and mission. Yet, they know that the recent kidnap cases were not typical crimes as the Geungsi rampage and feast on the underground human blood black market. They survive on human blood and are unafraid of light; they could be one of us. The sibling's mission is to destroy every last one of them, yet they return to their human form when they die, burying with them their demonic forms.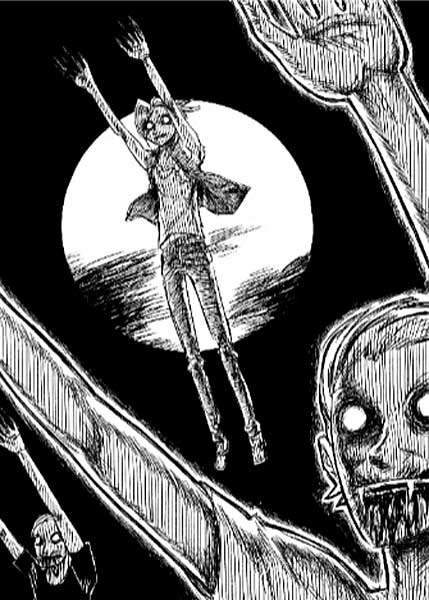 The globetrotter
The comics and graphic novels have taken Sean Lam worldwide, and he is now living his dream. Before his annual visit home, one and half years ago, he launched a preview of his work Red Dot on Amazon and had an overwhelming reception from fans. Hence, Sean set up an Instagram account (@seanlam_artist) to interact with his fans and brought his new work to San Diego for the annual global Comic-Con. However, with the spread of COVID-19, he had to alter his plans and stay with his family in Singapore. Nevertheless, he continued collaborating with overseas publishers and decided to extend his originally US-focused goals to Asia. Red Dot has consequently renamed Geungsi for his Asian readers.
Creating a Comic Culture
Be it locally or internationally, Sean Lam's ambitions inspired by graphic novels always had a grand perspective to them. He felt heartened by the liberalising creative field in Singapore. He took note of the unprecedented artistic potential of various local online platforms and other technologies during circuit breaker. As Singaporeans adapt to the new normal, transitioning to online studying, he bears tremendous expectations as his alma mater, NAFA, was promoted to the first local art university. He hopes to publish previews in local newspapers to encourage readers to start appreciating graphic novels. Beyond local themes and stories, he is also looking for cultural exchanges with other countries and regions. His works have already been translated into numerous languages worldwide. Although he is especially fond of China, he is already studying the country's various provinces and parts, looking to expand his supernatural universe there.
Sean Lam also aims to spread the influence of graphic novels into other fields such as microfilms, theatre, drama, music accompaniment/blogs, brand advertising, pure art, creative products, and even online games. On some levels, the rifts between people, accentuated by the COVID-19 situation, had him deep in thoughts about ways to recultivate the culture of sharing and caring. His recent engagements with parents and children through the community centres and schools are proactive plans to promote mature readership. He was also invited back to NAFA to give career talks, interviews and conduct mentorship workshops to groom and inspire his juniors. His goal is to transform his love for Singapore by refining and telling our local stories through quality graphics novels that can be appreciated on a global platform.
The artist had launched 2 Geungsi series, Geungsi Vol 1: Geungsi in the House and Geungsi Vol 2: Geungsi Brotherhood. A prequel will be launched later this year. For more info, check out its official Facebook Page https://www.facebook.com/Geungsi/.
About the author
Lloyd Zhao Hong, is an ink artist, art critic, curator, and special contributor to two local magazines, and a member of the Language Panel of National Gallery Singapore and a Permanent Advisor of Federation of Art Societies of Singapore.
---
Our art news contributors come from all walks of life. We are on the lookout for regular art patrons who write about the arts. Contact us if you would like to be a contributor on Artitute.com.
All author posts