Singapore is hungry and her appetite for contemporary art has increased.
This year's Affordable Art Fair (AAF) beats all expectations with a more than 40% increase in visitors and over a 70% surge in sales over last year's inaugural event. The eventual footfall of 13,500 for exceeded expectations, as did the total sales of $3.05 million.
Different from last year, AAF 2011 is larger by 30% with 78 participating galleries from Singapore, Asia, Australia and Europe – all showcasing an array of art forms priced from $100 to $10,000.

Pop and Contemporary Fine Art gallery owner, Saskia Joosse, showing us the famous diamond skull print from Damien Hirst.
Whether you are an art collector, a first-time art buyer, someone who just wants to get some inspirations or 4 years old, just starting school to doodle, the AAF 2011 has something for everyone. Besides having affordable art, there were activities such as free printmaking demonstrations by the Art & Printmaking Studio, talks on contemporary art by Sotheby's Institute experts, photography talks by Objectifs, educational children's workshops and a Recent Graduates section were also highlights of the long-weekend event.
Even on the last day of the fair, the Rhemas team were still packing the artworks like crazy, and they were rolling out of the F1 Pit Stop like hot cakes out of the oven. The Singapore event saw AAF's 1 millionth visitor – Serene Chew, who was not only surprised by the honour, she also collected a $500 voucher to spend at the Fair. What a lucky lady.
Affordable Art Fair was established in London more than ten years ago, to debunk the myth that collecting art is only for the wealthy and elite.
Look out for next year's AAF if you have missed this year's!

The Artists' Gallery Singapore's owner, Mr Philip Pang showing a guest some works from an artist.
Checkout the Affordable Art Fair's website for more details or join their Facebook Fanpage to get the latest updates.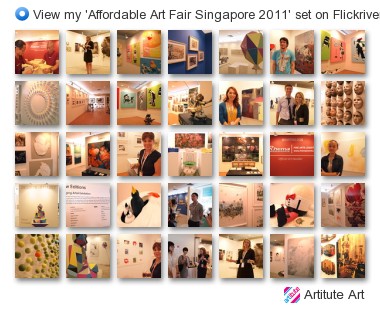 ---
When she is not doing art with kids or writing about art, Karen puts her thoughts and ideas onto her "TO BE HAPPY" line of merchandise.
All author posts