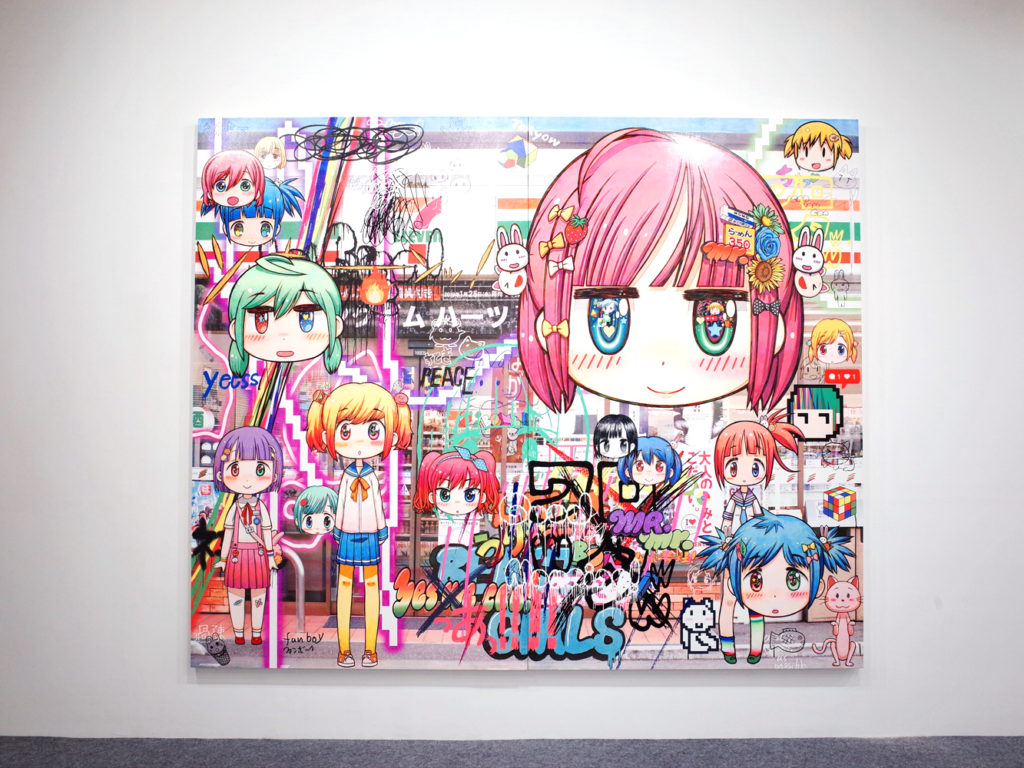 Mr.'s neo-pop aesthetics style spans across his paintings, sculptures, installations and videos. Associated with the Superflat movement, he uses Manga and Anime to portray his own personal fantasies. While he consistently draws his themes and motifs from the otaku subculture of fandom, he is more specifically a self-described otaku artist. His cartoonish visions are essentially inhabited by young characters, which are meant to evoke feelings of MOE (a Japanese notion relating to the adoration of fictional figures).
In a typical kawaii style, he sometimes blends childlike features (round faces, wide eyes, colourful hair) with innocent undertones. Contrasting with the bright cheerfulness of his all-powerful characters, a wider reflection upon solitude, social anxiety and fear further underlies his work. Namely, the chaotic environments, within which Mr. stages some of his exhibitions, echo both Japan's traumatic loss during the Second World War and the Fukushima Daiichi nuclear disaster.
Represented by Perrotin, which showcased 40 of his artworks at the inaugural Art Moments in Jakarta. Artitute had the rare chance to interview Japanese artist, Mr. Born in 1969, the young-at-heart artist spoke to Artitute about his artistic practice, lessons he had learnt from his mentor, Takashi Murakami, and his thought about the popularity of Manga culture with the new Millennium's generations in Japan.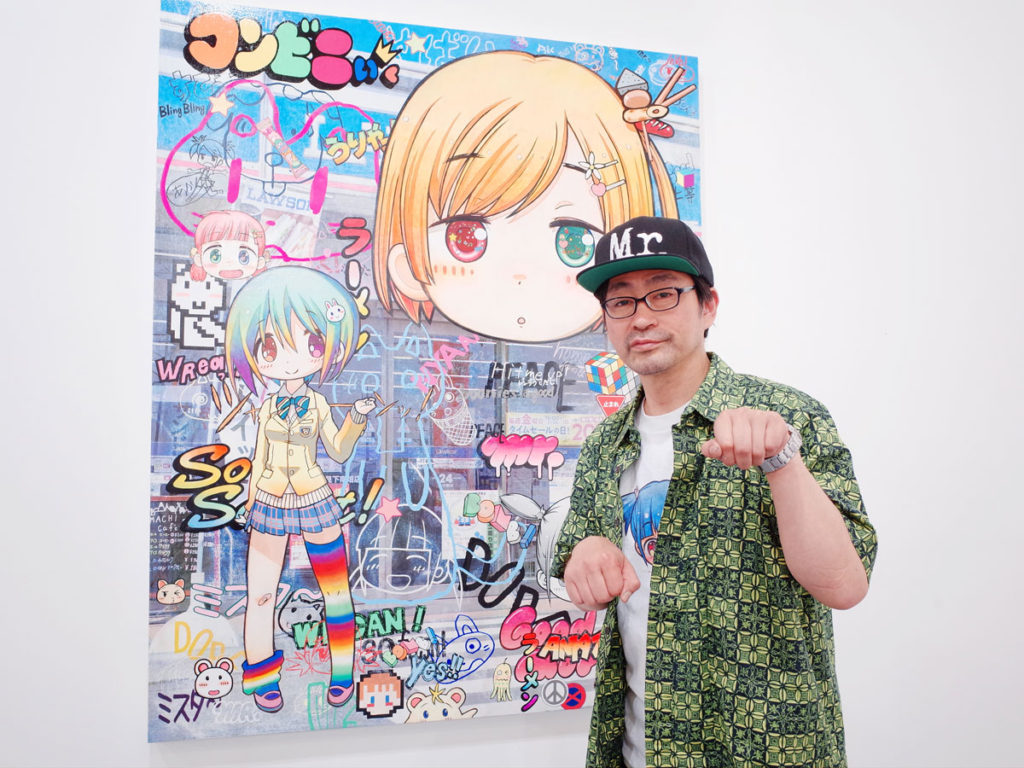 Artitute: Thank you for giving Artitute a chance to interview you. First of all, why do you choose Manga characters for your artworks?
MR.: I was born in 1969, during the year when the first man landed on the moon (APOLLO 11) and anime were popular programs to watch on the television in Japan. Hence, as a child, I watched a lot of Television programmes and became inspired to draw the characters that I saw. I was also a big fan of Manga. 
Artitute: The characters in your artworks are all female characters. Why do you only emphasize on them and is there a particular character in your artworks that is personal to you?
MR.: I was inspired by the heroic female anime characters, which appeared in the '90s. From the 1970s to 1980s, I noticed that there were mainly male heroic characters in anime. However, from the 1990s, Sailor Moon became one of the popular heroine anime characters. And 10 years later, another popular anime series called Pretty Cure dominated the anime industry in Japan. Hence, my artworks only feature female characters because I want to provide them with power in our society.
Artitute: Your last exhibition titled '"Melancholy Walk Around the Town" was exhibited at Perrotin Gallery in Paris. How did you come up with this title and what does it mean?
MR.: As someone who likes to stay home and doesn't go out often, when I do go out, I only walk around my estate and chat with my neighbours and friends. Hence the title, 'Mr.'s Melancholy Walk Around the Town' was inspired by my walks around my neighbourhood.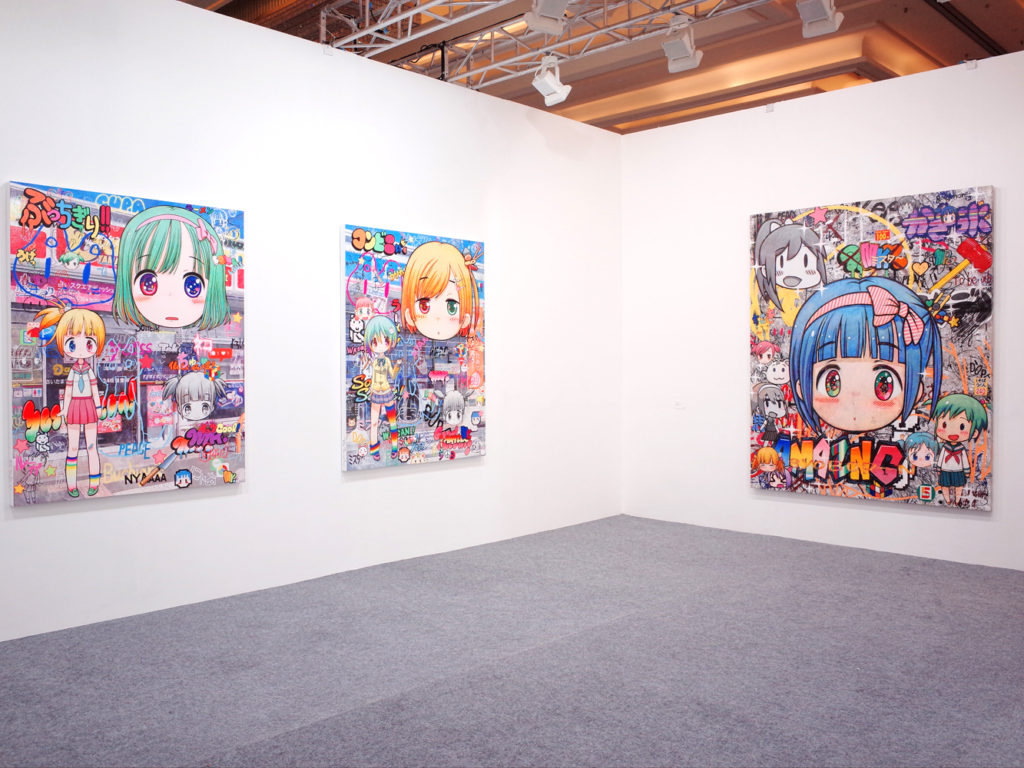 Artitute: Could you tell us a bit about your artistic practice? And when an art gallery like Perrotin approaches you to be part of an international art fair, do you already have an idea of what you want to create for the show or do you work with the curators to create fresh works?
MR.: My process is very simple. I gather feedback from my collectors and visitors on what they think about my drawings and then work together with the curator to create new pieces that I hope my collectors will like.
Artitute: 40 artworks have been specially curated for the inaugural Art Moments Jakarta. What is your inspiration for this selection?
MR.: The selection shown at Art Moments are not specially selected for this exhibition. It is a compilation of my previous works, especially the sketches, which I have saved over the years. The mermaid artwork, which is the centrepiece within the sketches, was drawn by hand 12 years ago. It's one of my original hand-drawn pieces.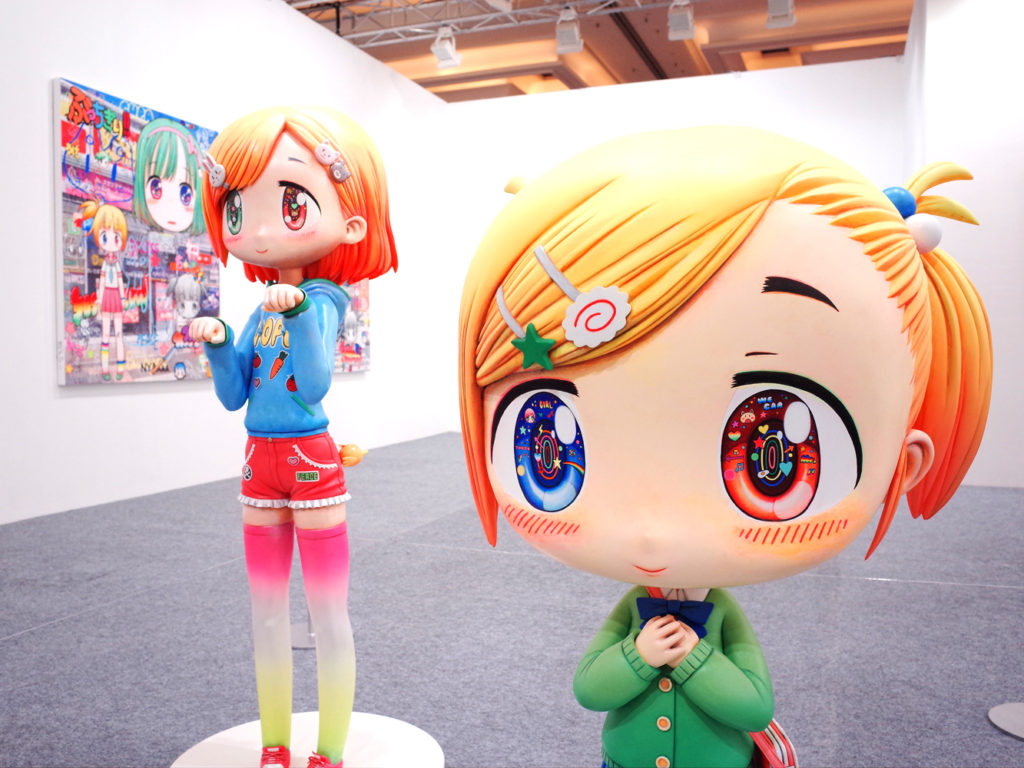 Artitute: In this digital age, do you feel that the Manga/Anime culture has changed over the years in Japan and around the world? Will it still be popular with the new Millennium generation or will it slowly disappear with the older generation?
MR.: I think that it will still remain popular, and instead of disappearing or dying out, it will instead grow to be more popular as the number of anime increases. The number of fans has grown over the years especially at the anime fairs.
Artitute: You specialize in Superflat, an art movement founded by the artist Takashi Murakami, which is influenced by Manga and anime, and you are also known as his protégé. Do you feel pressured by this association and what are the most valuable lessons you have learnt from him for your practice?
MR.: I'm not pressured from being associated with Takashi Murakami. The most valuable lesson I have learnt from him was not just about the art, but also how to live my life as an artist and how to project manage my time and business.