The much anticipated Art Central opens again this 27 – 31 March 2019 at Central Harborfront, Hong Kong.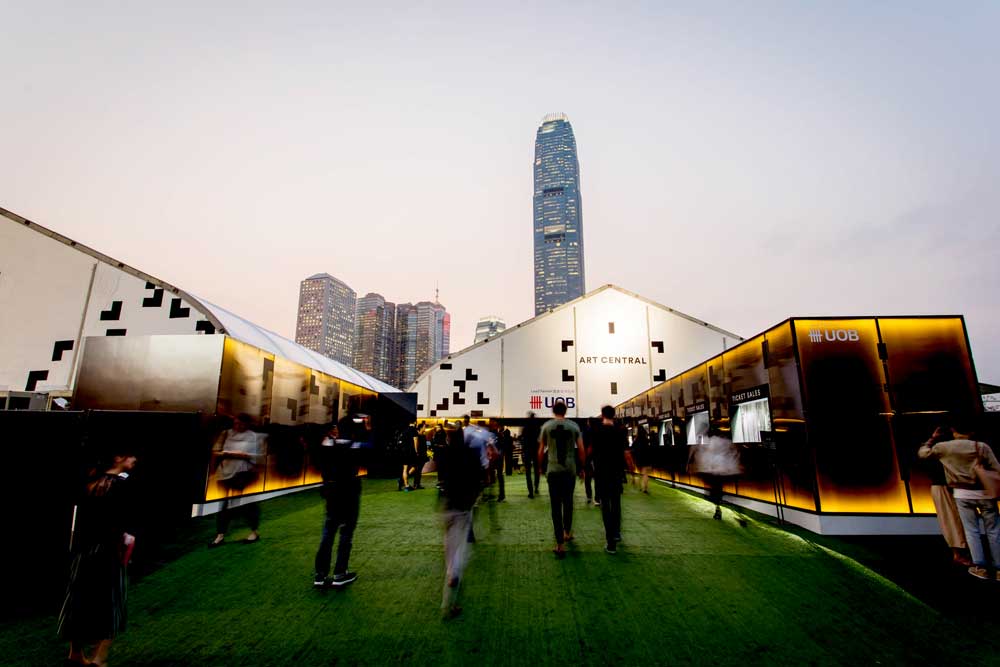 This year, together with Lead Partner United Overseas Bank (UOB), Art Central will be presenting featured performances from Performance X 4A in collaboration with 4A Centre for Contemporary Asian Art, and selected artworks from PROJECTS, a sector dedicated to immersive and large-scale installations, curated by Ying Kwok, an experienced independent curator from Hong Kong. Art Central takes place at Hong Kong's Central Harbourfront from Wednesday, 27 March to Sunday, 31 March 2019 (VIP Preview / First Night on Tuesday, 26 March).
Entering the fourth year of partnership with Art Central, 4A Centre for Contemporary Asian Art (4A) returns with four interactive performances by leading contemporary artists from across the Asia-Pacific region, examining ideas of time and duration, questioning the futility and fruits of human endeavour. The passing of time, the exhaustive state of perpetual busy-ness and the act of counting down are all addressed by leading contemporary artists through a series of daily on-site performances. The participating artists are Bettina Fung (Hong Kong/United Kingdom), Brian Fuata (Australia), Minja Gu (Korea) and Siu Lan Ko (Hong Kong/ Canada).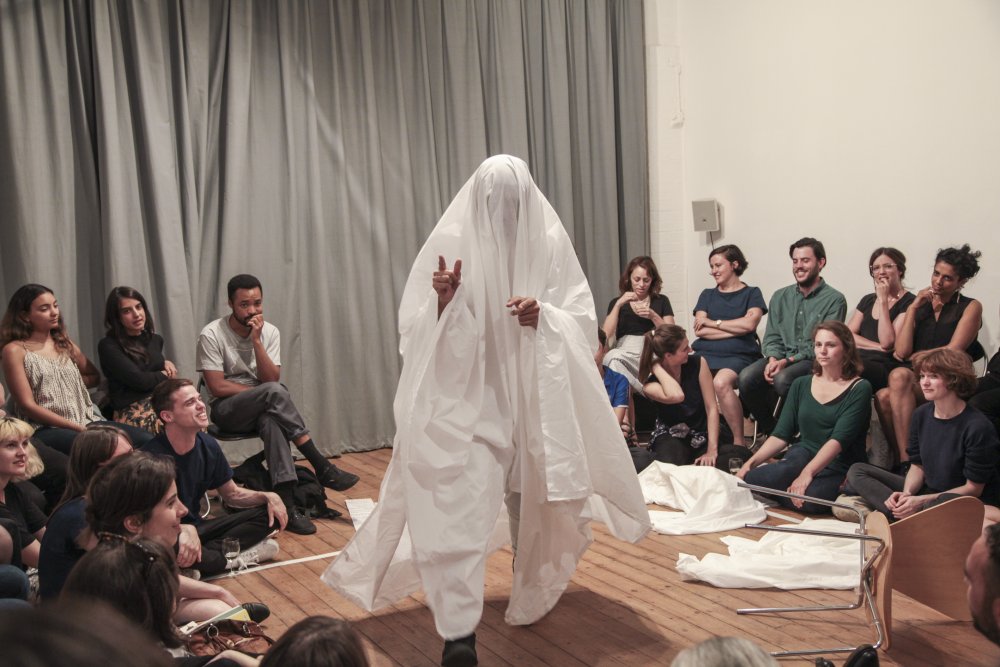 PROJECTS provides Art Central with a platform to support the presentation of contemporary art with aspirations of scale and non-traditional approaches. Investigating historical and cultural narratives through a variety of mediums within a focused curatorial framework, PROJECTS presents six cutting-edge installations featuring Angela Yuen (Hong Kong), Cheuk Wing Nam (Hong Kong), Heri Dono (Indonesia), Lê Giang (Vietnam), PHUNK(Singapore), and Seungean Cha (Korea).
Performance X 4A in collaboration with 4A Centre for Contemporary Asian Art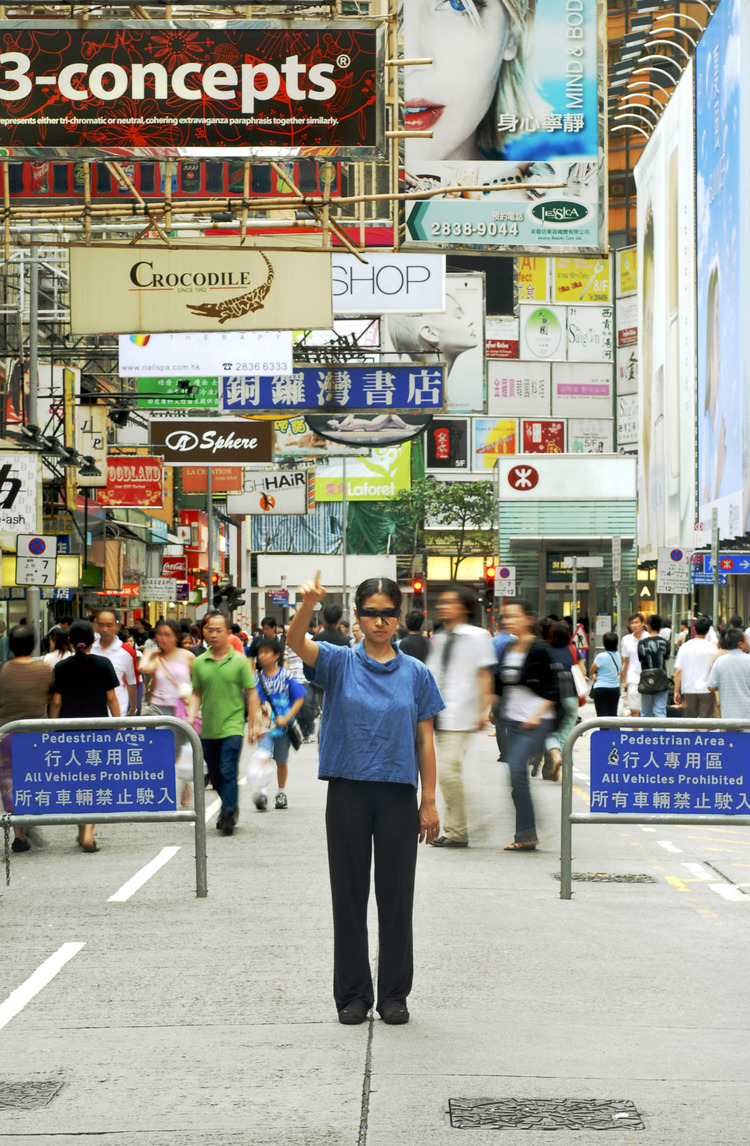 Mikala Tai, Director of 4A Centre for Contemporary Asian Art, comments,
"In 2019, 4A Centre for Contemporary Asian Art returns to Art Central for its fourth year with Performance x 4A. The hum of the art fair will be interrupted by a series of bold performances showcasing the works of four leading contemporary Asia-Pacific artists that examine ideas of time and duration and question the futility and fruits of human endeavour."
Canadian-based Hong Kong artist Siu Lan Ko creates text-based installations and durational performances that examine ideas of space, geography and nationhood. Drawing inspiration from cylindrical prayer wheels found in temples, the work, both a performance piece and interactive sculpture, takes the format of three large spindles, each printed with words that describe the political trajectory of Hong Kong. As audiences interact with them, they form evolving sentences that reflect the continuously developing relationship between Hong Kong and China; "Hong Kong is Hong Kong", "Hong Kong is China", "Hong Kong isn't China", "China is Hong Kong".  Reflecting on Hong Kong's 50-year period of transition, Siu Lan Ko invites Hong Kong performance artists to activate the installation with her in innovative ways that test the boundaries of duration, politics and performance. Visitors will also be invited to turn the spindles and consider their ideas of Hong Kong, now and into the future.
Expanding on a previous project, Korean artist Minja Gu has been commissioned to set up a restaurant-cum-exhibition-cum-relational aesthetics project in an art fair setting, where she adopts the persona of a cooking infomercial personality, using the ubiquitous two-minute noodle packet as a tool to prompt conversational exchange about food culture and societal pressure to conform. Through the performance, the artist seeks to mimic contorted media and commercial imagery in a pursuit of perfection – an act that takes much longer than the prescribed two minutes. Having never travelled to Hong Kong, Gu will use this cooking platform to understand the unfamiliar ingredients, politics and processes of the city – something which she hopes fellow sympathisers at the fair will help her navigate.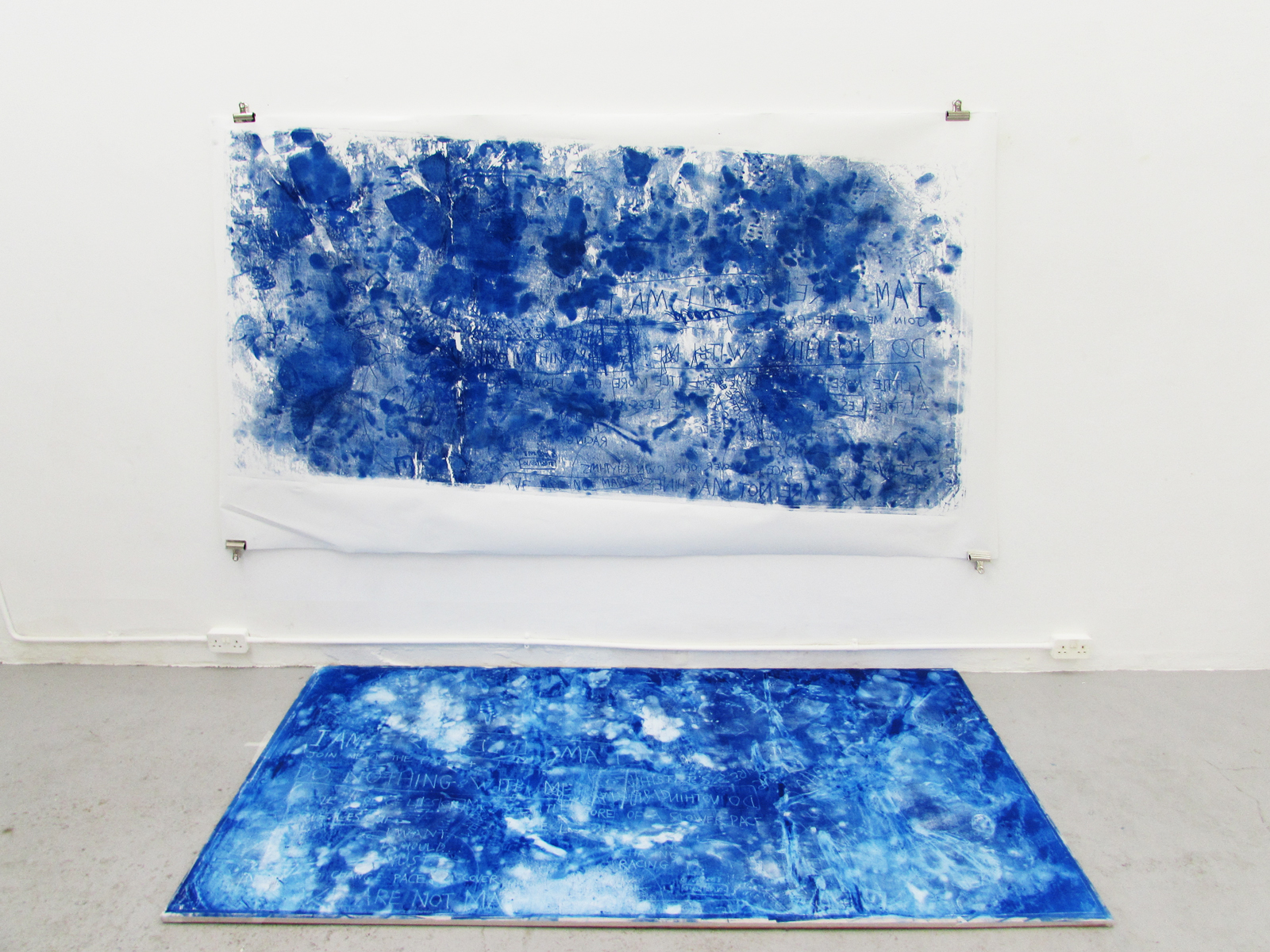 Best known for her performative drawing practice that invites collaboration from the audience, Hong Kong born British-Chinese artist Bettina Fung will present I am tired with you – a piece that is fundamentally anchored in the traditions of print-making. The artist opens the performance with a plate filled with heavy-duty pigment before layering a piece of paper on top. As the paper adheres to the paint, members of the audience are invited to play the role of the printing press by writing, walking and conversing about a contemporary culture of busyness, sharing their reflections on fatigue and labour relations, while simultaneously contemplating possibilities of "non-doing". Each of these audience interventions forms a palimpsest of mark making on the painted surface, creating a collective mind map of the audiences' thoughts on the subject.
Sydney-based Samoan, writer and performer Brian Fuata has been commissioned to present his signature 'ghost' performance – a living series that considers the images of ghosts through a durational performance.  Both an actor and artist, Fuata infuses dead pan humour with performance routines, combining bed sheets and mineral water in a clever cocktail that travels through the entire emotional, artistic and entertainment spectrum. This performance will traverse the fair, engaging with works from booth to booth, providing visual stimuli for his evolving poetry.
PROJECTS curated by Ying Kwok
The curator of PROJECTS, Ying Kwok, said,
"This year, PROJECTS has brought together a selection of six local and international artists to create stimulating large-scale work in a variety of mediums including an interactive sound installation, a text-based painting, and a walk-in sculpture. Located throughout the fair, works from the PROJECTS provide an immersive experience for the audience."
HOPE, ROCK, KISS, LIVE, presented by Singapore-based contemporary art and design collective PHUNK, aims to evoke positive emotions about the current state of the world, which is filled with uncertainties brought about by technological disruption, climate change, social inequality and political injustice. The artwork is formed by the changing appearance of street posters, where the peeled off layers reveal the impermanence of current events. The aftermath of the paper tears serves as a memorial to the past, and a reminder to embrace change as a renewal of the human spirit.
Korean artist Seungean Cha creates paintings through a weaving method, in reference to Korean and Western modern abstract work. The newly commissioned work to be shown at Art Central is deeply entwined with the idea of time and progress – through the act of weaving, the theme of 'arranging the time' is realised by the artist, with the next step of the process not able to happen without observing the time needed to complete the previous one. With the features of her work being both textiles and paintings, these contrasting characteristics allow her to contemplate relationships between painting and weaving, visual representation and tactile existence, and ideas and substance. Cha sees her work as an opportunity to rearrange the tangled time and experiences of the past in conjunction with the present.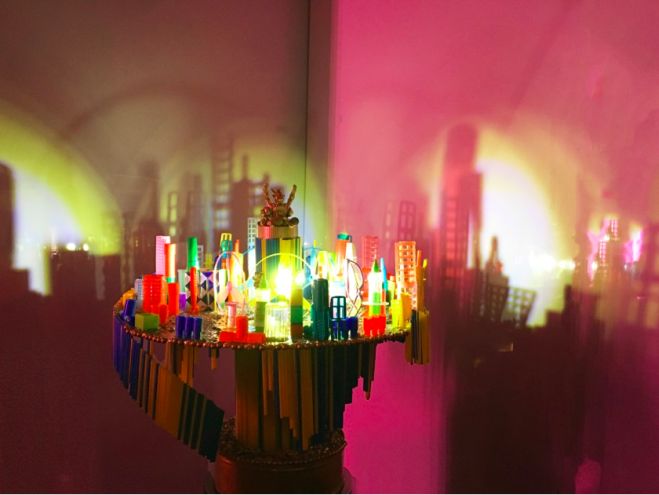 Hong Kong artist Angela Yuen's art practise focuses on urban culture; a tangible expression of the disappearing city's values and the local cityscape. Angela looks to explore the correlation between urban development and the city's value via the mediums of installation and photography. City Rhapsody – Project Roseate is an imaginary skyline made from locally sourced manufacturing objects, each marking a significant era from Hong Kong's manufacturing past in the 1950s and 60s. Using plastic toys, the artist has constructed a series of "dreamscapes" – a fantasy homeland that people from that time may have visualised. The spinning sculpture, meanwhile, resembles the once-endless sprawl, and the motion of spinning is a metaphor of the city's dynamic movement. The closer people engage with the city, the more complex and dynamic it becomes.
Hong Kong interdisciplinary artist Cheuk Wing Nam incorporates new elements into a site-specific reworking of the audience participatory ak7 shou3, an installation comprised of a violin, a cello, cassette players and speakers. With sensors attached to the edge of the installation, sound will be emitted as members of the audience approach the work. Each subtle interaction will influence the delicate balance between the string instruments and the tape, revealing the interrelationship between past, present and future. Cheuk Wing Nam is devoted to developing new concepts by mixing sound and other media with modern computer technology in her art, with an interest to demonstrate the relationships between light and shadow, and between sound and space.
Smiling Angels from the Sky is an installation by renowned Indonesian artist Heri Dono. Known for his characteristic merging of contemporary influences with traditional and folkloric elements, Heri Dono represented Indonesia in the 56th Venice Biennale in 2015 and his works have been acquired by major institutions such as the Deutsche Guggenheim, the Fukuoka Art Museum, the Singapore Art Museum, the National Gallery of Australia, and the Tropenmuseum, among others. A recurring element of Heri Dono's work, the angels are unrelated to any particular religion but are a symbol of the ethereal spirit.
In this iconic configuration, Heri Dono's smiling angels represent enthusiasm in facing the future. The angels who come from the sky are a symbol of the discourse of life, where imagination, fantasy, dreams inspire the building a noble life, culture and civilization for humans and the wider universe; bringing 'Chakra' energy from the gods, the fire of life.
A traditional building from ancient Vietnam, the đình is a public space for worshipping and communal gatherings. Using the same architectural methods as traditional craftsmen, emerging young artist Lê Giang has recreated four sculptural replications, each holding important values from the Lê dynasty.
The corner object, decorated with typical đình motifs, evokes a sense of spatiality found particularly in this traditional architecture, while the altar placed in the centre embodies the spiritual core of the structure.  The scroll ornament engraved with the words "Phản Niệm" proposes a variety of associations and underlying questions: Is this a reflection of memory, or a statement against the idea of conceptualism?
On the woodblock, the audience can find a text composed by the Sino-Nôm researcher Nguyen Dinh Hung; a derivation from inscriptions of decaying stone steles that were found in the vestiges of ruins. The multiple layers of translation and re-translation of the Sino-Nôm inscriptions challenge the audience's perception of authenticity and history, questioning the validity of such translation's artefacts. Can we fully believe in traces of scripts that were considered to have true value? Who has the authority to verify which history is true or false when if it has constantly been interpreted and transformed over time?

27 – 31 March 2019
Central Harborfront
Hong Kong
Tickets are available to purchase online via our ticketing partner, Ticketflap
---
is the owner and founder of Artitute, loves to attend fancy art exhibition, shares them with her friends, dabbles in amateur printmaking and photography and is a crazy cat lady.
All author posts