In this modern age of computer technologies. Traditional art forms are fast giving way to digital art and modern installations. Traditional Asian crafts like, batik making,  wood carving and printmaking are fast diminishing. With a fast paced society, younger artists have no patience to learn these crafts that take years to master.
1985 Cultural Medallion artist, Mr Tay Chee Toh is a master of many traditional art mediums. He did his formal arts education at the Nanyang Academy of Fine Arts (NAFA) from 1958 to 1960 and have been a fine art artists for the last 5 decades. Specilising in chinese ink, oil, batik, water colour, acrylic, printmaking and even sculpture. Mr Tay was a student under many great Nanyang artists, such as Cheong Soo Pieng, Chen Wen Hsi, Georgette Chan and Chen Chong Swee.
Dayak, woodblock prints, is his 10th solo exhibition currently being held at the artist's alma mater. The exhibition is a culmination of 3 years of works put together from his memories of his month long stay in the long house in Sarawak in the 1960s. Mr Tay explained to Artitute the concept behind Dayak. Having lived with the indigenous people in Sarawak in the 1960s, Mr Tay was deeply influenced by the simple and idyllic lifestyle, and graceful nature of the Dayak women. Motives of nature like rolling clouds and waves, and small animals compliment the sensual topless Dayak women. The images are almost fluid like as the Dayak women flow gracefully from one end to the other.

Artist, Mr Tay Chee Toh
One who does printmaking will be awed by the detailed and yet delicate craftsmanship on the large scaled prints. A printmaking artist will tell you that it is not easy to carve a 4 by 1 meter length woodblock and printing it on fabric. The process is long and tedious as the artist have to go through the concept, work on the wood carving for weeks and then printing it on either paper or this case, fabric. Unlike painting with oil or digital printing, the artist cannot make any mistakes when he carves the motives and designs, as you cannot mask the mistakes once it's been made.
Professor Tommy Koh, former Chairman of the National Heritage Board and currently Ambassador-At-Large at the Ministry of Foreign Affairs was the guest of honor for the opening of Dayak. Also an old friend of Mr Tay Chee Toh, Professor Tommy Koh gave us insights to the significances that Mr Tay and his peers have brought to the artistic and cultural growth of Singapore since the 1960s.
Even though the artworks are printed from woodblock carvings, you can still see Mr Tay's trademark batik style all over his works. 10 large art pieces of woodblock prints on gold and silver silk fabrics hang majestically on the gallery walls. The woodblocks, sketches and printmaking tools are also on display to give viewers insights into printmaking.

Mr Tay Chee Toh explaining the woodcarving tools used for printmaking to Professor Tommy Koh, Ambassador-At-Large at the Ministry of Foreign Affairs

Wood carving knifes and printmaking tools

A guest admiring the workmanship on the woodcarving

Two Beauties. Woodblock print on gold fabric with collage. Edition of 10
Each of the artworks are available for sale from $10,000 onwards, in editions of 8 or 10. Exhibition runs through to the 26th of February at the NAFA Gallery 1 & 2 at 80 Bencoolen Street.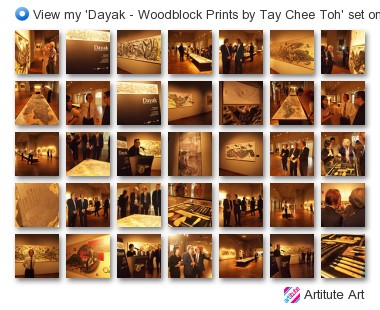 ---
is the owner and founder of Artitute, loves to attend fancy art exhibition, shares them with her friends, dabbles in amateur printmaking and photography and is a crazy cat lady.
All author posts