IMMAGINI Gallery is proud to present EMERGENCE, an exhibition of the works (various mediums) of 6 emerging artists recently graduated from LASALLE College Of The Arts,from 14th July 7 pm (Opening) to 20th July 6 pm @ The Canvas Gallery.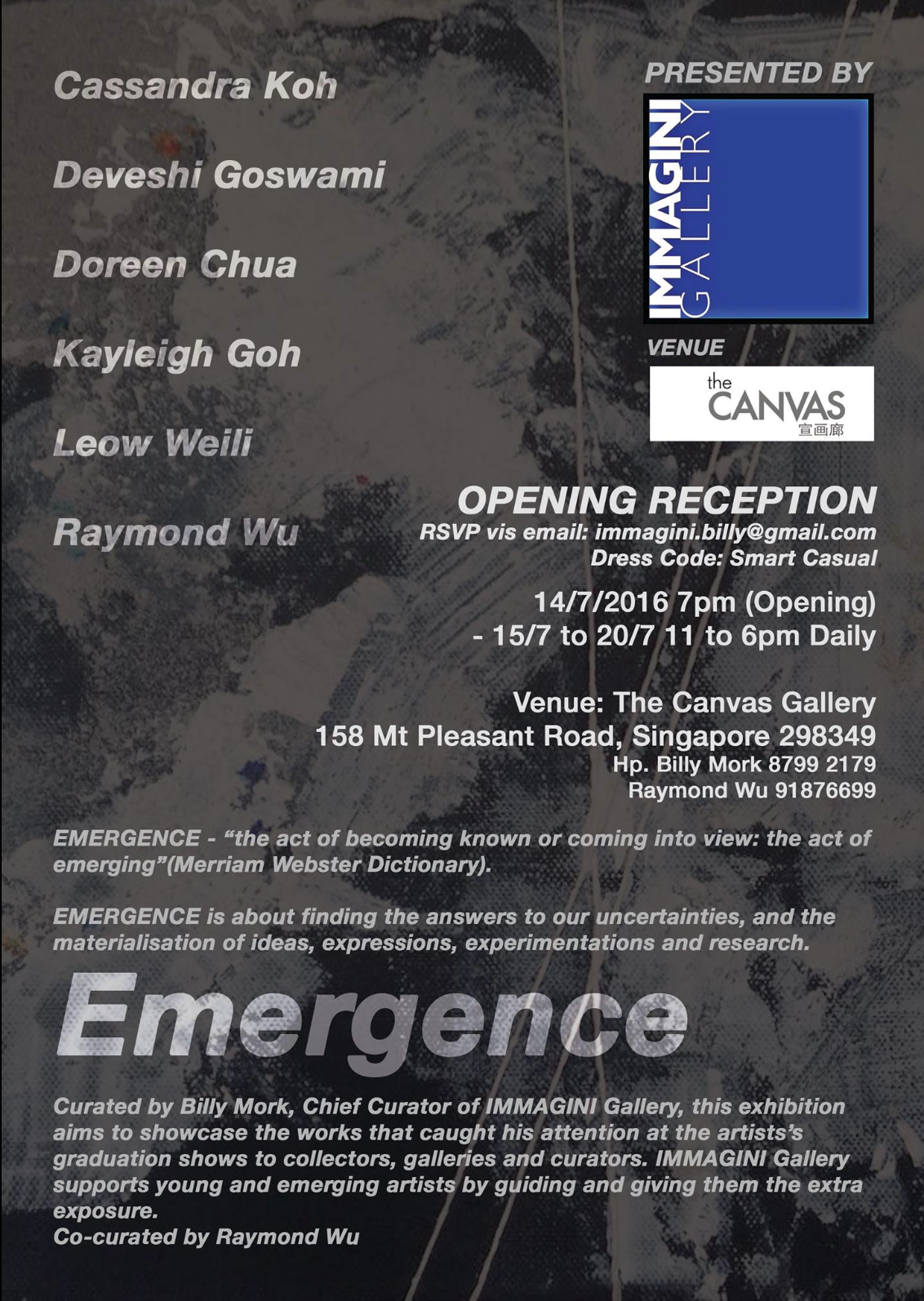 Cassandra Koh Ling Wei
Deveshi Goswami
Doreen Chua
Kayleigh Goh
Leow Weili
Raymond Wu
Chief Curator : Billy Mork, IMMAGINI Gallery
Co-curator: Raymond Wu
EMERGENCE – "the act of becoming known or coming into view: the act of emerging"(Merriam Webster Dictionary). It is also a process whereby larger, complex pictures of similarities arise from the interaction or association of smaller elements that do not exhibit such qualities. EMERGENCE is about finding the answers to our uncertainties, and the materialisation of ideas, expressions, experimentations and research.
Curated by Billy Mork, Chief Curator of IMMAGINI Gallery, this exhibition aims to showcase the works that caught his attention at the artists's graduation shows to collectors, galleries and curators. Coming in as a fine art photographer, architect and curator, the works were personally selected by Billy Mork to show the intricities of how each artist handles their own specific medium, to create visual compositions of shapes, movements, details, and structures. IMMAGINI Gallery supports young and emerging artists by guiding and giving them the extra exposure.
https://www.facebook.com/The-Canvas-Gallery-1497464927227482/?fref=ts
---
is an online showcase and magazine covering Southeast Asia's established and emerging visual artists and art scenes.
All author posts