On March 10th 2018 Dorothy Circus Gallery LONDON proudly presents Focus On Nouar "The Love Ride".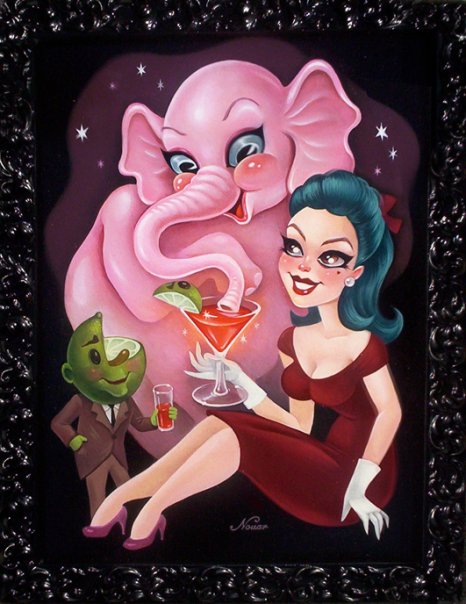 Based in Los Angeles and graduated from Art Center College of Design in 2004, Nouar is an artist deeply inspired by cartoons design and gaudy colour palettes. For more than ten years, Nouar has been experimenting and researching her personal, generating an artistic imaginary evidently influenced by American advertisement and design from the past century – with a peculiar fascination for the 1950s.
Vintage illustrations and post-war animations such as Betty Boop are at the base of the artist's own style, dominated by food and objects of mass production as main characters. Nouar's works are playful and often funny, displaying grotesque and surreal scenes in which very bright colours contribute to strike the viewer at first glance.
Her works may look whimsical, especially when a hotdog becomes a dandy stepping out on the town, or when objects are anthropomorphised, and live happily in the colourful compositions. But if old illustrations showed a perfect, glossy reality, Nouar's pieces unveil its adverse, challenging side.
The seemingly careless atmosphere of her artworks reveals the absurdities and macabre nuances born from the capitalistic system, with particular attention to consumeristic culture. The subtle critique Nouar proposes through her works leads the viewers to reflect on their role as beneficiaries of products that are mass-produced according to systematic protocols meant to limit our freedom and imagination.
The artist is thus conscious of the massive consumer culture that constantly manipulates our minds, which she denounces through sharp irony and a cunning language. In this context, living candies and dangerous girls become metaphors of a contemporary social condition that can be convenient but also overpowering.
The role of women, too, is discussed by highlighting the stereotypes and the commodification of the feminine body that everyday stands before our eyes, which has become part of our ordinary existence.
In her exhibition at Dorothy Circus Gallery London, Nouar deals with the theme of love, inspired by Valentine's Day. This time again, love is not just about romance and dreamlike atmospheres, but rather it reveals its hidden nuances that bring together eternal or universal assumptions on love and the reality of this sentiment as it is lived everyday in a Westernised consumeristic society.
Opening 10th March 2018 at Dorothy Circus Gallery 2018 at
Dorothy Circus Gallery, 79-81 Ledbury Road, Notting Hill W11 2AG
Monday-Saturday: 10.30 – 18.30
---
Online magazine that promotes and markets Southeast Asia's established and emerging visual artists and it's art scenes. And a stepping stone for young aspiring visual artists to showcase their works to the world.
All author posts