The Sovereign Art Foundation has at last revealed the top 30 finalists of the 12th edition of The Sovereign Asian Art Prize, and Singaporean artists Ong Kian Peng, Sherman Ong, Bani Haykal and Urich Lau Wai-Yuen are among them.
Urich Lau Wai-Yuen || Filmscapes: Pulp Fiction Empty Scenes #6
In this piece, Uric focuses on the re-interpretations of meanings in films, which he appropriated the stills from. Looking at the dialectics between fiction and reality, the mundane and the macabre, the piece highlights the permeation of excessive images found in today's technology – Internet, computers, mobile devices and the like. The image is appropriated from the movie Pulp Fiction (Tarantino, 1994), a subject matter that Urich has been working with often.
Ong Kian Peng || Acoustic territories – #06
Acoustic Territories #06 is a visual artefact generated from a study of sonic environments. Sonic snap shots are taken around Paris in the Spring of 2015 and used as materials in a sculptural way to generate and visualise sonic spaces. These representations often reveal emergent forms that facilitate a deeper understanding of the complex relationship between sound and architectural spaces. Acoustic Territories #06 is taken in the Gare D'lest Station, Paris.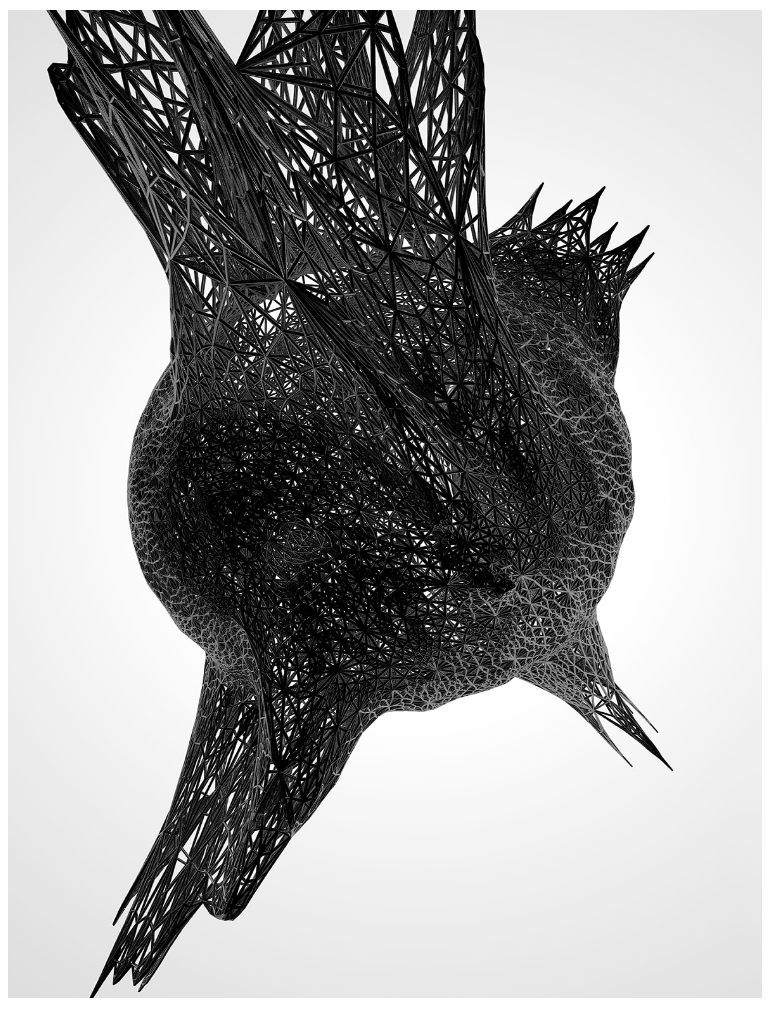 Artist Name: Ong Kian Peng | Country: Singapore
Artwork Name: Acoustic territories – #06 | Dimensions: 59 x 42 x 1 cm | Medium: Digital on aluminium print | Nominator's Name: Weng Choy Lee
Sherman Ong || Dream – Spurious Landscape Series
The Spurious Landscape Series straddles randomness and plan, where the viewer is invariably drawn to question the validity of the photograph as a document or a construction, whether the scene was found or intervened. In the piece, Sherman wants us to mistake the photos as products of the intervention of the photographer (the work as a deliberate mock-up) when it is in fact a found landscape that could have and has taken place naturally. The work offers an ambiguity that opens up possibilities for the real and the surreal to mingle, narrate and postulate.
Bani Haykal || "The Americans have colonised our subconscious"
Taken from a line off Wim Wenders film, Kings of the Road, this diptych work is a reflection of dominant soft power strategies and effects employed by nation states in the name of cultural diplomacy. An instrument mounted on the wall, Bani designed and tuned the instrument to messy, irregular intervals, crossing the strings against one another to illustrate the dissonances of cultural appropriation, considering the future of mainstream music that would surface within Singapore out of the present exponential affects and interests of globalisation.
Fifty independent art professionals from around the Asia Pacific region first nominated 200+ mid-career artists into this year's prize, then, a judging panel comprising world-class art professionals including curator David Elliot, Chinese artist Song Dong, independent Indonesian curator Asmudjo Irianto, and Taiwanese artist Michael Lin, voted to shortlist 30 artists from across 16 different territories. The art professionals that nominate are typically art critics, lecturers and curators who work closely with artists within the region. Artists who are selected represent the cutting edge contemporary art practice from the country in which they reside.
2016 marks the second year in the history of the Prize where sculpture was accepted as a medium of entry – and of 30 top finalists' artworks, 11 are 3D. The top 30 artworks include a unique sculpture made of human hair, a skull formed from Vietnamese spring roll paper, and a dystopic sci-fi inspired 3D piece. All have been produced by talented artists from across the Asia Pacific region, from Singapore, to Indonesia, Thailand and Pakistan.
SAF's portfolio of social responsibility projects ranges from art empowerment programs geared towards Vietnam's most vulnerable children, a music and arts programme for orphaned or abandoned children in Mongolia's capital, creative arts healing projects for victims of human trafficking in Cambodia, to a youth-lead pilot project in rural Nepal to raise awareness of children's rights. Often the children in these programmes will be victims of human trafficking, hard labour, sexual abuse, drugs or violence. The Foundation uses art as a means of rehabilitating them, building self-confidence and encouraging them to return to education.
Since 2013 SAF has also focused on growing its own Make It Better project in Hong Kong, working specifically with children living in Hong Kong's most disadvantaged parts. SAF recognizes the harmful social impact of the disparity in Hong Kong between extreme wealth and deprivation and, through Make It Better, is working to supplement the traditional education system with life and social skills learning for these underprivileged children. After two years of successful art workshops, SAF has further developed and strengthened the programme by employing the principles of art therapy.
David Elliot, leading member of the judging panel, said of the 2016 finalists, "This year's submissions to the Sovereign Asian Arts Prize were so wide ranging and of such high quality that it was very difficult indeed to reduce it to a shortlist of 30. The nominators and judges have done a wonderful job with a stellar selection of both established and emerging artists, the strongest and most challenging yet in the history of this prize."
All finalists' work will be exhibited at The James Christie Room, Christie's, Level 22, Alexandra House, 18 Chater Road, Central Hong Kong, from May 9 – 12, 2016. They will then be exhibited at the Rotunda, One Exchange Square, 8 Connaught Place, Central, Hong Kong from May 21 – 31, 2016, where the public will have a chance to view the works and cast their vote. There will be a champagne opening of the exhibition at The Rotunda from 7pm on May 24, 2016.
Howard Bilton, Founder and Chairman of SAF, said, "I think this selection of work is the strongest we have ever had. The judges agree. Their overwhelming feeling was that these works are all very original and very different from the normal work you see coming out of Asia. "Museum quality" was a phrase which cropped up frequently. Every year the selection seems to get better and better. It is not necessarily as easy to like artwork like it as it challenges the viewer but I think there is no doubt that we see a progression from year to year.

This year the majority of funds raised will again be applied towards our Make it Better program. In one of the richest cities in the world we continue to be surprised to find that there is such an obvious and substantial need to assist children who are in need and impoverished. We hope that our generous supporters will share our belief that it is wholly wrong to turn a blind eye to this huge and increasing wealth gap on our doorsteps. We hope that once again you will help us make it better by bidding generously at our dinner on June 3. Please mark your diaries."
Winners will be announced, and shortlisted artworks will be auctioned at the Sovereign Asian Art Prize Gala Dinner to be held on June 3, 2016, at the Four Seasons Hotel in Hong Kong. Proceeds will then be allocated on a 50/50 basis between the artists and charitable projects of the Sovereign Art Foundation.
Tickets to the Gala Dinner are available for purchase by contacting Joey Lau on [email protected] or +852 2542 1177.
---
is an online showcase and magazine covering Southeast Asia's established and emerging visual artists and art scenes.
All author posts