This December, come out of your comfort zone, and, PLAY!
This is what four Singaporean-based artists did, when they were asked by art critic and curator Gillian Nelson, partnered with Chan Hampe Galleries, to participate in this project.
The group, composed of Patrick Storey, Lynn Lu, Andy Yang and Rajinder Singh, represent a diverse set of interests, experiences and approaches to their artworks, with interests converging and diverging along some erratic pathways. Paired into two collaborative groups, they have been asked to create something entirely new, based on a discussion between each other, where their influences and philosophies are shared and considered.
The title of the show, Interchange, relates to this exchange and sharing of ideas, and also somewhat to the cultural exchange that is continually happening throughout Singapore and Southeast Asia. Each new encounter moves us from our comfort zone towards something a little different and exciting.
I was fortunate to meet one of the artists, Andy Yang as I dropped by the gallery to experience this mixture. When I asked him about the pair up, he told me it is like a blind date! Gillian Nelson paired the four artists and they met up, discussed, and got to work. The result of this mixture is surprisingly unique, precious and definitely long-distance.
Andy Yang – Sound of the void
Rajinder Singh – Bleak
The artists were at different parts of the world during the progress of the artworks. Raj is in London and after he completed his part for the collaboration, he sent the work to Andy, who was in Singapore at that time, to continue. As for the style and techniques of the artists, Andy told me that Raj's style is very systematic, orderly, with a set of grids and guides. On the other hand, Andy displays a free-form style, abstract, and each work has a piece of music attached to it when he works. Being curious, I asked if he has done a silent piece – without music – and no, he has not. So what do you get when you mix free-form and order? You have to experience this.
Rajinder Singh with Andy Yang – Not centre but everywhere
Lynn and Patrick were at different locations while they work on the project, or rather, while they 'play' on the project. Lynn is known for her video works and Patrick paints. Their collaboration presented an interesting interpretation of each other's works, in videography.
Lynn Lu – Painting the scent of trees
Patrick Storey – Sky theatre
In the tradition of the surrealist Andre Breton's Exquisite Corpse*, each video is made as a response to the final frame of preceding video. The project was entirely compiled and constructed through internet exchange. The videos were shot in London, Singapore, Tokyo, and Richmond Virginia by Lynn and Patrick.
I have put together here, one still image captured from each video to have a glimpse of the whole video. You should watch the video with the sound too to experience the complete mixture. The video is 4 minutes long.
Lynn Lu with Patrick Storey – Evanescent London blissfully senses tenuous Eskimos
Get out of your comfort zone too, and go experience this Interchange Play.
http://www.chanhampegalleries.com/
Venue: Chan Hampe Galleries @ Tanjong Pagar
27 Kreta Ayer Road, Singapore 088994
Date: 2 December 2011 – 15 December 2011
Time: Weekdays: 11am to 7pm
Weekends: 11am to 4pm
Closed Mondays and Public Holidays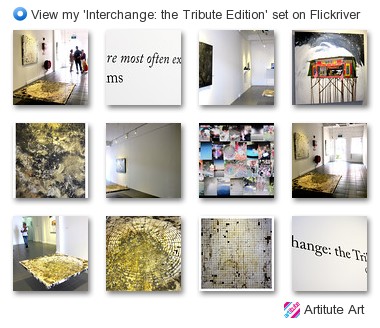 *What is Exquisite Corpse?
Read about it here
---
When she is not doing art with kids or writing about art, Karen puts her thoughts and ideas onto her "TO BE HAPPY" line of merchandise.
All author posts