ArtsEquator is proud to announce the unveiling of a photography competition, entitled "Capture a moment of Art in the Making", in commemoration of its 1st anniversary. The competition is initiated to celebrate the people who create art and the unsung labour that goes into every little detail of making art, be it an exhibition, the writing process, team discussions, or the process of choreographing a dance or a physical theatre piece.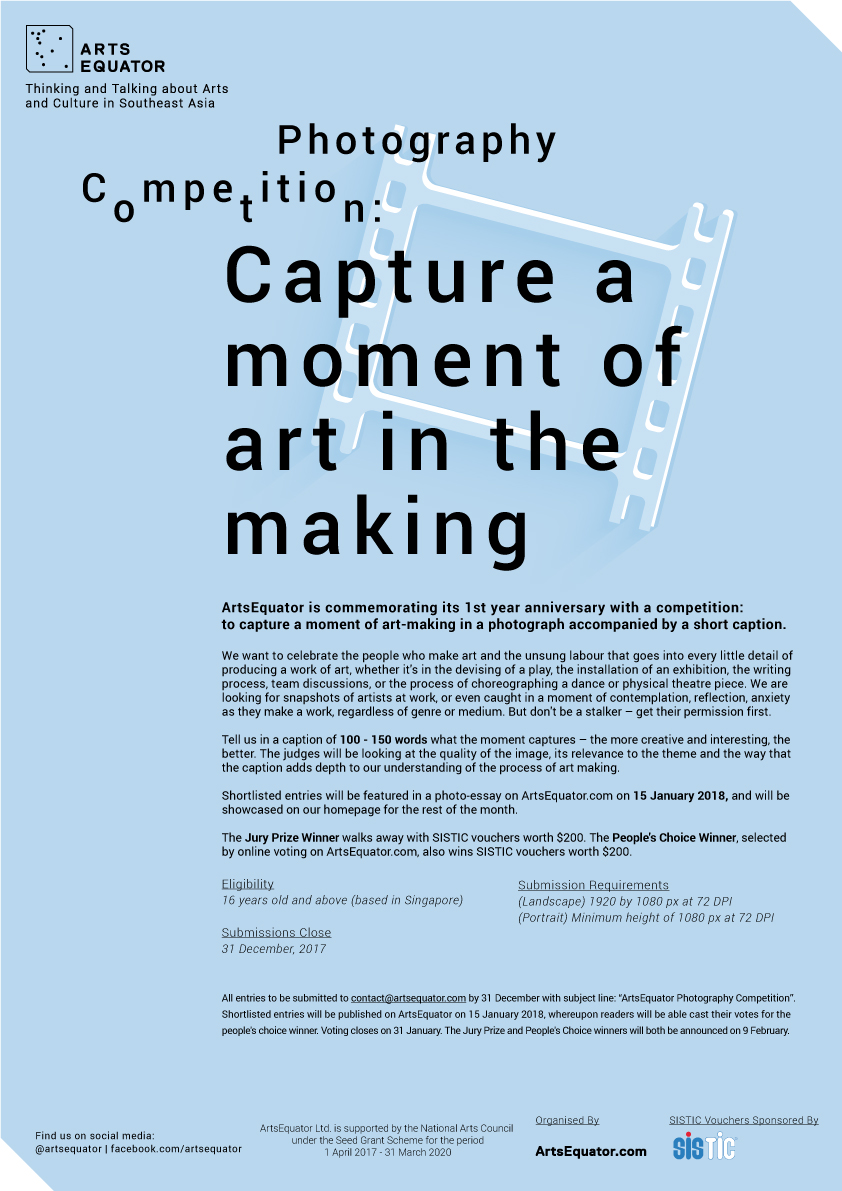 ArtsEquator is on the lookout for snapshots of artists at work, or even caught in a moment of contemplation, reflection or anxiety, as they make a piece of work; regardless of any genre or medium. But don't be a stalker — get their permission first. ArtsEquator is also interested in receiving captions on what the moment captures — the more creative and interesting, the better.
The competition will be running from 15th November 2017 to 9th February. It will also be graced by a profile of juries that will be looking at both the quality of the image, its relevance to the theme and the way the captions are able to add depth towards understanding the process of art-making.
There will be prizes for the winner competitions, comprised of the Jury Prize Winner and the People's Choice Winner, both of which will walk away with SISTIC vouchers worth $200. The shortlisted entries for the people's choice section will also be featured for a month in a photo-essay on our media platform that values and promotes Southeast Asian regional arts practice dedicated to regionally oriented in-depth criticism and analysis, ArtsEquator.com, following the voting opening on 15 January 2018.
ArtsEquator is hopeful that the photo competition will bring together like-minded arts practitioners as well as patrons in nurturing a more close-knitted arts community.
—
About Arts Equator
ArtsEquator Ltd is a non-profit arts media company that values and promotes Southeast Asian regional arts practice. The website http://www.artsequator.com features reviews, essays, podcasts, news and events listings across different art forms including music. It is committed to developing arts writing and criticism which identify Southeast Asian creative practices as part of, rather than an adjunct to, global contemporary arts. ArtsEquator Ltd. is supported by the National Arts Council under the Seed Grant Scheme for the period 1 April 2017 – 31 March 2020.
Website: Facebook:
www.artsequator.com.sg https://www.facebook.com/artsequator
Instagram: Twitter:
@artsequator @ArtsEquator
General Email:
[email protected]
Correspondents:
Denise Dolendo
denise.dolendo [at] gmail [dot] com
+65 9382 5871
Meta Sutiawan
mvsetiawan [at] gmail [dot] com
+62 812 2100 033
---
Online magazine that promotes and markets Southeast Asia's established and emerging visual artists and it's art scenes. And a stepping stone for young aspiring visual artists to showcase their works to the world.
All author posts