AC43 is proud to present the second solo exhibition of Singapore's young, emerging printmaker Zhang Fuming. Currently a full-time artist, Zhang Fuming (b. 1989, Singapore) obtained his diploma in Fine Arts (Printmaking) from LASALLE College of the Arts in 2011. He was among the three winners in the Affordable Art Fair Young Talent Program 2014/2015.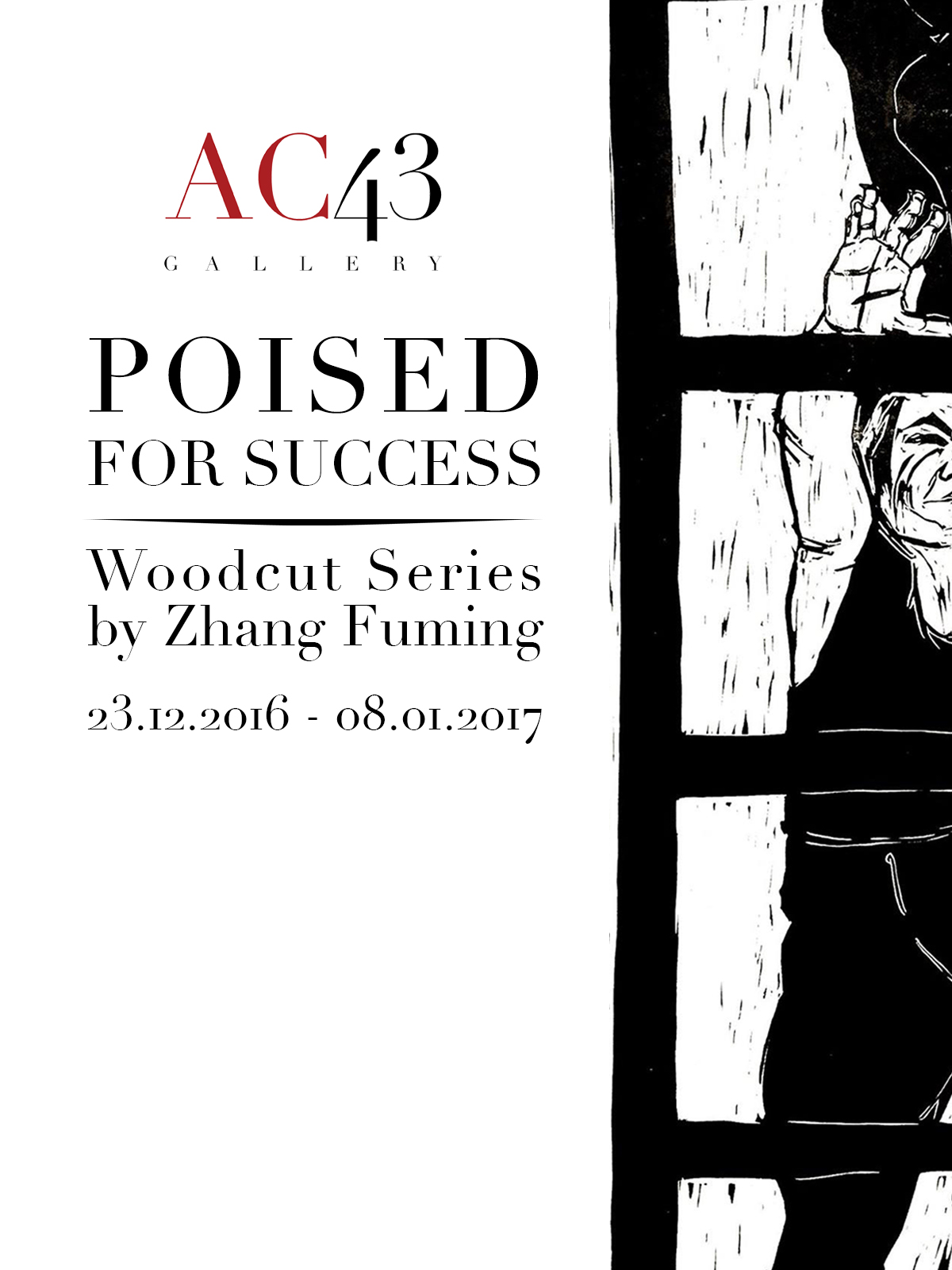 This curated exhibition will showcase about 15 works from Fuming's latest woodcut series, Poised for Success as well as 10 selected prints from his two previous woodcut series, Demarcation (2014) and Presence and Distances (2015). To enable a better understanding of Fuming's technical process, a few of the artist's original woodblocks will also be on display.
In his latest woodcut series candidly titled, "Poised for Success", Fuming reflects on the complex societal forces, roles and expectations shaping the upbringing and future of a child finding his place within Singapore's increasingly competitive and success-oriented society. As with his previous woodcut series, Fuming continues to cast illuminating glimpses into objects and figures situated within the most ordinary of routines and conventions, granting these seemingly placid observations an ironic distance through which social commentary may be underlined.
In images that embody the setting of play, childhood naïveté is displaced by a formal drive for learning and success, as evident in Enrichment Toys (2016), where a set of interactive learning toys – prized for the functional instilment of purpose and calculation – assumes our contemplative focus. Similarly, in Up (2016), the ladder in which two children attempt to climb at a playground assumes an imposing structure almost resembling an alienating cage; the legs of the ascended child extend over the head of another child below – a metaphor for how the "struggle to the top" is often an isolating journey achieved at the expense of others.
In Singapore, Fuming is possibly the only printmaker of his generation who chooses to harness the direct, efficient means of black-white woodcut narratives in expressing critical social messages, reprising the role of social realism in the application of woodblock prints. Fuming's heavy, expressive use of blacks and whites takes after the technique of influential German printmaker, Kathe Kollwitz who relies on bold, economical usage of blacks and whites to dramatize scenes of vulnerability, toil and destitution. Fuming's utilization of large woodblocks, combined with an immersive black-white engagement – usually achieved through both rubbing and printing – heightens the stark emotional quality of his images and generates for his narratives a sense of weight and melancholy.
In conjunction with the exhibition, AC43 will be hosting a special Q&A session and live demonstration with the artist on 7 January 2017 at artcommune gallery. This registered event will be facilitated by Senior Curator, Ma Peiyi. Join Fuming and learn more about the artist and his woodcut printmaking process. Admission is free!
23 December 2016 – 8 January 2017
Block 231 Bain Street, Bras Basah Complex, #03-39 Singapore
---
is an online showcase and magazine covering Southeast Asia's established and emerging visual artists and art scenes.
All author posts