Samsara is a meditation upon the true nature & purpose of human life. A life that begins with an innocent cry of hope & fear, peaks at youth bursting with beauty & passion, declines under the yoke of experience & old age & finally, ceases with death – inevitable & unconquerable. It is inspired by the legend of the famous young Indian prince who ventured out of his father's protective palace walls (meant to shield him from painful realities of human life) & saw among many things an aged man, a sick man & a dead man – an experience that aroused in him a spiritual urgency to transcend such an existence.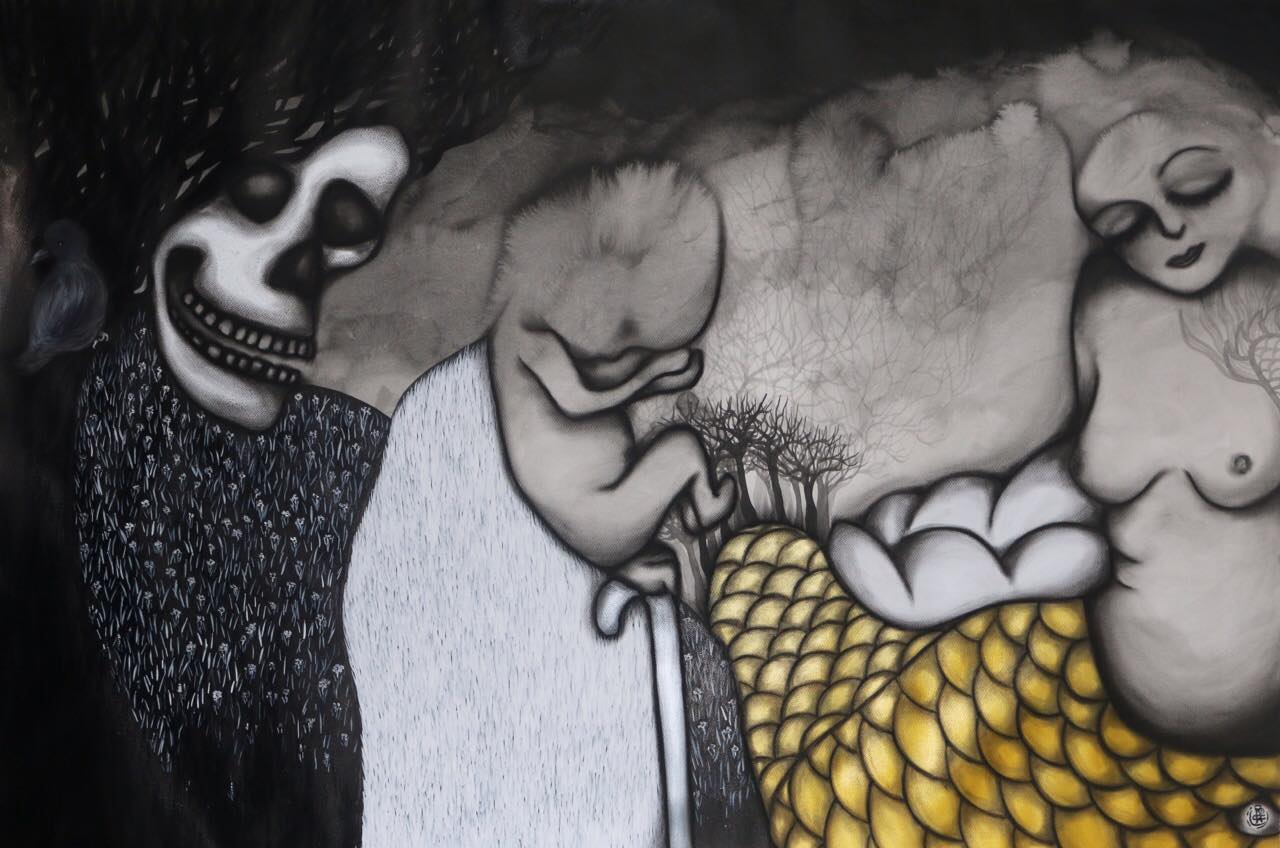 Samsara is also an appreciation of the fact that life is not possible without death. That without darkness, there is no possibility of light. It is a reminder that contemplation of such realities, although unpleasant, is necessary to make us question the meaning & purpose of life. It is also a realization that freedom & transcendence are possible, but only if we appreciate the reality that between birth & death exists the hope & opportunity for transcendence & liberation. That it is what we do with our life which ultimately changes everything.
About the artist
Yen Chua is a fine art artist and certified Art Therapist and one of the founding members of the Art Therapists' Association of Singapore (ATAS). She graduated with a Master of Arts (Art Therapy) in 2007 from LASALLE College of the Arts, Singapore; a Master of Arts (Research) in 2002 from the National Institute of Education, Singapore; and a Bachelor of Fine Arts in 1993 from the San Francisco Art Institute, USA. She has worked in a variety of settings with individuals and groups of different age with social-emotional issues, addiction, rehabilitation, behavioural problems, trauma and other mental health issues.
Learn more about the artist at http://www.yenchua.net/
---
is an online showcase and magazine covering Southeast Asia's established and emerging visual artists and art scenes.
All author posts