Sous la lune/Beneath the moon, is the new exhibition at the Institute of Contemporary Arts (ICA), LASALLE Singapore. It presents the work of 11 Southeast Asian and French artists and is curated by Khairuddin Hori, Deputy Director of Artistic Programming at the Palais de Tokyo (Paris).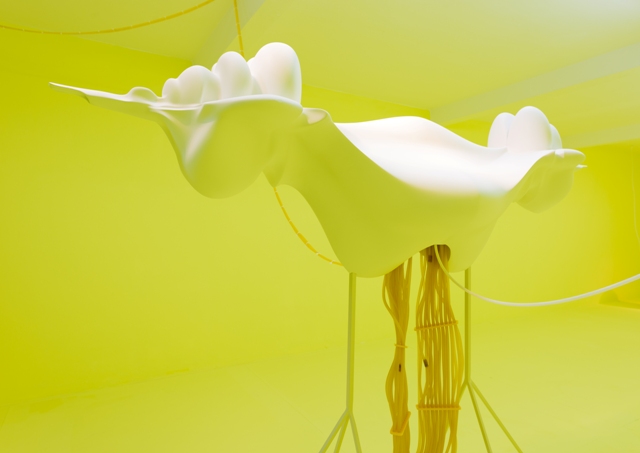 Artworks in Sous la lune/Beneath the moon incorporate diverse and complex combinations of materials and techniques: from jasmine plants to the yellow venom of the black mamba; from chandeliers and electric scooter engines to the synthetic voice of Cleopatra. Bringing together artists from diverse locations, environments and experiences, the exhibition highlights the unique creative process of each artist but also reminds us that beneath the moon only time and space separate us.
We talked to Sous la lune's  curator, Khairuddin Hori, about the exhibition, perceptions and his experience of working in Paris so far.

Durriya Dohadwala: You have said that the common perception in Singapore is that the art of Southeast  Asia (SEA) is rich in cultural and historical references, socio-political commentaries, and spirituality, whereas Western art is often seen as 'art for art's sake' with little connection to lived experiences. Was this your own perception too?
Khairuddin Hori:  At one point, I did begin to have the same perceptions but I never wanted to believe in them. For me, the consciences of artists are always embedded with empathy towards the social. We all play critical roles in society's development and artists are not exempted even if elements of the social and political do not figure strongly in their works.
Living and working in Paris the last year, do you feel that a similar view of the separation between French and Asian art exists there also? (And if yes, how is it different from the Asian viewpoint?)
Of course there are pockets of people who perceive Asian art, even the contemporary works, as exotic and inaccessible. But in Asia, we have people with the same biased perspectives too. I have lost count of the number of times I was told that 'we are not the West, so we should not show or make art that is western'. These same people often forget that oil painting is western too and our pioneer artists brought home techniques and concepts they learnt in academies of Paris and Florence. The issue here I feel is really our ignorance of each other's cultures and this is normal I guess, as no one is expected to know or understand the culture, psyche and nuances of the entire world's ethnicities. However, it is imperative that we keep an open mind and carry a spirit of respect and inquisitiveness of the other.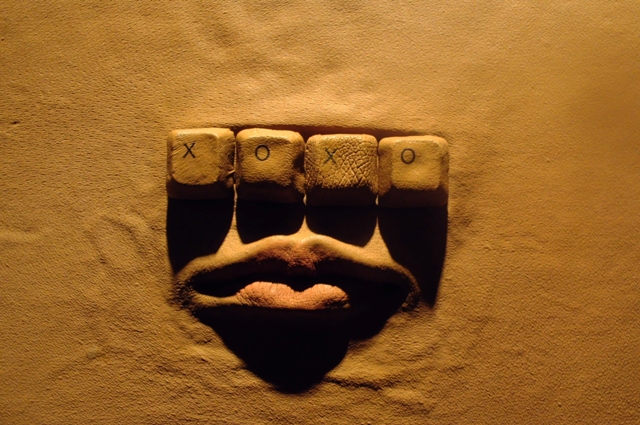 Given your knowledge and experience in this region and the plethora of artists in SEA, it couldn't have been easy to select the six Asian artists for Sous la lune. How did you do it?
In general, I looked at artists from Southeast Asia whose development I have followed in the past few years and whose works are able to balance the exhibition through meaningful dialogue with the others. There were also a few perimeters that I worked off. LASALLE's Institute of Contemporary Arts (ICA) Singapore for example, requested that I work with artists I haven't curated in the past one year. Then, there was the interest of our project and research partner, TOTAL Foundation. The TOTAL Foundation is interested in emerging artists from Southeast Asia, hence the participation of Lou Lim from the Philippines, whom I have also invited for the current season of Pavilion artist-in-residence program at the Palais. Then there is Aung Ko from Myanmar, the last Pavilion resident artist also supported by TOTAL Foundation.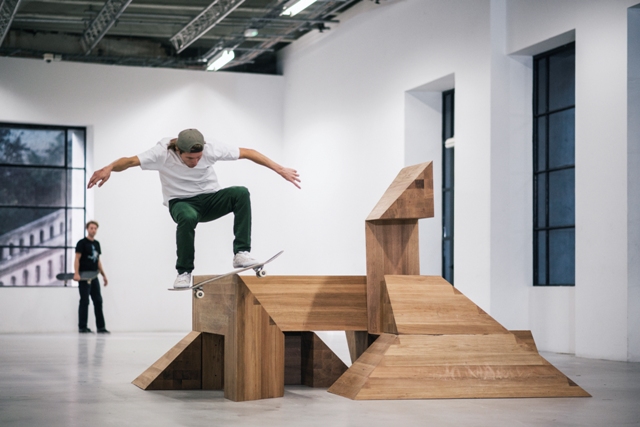 How did you pick the artists from France?
I wanted to introduce these France-based artists for the quality and depth of their research in topics that otherwise are often only scratched on the surface. For example, Raphäel Zarka is an avid skateboarder and has made skateboarding an integral part of his art research that spans the territories of modern art, science, mathematics and urban architecture. Marguerite Humeau delves into ideas on mortality and artificial technologies through research and collaborations with anthropologists, scientists, zoologists, palaeontologists etc. Hicham Berrada creates in response to his observation of natural phenomenon utilising his rich background and knowledge in chemistry. And despite the scale and quality of their work, these artists are regarded as young and emerging in France. Their art and processes inspire me, and I hope it would inspire others who meet them as well.
 Was there any interaction between the selected artists from the two regions? Any interesting observations or discoveries that they made about their own perceptions about the 'other'?  
The exhibition serves as an excellent platform for the artists to learn from one another and also allowed them a peek into the other's individual working styles. Most of the artists were present in Singapore for the set-up and worked alongside each other. They also spent time socialising outside of the gallery. Some of them are in Asia for the first time and others even had the opportunity to get to know artists from Singapore.
One other thing I find really encouraging was seeing current LASALLE students getting involved to help some of our artists with their artworks, such as Aung Ko's Little secret memories. LASALLE really does provide its students with the best environment and opportunities to further their skills and pursue their passions. It is not every day that young art students and young artists gets an opportunity to work with professionals this way.
The works of Singaporean artists is a little different from their counterparts in the region perhaps because of historical, cultural social and political reasons. But in some ways it can be seen as lying somewhere between the two ends of the perception continuum that you talk about. Would you agree with this?
In my opinion, our art need not always be about our culture, our histories, our politics or our social conditions. And quite a lot of 'socio-political art' I have seen recently are only stating the obvious, if not repeating what can be found in mass media. When we do look at these issues, we should learn to look at ourselves with global connections and also translate them with qualities that make us artists. For this, there should be discourses across faculties and not just within the art scene alone. I have long been disappointed with the lack of participation from the philosophy and sociology fraternities for example. Artists and curators cannot be conversing amongst themselves, or just with the market and especially not behind closed doors. I think this is why we keep thinking that we are the exception and that our art and our issues are 'different', but look at South America, Africa and even Australia!
Your selection of artists does not include any Singaporean artists. Why is that?
I did include a couple of Singaporean artists in my original list but my discussions with them fell through. These things happen sometimes, it is part and parcel of the curatorial process and I have learnt to let it go and not force the inclusion of Singaporean artists just because the exhibition takes place in Singapore. In any case, ICA Singapore and myself, we are a Singapore representation even if we are not the artists. 
Why did you pick the ICA Singapore to collaborate with?
Singapore is a melting pot that attracts and connects people from all over the world. In the arts world, it is also regarded as a meeting point for artists from different countries to exchange ideas and discuss different approaches to art-making. ICA Singapore was the first place that came to my mind when Jean de Loisy, President of Palais de Tokyo, asked me which would be a great partner to collaborate with in Singapore. I was in one of the early batches of Master of Arts Fine Arts Programme and for me, LASALLE is perfect for such exchanges. It is occupied by some of the best from our contemporary arts environment and the school provides students with conducive spaces and opportunities to stimulate their creativity.
 How has the exhibition been received so far?  Has it met your expectations in terms of reception?
From what I have personally encountered both in the media as well as people I met, the response has been good. Personally, I constantly find it difficult to please myself with my own work. It often takes me years before I look back and be convinced that my contributions have been worth the while.
 If you were to pick one work from the exhibition that you would want everyone to see, which one would that be and why?
I cannot do that. I want everyone to come and see everything, everything! Otherwise, I would not have included them in the exhibition.
 How has your being away from Singapore and Asia affected your way of looking at the country and the region?
It is always good to step out once in a while and look in from the outside. It is then that I am able to observe our strengths and flaws and with greater objectivity.
Based on what I have experienced, there are quite a few things I would like to attempt and contribute back home if given the trust and opportunity.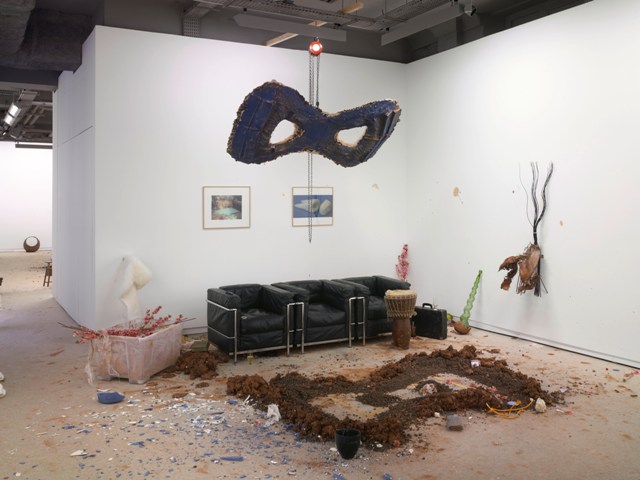 How has your experience been of working in Paris? Can you share one thing that is very different from here?
Here in Singapore, I often find that we trap ourselves in a bubble. We have great infrastructure and platforms, but we are not making wise use of them. We (artists, curators, art managers, institutions) often take the stability for granted. It seems that this stability has not propelled us to push us to the pinnacle of what could be our creative vision. As a result, our scene has remained quite insular with the exception of a few courageous artists who decided to make a run and work from foreign territories.
In France, a high emphasis is placed on the value of research, and not just academic research but also those involving skills, materials and artistry in general. Artists look at each other for inspiration and poetry. And there are a lot of collaborations and cross-overs between visual artists, dancers, musicians and theater practitioners of all genres, both initiated by individuals as well as institutions. I have seen how hard institutional directors work to construct bridges and get support from each other, politicians as well as brand leaders. Art's role is seen beyond the vernacular, the market and the 'cool'. Conversations, with regards to censorship for example, are discussed within a global perspective, with the participation of sociologists, economists etc. At the Palais, we take any disquieting news on international artists and colleagues that arrives on our desks with gravity and habitually discuss ways we could respond as individuals and as institution.
The other difference is the proximity to cities such as London, New York, Berlin and such that have long been regarded as international centers for contemporary arts. As an artist or curator living in Paris, you are bound to cross path with colleagues from around the world. You get to be part of great exchanges, and experience unending series of exhibitions and artworks that are very well done. Nevertheless, the scene in Paris is actually quite intense, which is why some artists choose to move out and live in other cities because demands and pressure in the city could get really overwhelming.
 Can you share with us what you are working on next?  
Immediately after Sous la lune, I will be putting in finishing work for the solo exhibition of the Quistreberts, two French brothers who work in collaboration. This would be the first full-on painting solo at the Palais. Next, I am co-curating iLights at Marina Bay in March, together with Randy Chan. Aside from these, I am also working on presenting several small-scaled projects with the DXXXXD collective based on ideas I have been marinating for a while.
Sous la lune/Beneath the moon runs till 3 Feb 2016 at Gallery 1, Institute of Contemporary Arts Singapore, LASALLE College of the Arts. Admission is free
---
Durriya Dohadwala is an independent writer on contemporary Asian art and culture. She is also a docent and enjoys facilitating the decoding of contemporary Asian art.
All author posts