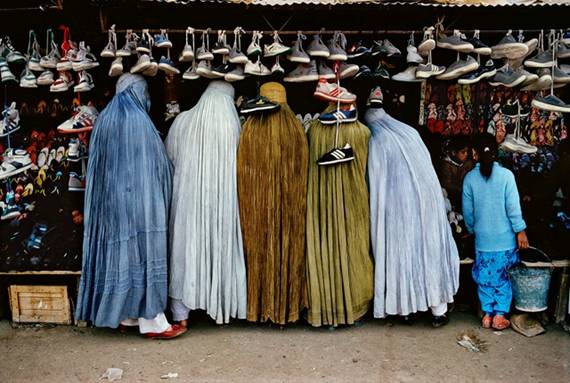 The Sundaram Tagore Gallery has just opened the first solo exhibition  of Steve McCurry in Singapore entitled "The Iconic Photographs". The photographer became famous  after having his photograph of an Afghani girl portrayed on the cover of National Geographic in 1985. McCurry came to Singapore for the opening of his exhibition and shared some of the stories behind his pictures with the press and the public.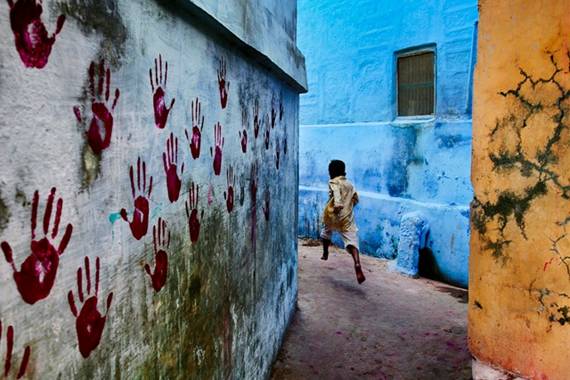 More than a photographer, Steve McCurry is a storyteller. As he pointed it out at the press preview, for him 'content trumps form.' He uses a pre-visualization process, wandering around and seeking for interesting places. When he finds it, he sets the camera and then 'waits for things to happen'. This was particularly the case of the picture Boy in Mid-Flight Jodhpur, India (2007) which has a beautiful composition, capturing the moment in which the boy's feet are still in the air.
All the pictures in the exhibition were taken with natural light. No flash or artificial lights were used. For McCurry, light is what really matters, surprisingly more than colour since he believes his pictures should work in black and white as well.
It was interesting to know that McCurry welcomes technology and has had no problem transitioning from film to digital. He made the transition about 10 to 12 years ago and shoots with digital cameras since then. His next photo book, coming up in September 2016, will even carry two pictures taken with his cell phone. For him, digital is now  far superior to film.
Although he doesn't cover conflict areas anymore he still defines his own subjects, not waiting for any magazine or newspaper to assign him to cover this or that story. He looks for places and people he is interested in, especially in countries passing through major transitions with great cultural background, as it is in the case of Cuba, Ethiopia and India. As he states 'I'm looking for places who have a soul', since according to him modernity is making everything boring. We could say that the main theme of his work is about trying to register old traditions in a fast paced and changing world. He has nostalgia for this individual character that in many cases has already disappeared.
Among his many near-death experiences throughout the years and all the lost cameras and equipment, he shared an interesting funny story about when he had his camera stolen in Thailand in 1979. In Bangkok he was approached by a guy interested in being his assistant who ended up guiding him to a place to take pictures. After a long journey, the guy stole his camera bag with the camera and all the lenses and McCurry had to go back to Bangkok on an 8 hour train journey. As soon as he got off the train, he saw the same guy selling his things at the station and was able to recover his equipment.
Each photograph tells a story and these stories are full of coincidences and luck moments. Though asked many times how he convinces people to pose for him, he didn't have a precise answer to give, but he said that the answer lies somewhere between chemistry and magic, something almost like an animal attraction that drives him to a person. Of course this instinct comes with experience and lots of trial and error moments.
Through the selection of images in the exhibition one can perceive that McCurry has a special relationship with India. Of course this relationship goes beyond the 'curry' that he bears in his name! He has travelled there more than 80 times and has entire series of photographs dedicated to India. When asked the reason behind this favouritism he explains that 'India is the easiest place to work' since it is very 'camera friendly'. He believes that India's important film industry helped to develop a culture of photography and film while still keeping its tradition, making its people very open to having their pictures taken. For him India also represents a country of extremes: richness and poverty, modern and tradition, all living together in a raw and original mix.
About his series on Afghanistan and the portrait that made him famous he recalls that he was not assigned to go there. At that time, the war in Afghanistan was the biggest story in the world and his sense of time and momentum made him cross the borders from Pakistan. He went on his own and only after coming back with amazing pictures he got assignments from big magazines. As he recalls, 'Afghanistan was like a dream that you experience when you are high on marijuana'. The atmosphere, the people, everything was different and he wanted to register moments of daily life in that place, which is the case of his photo of Afghan Women at Shoe Store in Kabul, Afghanistan (1992). It was a dangerous task especially because it is forbidden to take pictures of women.
To the new generation of photographers out there his advice is: 'the most fun you can have is to travel and get to know the world we live in'. When asked when he is considering to retire he says: 'If you love what you are doing; if you are having a great time; you just want to keep that ball rolling.'
Although this exhibition shows only a small slice of McCurry's works, it is a great introduction to his photographs. The large prints help you to see the world and feel its texture through McCurry's lens and experience people, places, stories and the richness of some  of the vanishing cultures on our planet.
Steve McCurry: The Iconic Photographs
January 16 to February 21, 2016
Sundaram Tagore Gallery
5 LOCK ROAD, #01-05, SINGAPORE 108933
Opening hours:
Tue to Sat 11am-7pm
Sun 11am-6pm
Closed on Mondays & Public holidays
Christine Veras is a maker who enjoys experiencing and creating art, devices and texts. She is currently pursuing her PhD on 'Animated Installations' at the School of Art, Design and Media in NTU.
---
Christine Veras is a maker who enjoys experiencing and creating art, devices and texts. She is currently pursuing her Ph.D. on 'Animated Installations' at the School of Art, Design and Media in NTU.
All author posts