The Affordable Art Fair couldn't have a more effectively direct title. It places both art and commerce on equal footing, wrapped up within the buzz and excitement of the marketplace.
With the event's refreshing lack of pretentious, exhibitors are encouraged by the fair organisers to display the retail value of artworks upfront (though we did spot a Korean gallery that left the "price" field curiously blank on their printed wall labels.) This no doubt brings a degree of welcome transparency to the proceedings, placing the buyer right in the centre of activity. Exhibitors are often forthcoming with their help (a pleasant departure from the artworld stereotype of snooty gallerists), and alongside discussions of visual imagery and taste, no one's shy about asking "how much?" or "discount?". Prices of artworks can be found starting from S$100 to S$10,000.
More than a few people have noted that the Affordable Art Fair – held in cities worldwide stretching from Melbourne to New York – is well-suited to Singapore, where everyone loves a good bargain. It's unsurprising then to see that even during the start of Thursday's private preview night, red dots had already begun populating the walls next to works ranging from Hirst's limited edition prints of his diamond skull to an entire series of watercolours by local artist Foo Kwee Horng.
It is not uncommon to find people – mostly among artists themselves – who feel that the visual art ecology should be quarantined from the vagaries of the market. Nonetheless, art has always been perpetually intertwined with questions of value, and there is no reason that it shouldn't be. Money itself is a language, a platform for communicating intention and interest on the part of the buyer, a channel for the audience to engage with artists and their visual ideas in a tangible manner, a way for people to forge relationships with galleries and to invest in the careers of image-makers.
Affordable Art Fair's Fair Director, Camilla Hewitson
addressing the press
It is thus encouraging to hear the director of AAF, Camilla Hewitson, speak of "audience engagement" as being a central theme of the event. This is evident in their growing variety of workshops, talks, and a new arts education play area for young ones.
This year, many of the same galleries that exhibited last year have returned, including H-art Beat (Japan), HANGA (Singapore), Bleach Box (UK) and Villa del Arte Galleries (Spain), no doubt hoping to foster ties that were built last year. With 50% of buyers being first time collectors at last year's edition of AAF, here's hoping that they return to grow their interest in the visual arts, and that AAF continues its successes in bringing new audiences into the world of art appreciation and collecting.
Texts by Yen Phang. Photos by Suzzana Chew and Affordable Art Fair
---
Click here to download your 2-for-1 special tickets.
Venue: F1 Pit Stop Building (1 Republic Boulevard)
Dates: Friday 18th – Sunday 20th November 2011
Opening Times
Friday 18 November: 11am – 6pm
Friday 18 November: 6pm – 10pm (Arty-Licious Evening)
Saturday 19 November: 11am – 8pm
Sunday 20 November: 11am – 6pm
Checkout the Affordable Art Fair's website for more details or join their Facebook Fanpage to get the latest updates.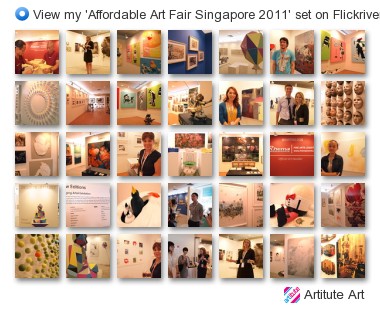 ---
Despite his legal training, Yen has chosen to pursue a career in the visual arts. Apart from being a closet-painter, Yen Phang is largely still an unknown quantity. Forever random, but always polite.
All author posts