Thousand Colours in Celebration presents an 8-day public creative art event that features public art-making sessions, dance performances and open dance & art sessions for children. The accumulation of works from the daily public art-making sessions from 3 – 8 February enables for a fluid and non-static art exhibition to finally emerge on 9 & 10 February.
Members of the public of all ages are invited to participate in this fun and creative process together with children and art facilitators from the arts granary school under The Arts Fission Company. One of the art projects – the 'Wearable Art' segment – will be incorporated into short dance performances on 9 & 10 Feb. The public is also welcome to try on the Wearable Art pieces and snap fun photos.
** As spaces for the open dance & art sessions are limited, they will be available on a first come first serve basis. Sign up at https://goo.gl/forms/tyd4gAff7Lcaylhf2 to reserve your slot. **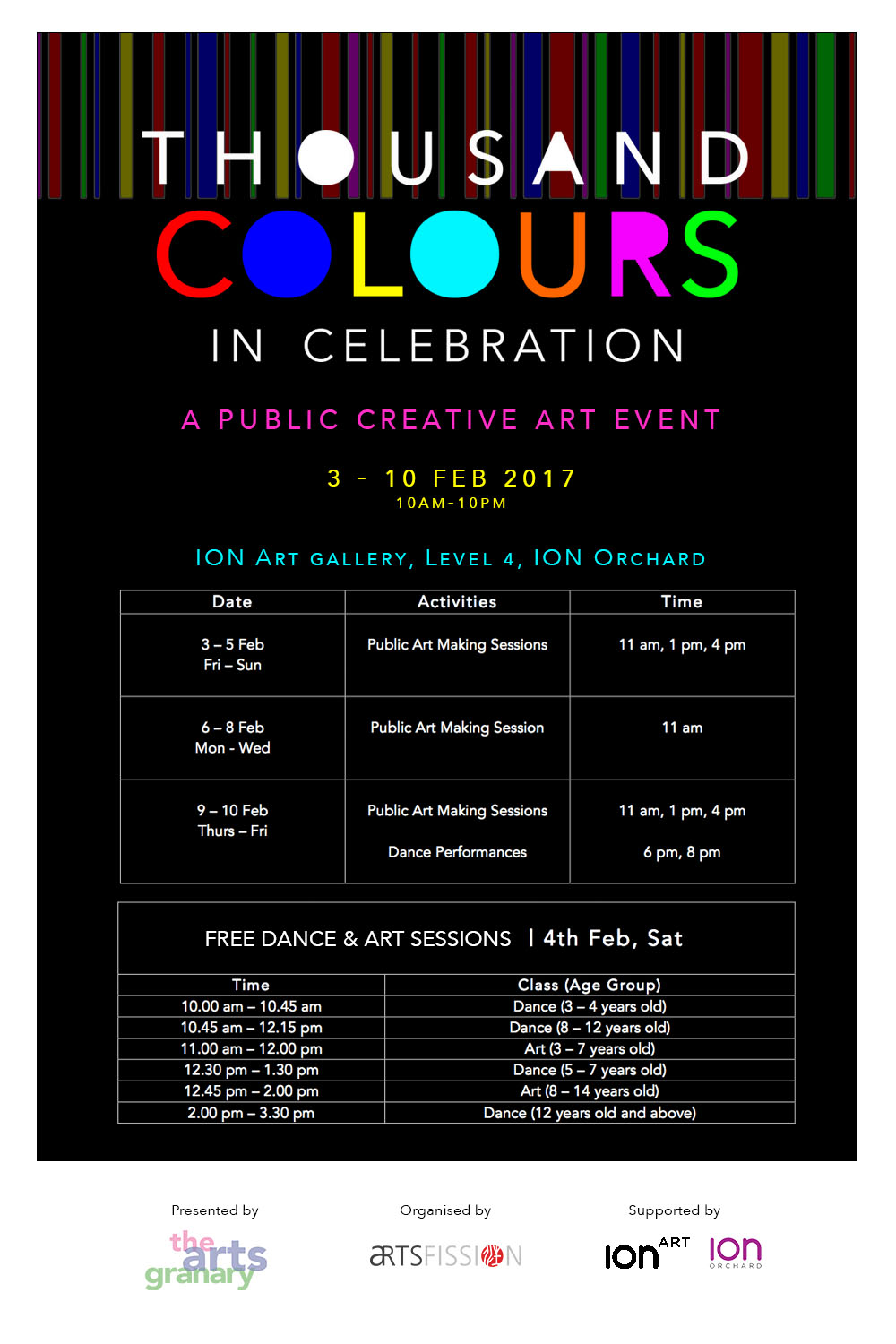 ABOUT THE ARTS GRANARY
Just as a granary is for grain storage, the arts granary works as a creative deposit of cultural wisdom and arts knowledge for children.
The arts granary is a premiere creative arts school initiated by The Arts Fission Company that provides art and dance training activities for children in a nurturing environment. Hidden in the secret garden like Cairnhill Arts Centre behind busy Orchard Road, the arts granary allows children to explore and discover the magic of imagination and self expression through art and dance activities led by supportive arts facilitators.
What makes the arts granary different from most conventional children enrichment programs are its unique curriculum design approach and the dynamic way of workshop delivery. Small class size offers children intimate experiential learning opportunities and reinforces positive social interaction. Character building through the exposure to arts and cultures is also one of the key learning goals for the children besides engaging them in the technical training of art and dance disciplines.
ABOUT THE ARTS FISSION COMPANY
As the longest incorporated contemporary dance company in Singapore since 1994, Arts Fission has gathered a diverse and groundbreaking dance-making track record. Under the artistic direction of Cultural Medallion Recipient Angela Liong, Arts Fission has evolved into a dynamic hybrid that creates works relevant to people and everyday life.
Many of the works are influenced by Asian cultures, aesthetics, and heritage. The company often finds its creative impetus on topical themes like rapid urban changes that affect irretrievable cultural and environmental losses in our times. Arts Fission's dance works are collaborative in nature that included working with composers and musicians, visual and new media artists, designers and film makers.
Arts Fission pioneered site-specific dance performance in Singapore, and is still the leading force in extending dance performance beyond the confine of conventional stage. The company has presented dance works regionally and internationally.
Arts Fission not only delves into inquisitive dance work with creative fervor, but applies equal innovation to turning community outreach project into richly human experience.
---
Online magazine that promotes and markets Southeast Asia's established and emerging visual artists and it's art scenes. And a stepping stone for young aspiring visual artists to showcase their works to the world.
All author posts