From 25 November to 4 December, artcommune invites you to partake in the fascinating mixed media exploration of 2nd-generation Singapore artist, Tong Chin Sye. Combining Western easel painting tradition with Chinese woodblock carving skills, the whirlwind of colour and creative amalgamation of East-West techniques reflects Tong's multifaceted art training, as well as his lifelong dedication in pushing the expressions for the classical landscape genre.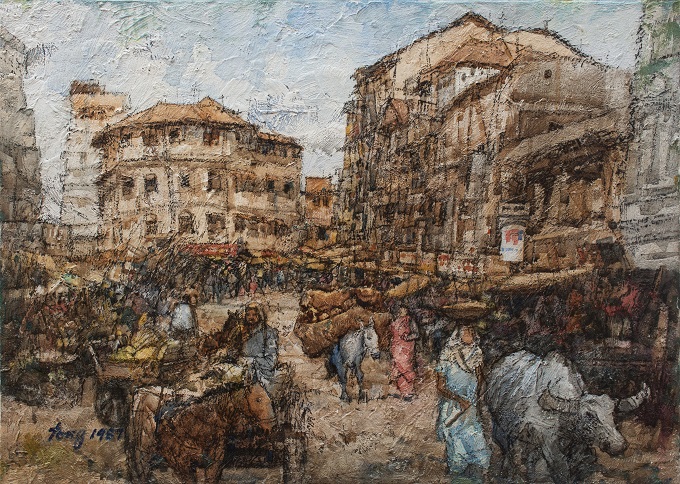 Tong Chin Sye (b. 1939, Singapore –) is a multi-media artist trained in both Western and Chinese art. In 1987, he was awarded the first prize in the Port of Singapore Authority Open Art Competition. Over the years, he has participated in numerous exhibitions both locally and abroad. In 1998, he represented Singapore at the Flemish Watercolour Days held at Zaventen, Europe. Earlier in his career, Tong was also a part-time lecturer in Western Art at the Nanyang Academy of Fine Arts, Singapore. His dynamic oeuvre includes watercolour, oil, Chinese ink and mixed media paintings.
The 20 mixed media paintings on showcase explore the multicultural landscapes of Asia and span three decades of Tong's earlier practice (1960s – 1990s). The works were composed first with a base layer of plaster, before implementing acrylic and watercolour pigments to generate a rich, vibrant texture with distressed effect. Some of the paintings also feature painstaking carving techniques, – a skill which Tong transferred from his woodblock making process unto his easel practice – in place of conventional palette knife sculpting. By carving on a plaster-based composition, the artist successfully resurfaces the texture and opacity of the medium to new visual effects.
Exhibition Period: 25 November – 4 December 2016
Time: 12 – 7 pm (daily)
Venue: artcommune gallery (Address below)
Contact Information
artcommune gallery
231 Bain Street
Bras Basah Complex
#03-39 Singapore 180231
T: +65 63364240 M: +65 97479046
www.artcommune.com.sg
For media enquiries or high-resolution image requests, please contact:
Ms. Valerie Anne Lim
T: +65 63364240
Email: [email protected]
---
is an online showcase and magazine covering Southeast Asia's established and emerging visual artists and art scenes.
All author posts