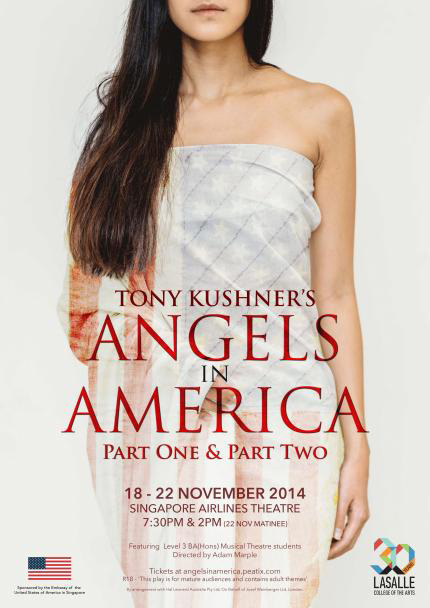 Tony Kushner's Angels in America was first fully performed in1993, winning the Pulitzer Prize and Tony Award for Best Play, and is regarded as one of the masterworks of 20th century American theatre. It has been performed throughout the world, as well as being an award winning mini-series and also an opera.
Whilst the mini-series has been screened, this is the first production of Angels in America in Singapore, and is the Musical Theatre programme's contribution to LASALLE's 30th Anniversary. What this extraordinary piece of theatre is about is encapsulated in the play's subtitle – A Gay Fantasia on National Themes.
Yet from this if you are expecting a play full of gay-dance party eroticism you will be very disappointed. The play is set in the mid 80's and deals with the AIDS epidemic at a time when little was known about the disease, and even less in regard to treatment and support. To state, however, that this is an 'AIDS' play is far too simplistic. It is a deeply rich and complex work, full of insight and an appeal for tolerance and human dignity – it is also highly theatrical and often extremely funny. Part 1 is performed on Tuesday and Thursday evening, while Part 2 is performed on Wednesday and Friday evening. The entire work is performed in a marathon special on Saturday 22 November where one can see the two parts in one day.
Performed by LASALLE's BA (Hons) Musical Theatre programme and directed by their very own lecturer, Adam Marple, this production is a contribution to LASALLE's 30th Anniversary and has had the honour to be sponsored by the Embassy of the United States of America in Singapore.
Rating: R18. This play contains adult themes, and is suitable for a mature audience
More info: http://angels-in-america.blogspot.sg/
Dates: Nov 18 – Nov 22, 2014 (Tue – Sat)
Time: 7:30 PM – 10:30 PM
Venue: Singapore Airlines Theatre
Ticketing: angelsinamerica.peatix.com
(Note: Admission is free but RSVP is required for entry)
Facebook: facebook.com/angelsinamerica.lasalle
---
Online magazine that promotes and markets Southeast Asia's established and emerging visual artists and it's art scenes. And a stepping stone for young aspiring visual artists to showcase their works to the world.
All author posts