Yen Chua has an inimitable charcoal style that is all her own, often inhabiting her paintings with a magical sensibility and a wide-eyed female persona that alternates between maiden, motherand mermaid. Her current preoccupation with the environment is evident in
Until the Last Tree, where the compositions dance between nature and nurture. The Gaia series anthropomorphizes a fecund Mother Earth at one with the flora and fauna of her planetary existence. Next, the eponymous series of the show's title interweaves an additional animal that predominates as the subject of the painting over the watchful Gaia. These monochromatic mixed media works on paper are dense with imagery and richly layered, combining a dark, seductive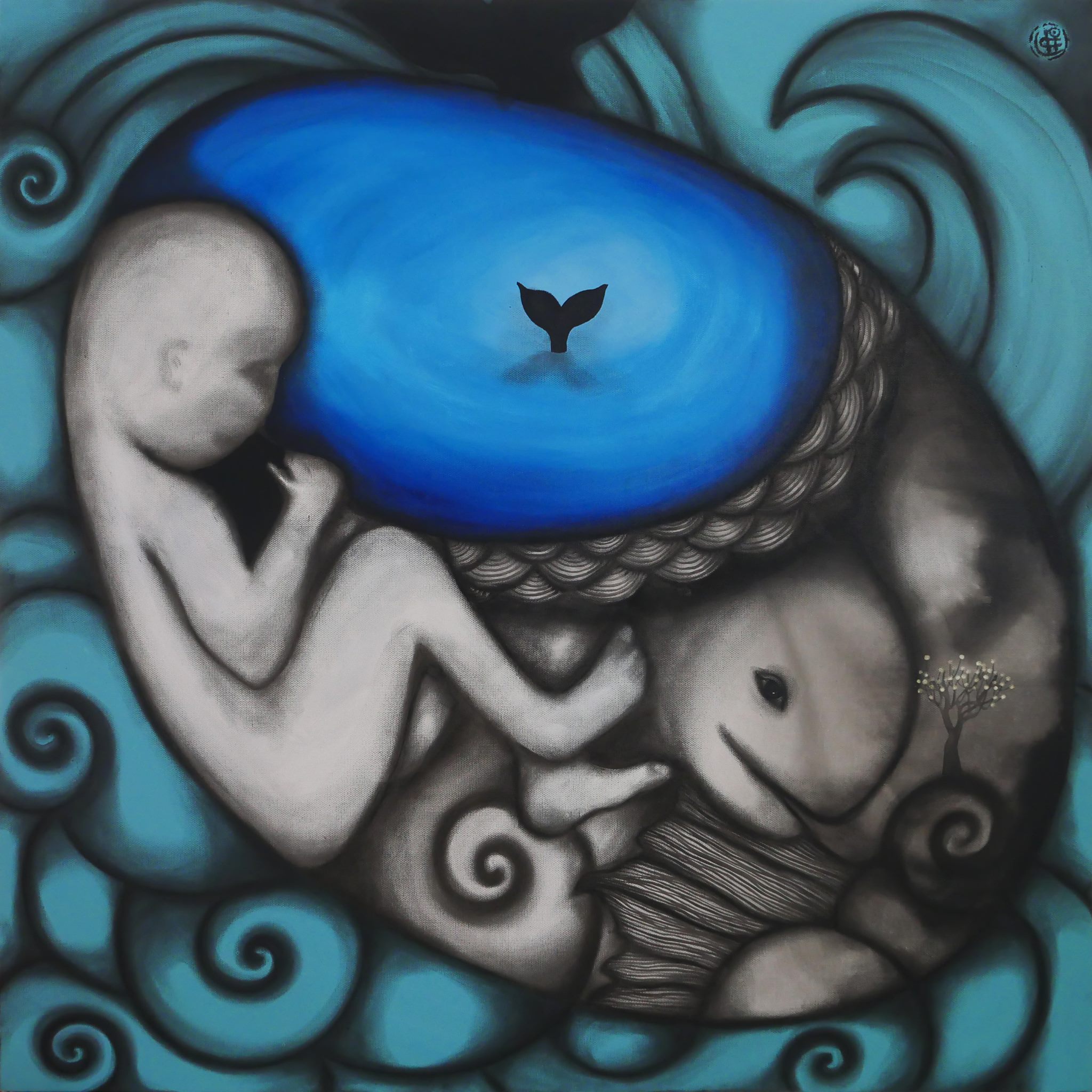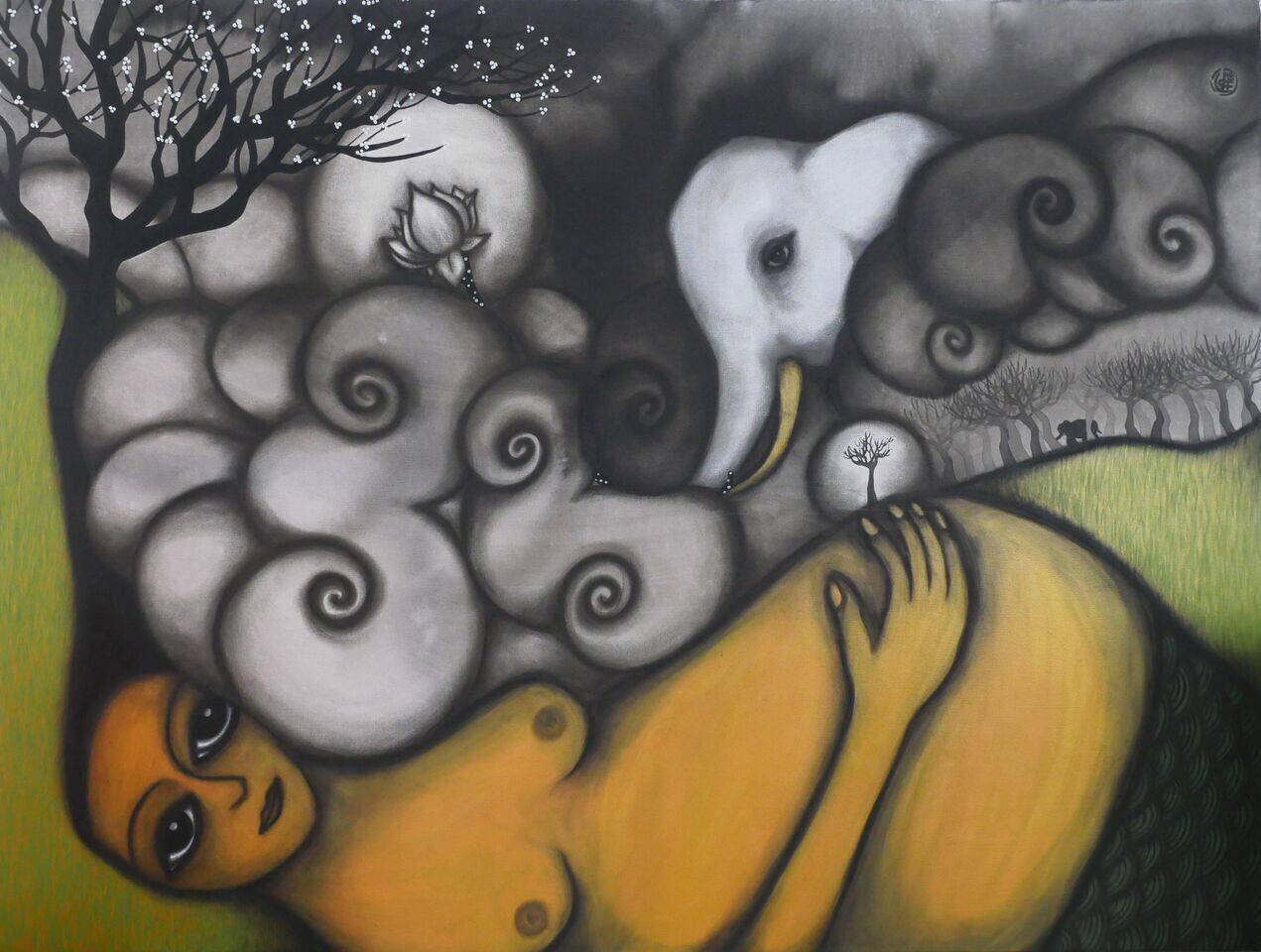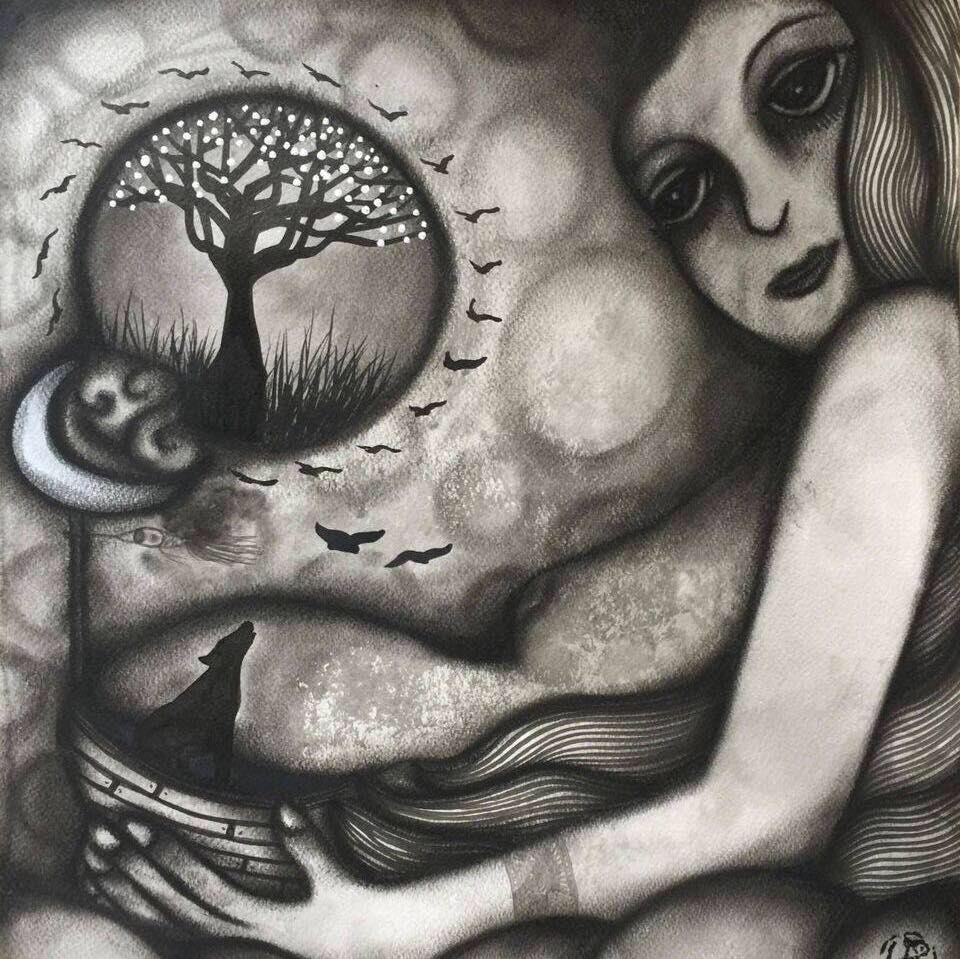 Gaia in charcoal, with silhouettes of trees and distant animals in ink, watery spreading effects, line drawings of flowers and grass, and highlights in white ink. The few canvas works burst into vivid colour when acrylic and charcoal are combined. Gazing at the works, it is apparent that Yen's joy in our world is inseparable from her urgent environmental imperative of conservation and preservation.
Artist's statement
This planet that we inhabit is both precious and rare. Amongst the billions of celestial bodiesthat populate our universe, it is perhaps one of the rare few that supports and sustains life in such richness and diversity. Each and every facet of this planet is unique and beautiful. This biosphere and the cycle of life that thrives within it – this never-ending continuity of birth, maturation and death of human beings, animals, birds, plants, mountains, rivers and seas – is such a mir aculous wonder.
The interconnectedness of things and their interdependence is such an intricately woven marvel. Our time on this planet, our life, is also rare and precious. It's so fragile, ephemeral and dependent on this vast mechanism called the ecosystem. My new series of artworks encourages us to live in harmony with the world and to lovingly cherish and protect it like atreasured gift that is meant to be passed on, from generation to generation.
About the artist
Yen Chua is an artist, art therapist and educator. She works predominantly with acrylic, charcoal and ink. Her mixed media artworks are a vivid portrayal of the surreal, mythical and magical realm. They are echoes of her different mental states, dreams and aspirations, displaying her diverse concerns ranging from the need to save our delicate ecosystem to the aspirations of perfection and enlightenment.
Yen conducts art and art therapy workshops and also lectures on art and art therapy. Some of the institutions she has taught at are the National Institute of Education, Nanyang Academy of Fine Arts, Temasek Polytechnic and LASALLE College of the Arts. She has worked with individuals and groups with social-emotional issues, inmates, children with special needs, cancer patients, teenagers with behavioural problems and elderly clients.
Utterly Art 20B Mosque Street Lvl 3
Tel: 6226 2605 / 9487 2006
(Keng Hock for appointments)
Email: [email protected] / [email protected]
Open BY APPOINTMENT from
Monday-Saturday till 8pm and Sunday: 12pm to 5.30pm
---
Online magazine that promotes and markets Southeast Asia's established and emerging visual artists and it's art scenes. And a stepping stone for young aspiring visual artists to showcase their works to the world.
All author posts