Four remarkable individuals have emerged as the winners of the inaugural UOL X ART:DIS Art Prize 2023, Singapore's first comprehensive art prize that recognises all stages of artistic practice by artists with disabilities, celebrating their unique perspectives and providing them a platform to gain public visibility and patronage.
The biennial competition was launched in May this year in conjunction with UOL's 60th anniversary year and ART:DIS' 30th year. Organised by non-profit ART:DIS (Singapore) Ltd and supported by UOL Group Limited, the competition drew a strong response, with over 300 artworks submitted by students from 17 special education (SPED) schools in Singapore and artists from ART:DIS.
Participants ranged from six to 76 years old, across a spectrum of disabilities including sensory, intellectual, developmental and physical.
A total of eight recipients were honoured in an awards ceremony held today at The Arts House, graced by Ms Low Yeng Ling, Minister of State, Ministry of Culture, Community and Youth & Ministry of Trade and Industry.
During the Award Ceremony, Ms Low Yeng Ling, Minister of State, Ministry of Culture, Community and Youth & Ministry of Trade and Industry, said: "ART:DIS has raised the bar for improving access to the arts for persons with disabilities. Their partnership with the National Arts Council has helped to forge deeper collaboration and understanding between the disability and arts sectors through Inclusive Masterclasses, the Inclusive Arts Residency Project and the Arts & Disability Forum. I would like to commend ART:DIS for their achievements and their dedication to advancing inclusion through the arts for persons with disabilities in Singapore."
On recognition of Artistic Talent with disabilities, Ms Low Yeng Ling, Minister of State, Ministry of Culture, Community and Youth & Ministry of Trade and Industry, said: "Besides creating inclusive art offerings for persons with disabilities, we also hope to enable artists with disabilities to pursue their aspirations in the arts. I am heartened to see organisations like UOL and ART:DIS coming together to provide platforms for artists with disabilities to showcase their work to a wider audience. The UOL X ART:DIS Art Prize is the only award of this scale in Singapore that is singularly focused on raising the visibility of artists with disabilities. I hope members of the public and companies will lend their support in recognising and honouring our artists with disabilities.
Artists with disabilities have contributed greatly to our local arts scene. One example is the late Chng Seok Tin, who was awarded the Cultural Medallion Award, Singapore's highest arts accolade for her artistic excellence and innovations in art."
Among the award recipients was Ms Fern Wong, aged 40, who received the prestigious Winner title in the Mature Category (Closed). She won a $10,000 cash prize and the chance to stage a solo exhibition. Her winning entry, titled "PAPERAZZI", captivated the judges with its intricate paper cut-outs, transforming ordinary bulletin paper into bursts of joyful celebration. The judges noted that her artwork expresses her love of art, showcasing a remarkable level of dexterity despite her disability.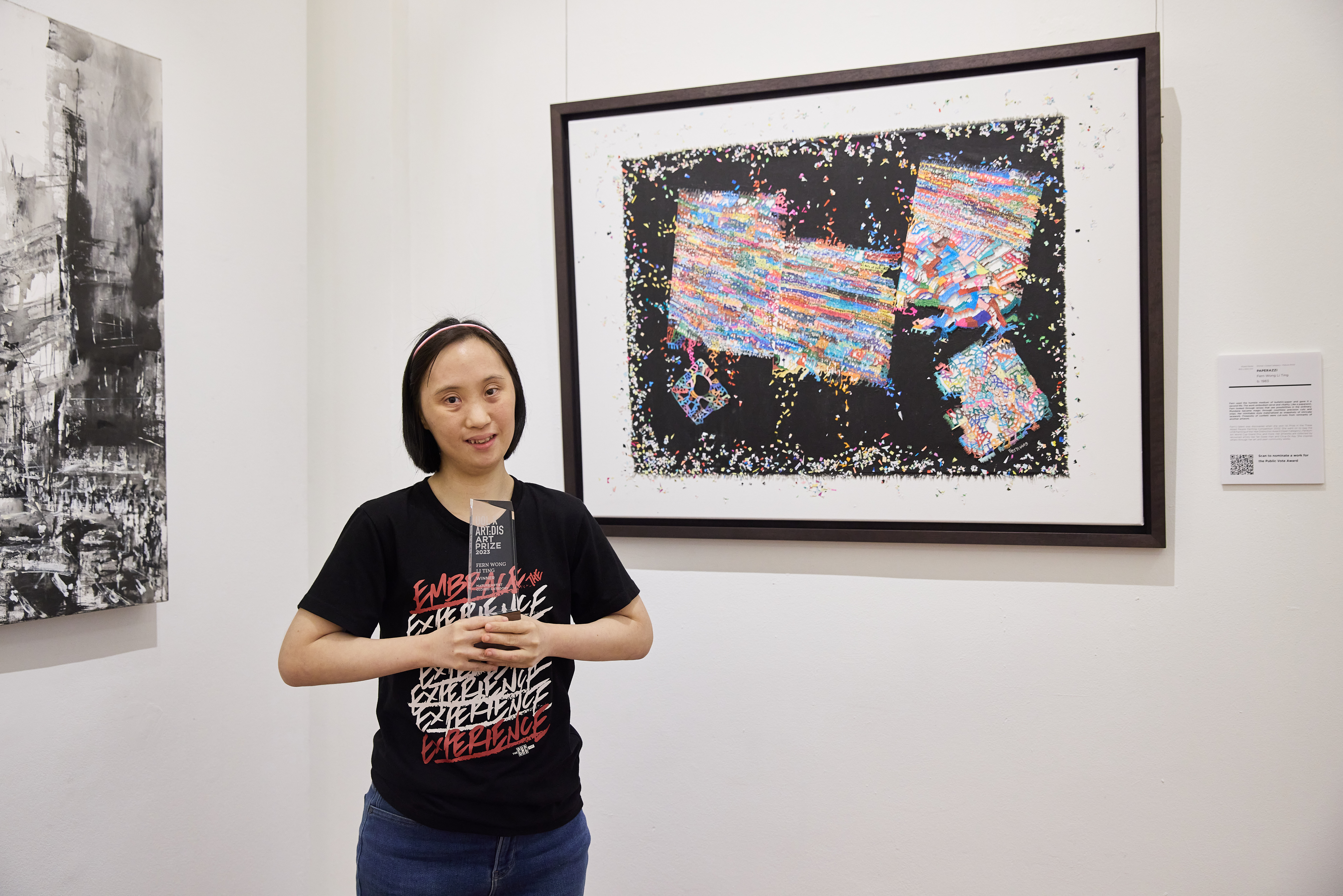 Commenting on the competition, Mr Liam Wee Sin, UOL Group Chief Executive, said: "It has been a privilege and delight to collaborate with ART:DIS and the judges on the inaugural UOL x ART:DIS Art Prize. Looking at these inspiring works of art, I am compelled to know more about the stories and journeys of the artists behind each masterpiece. Through their work, they have painted a vivid picture of perseverance, resilience and unwavering passion."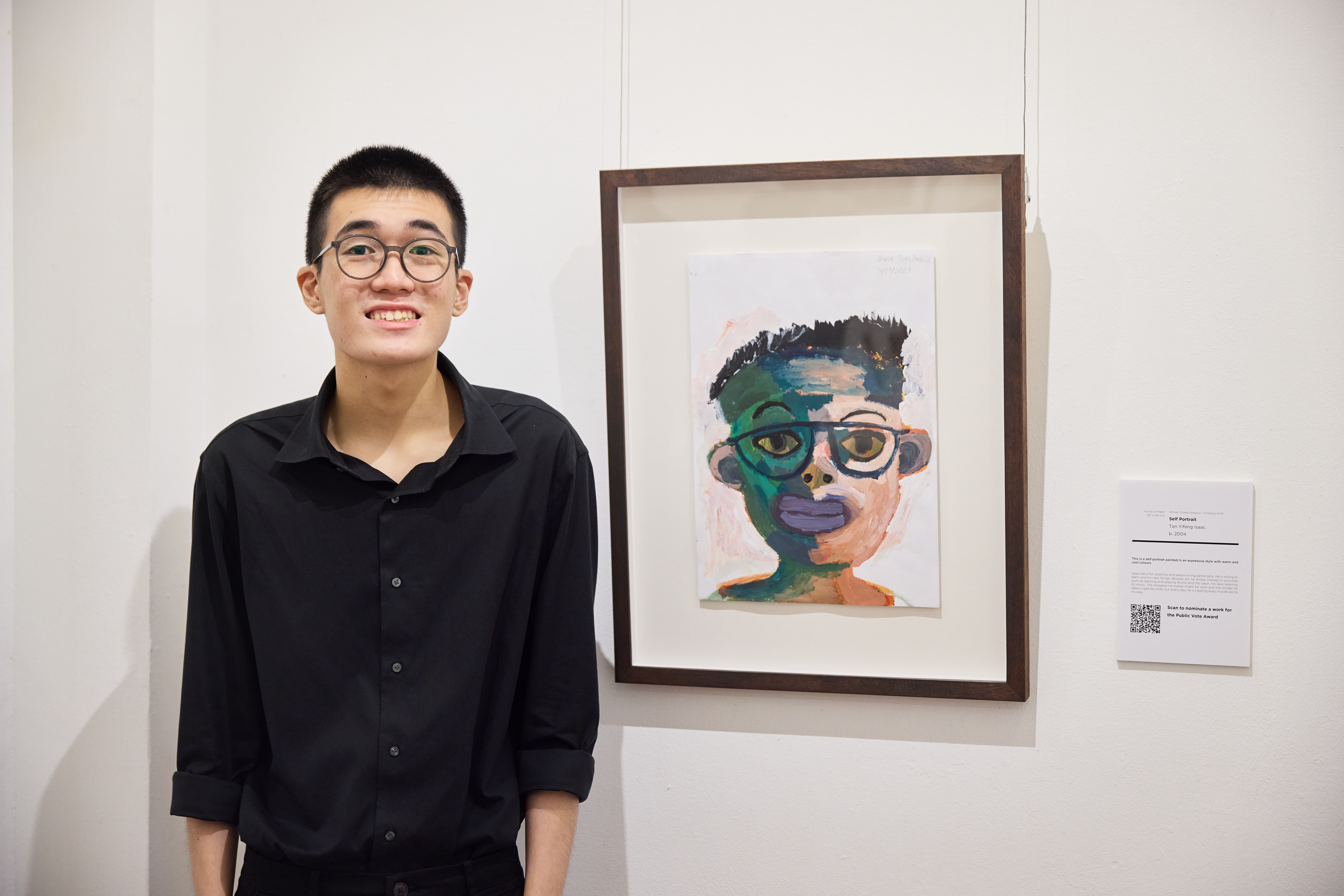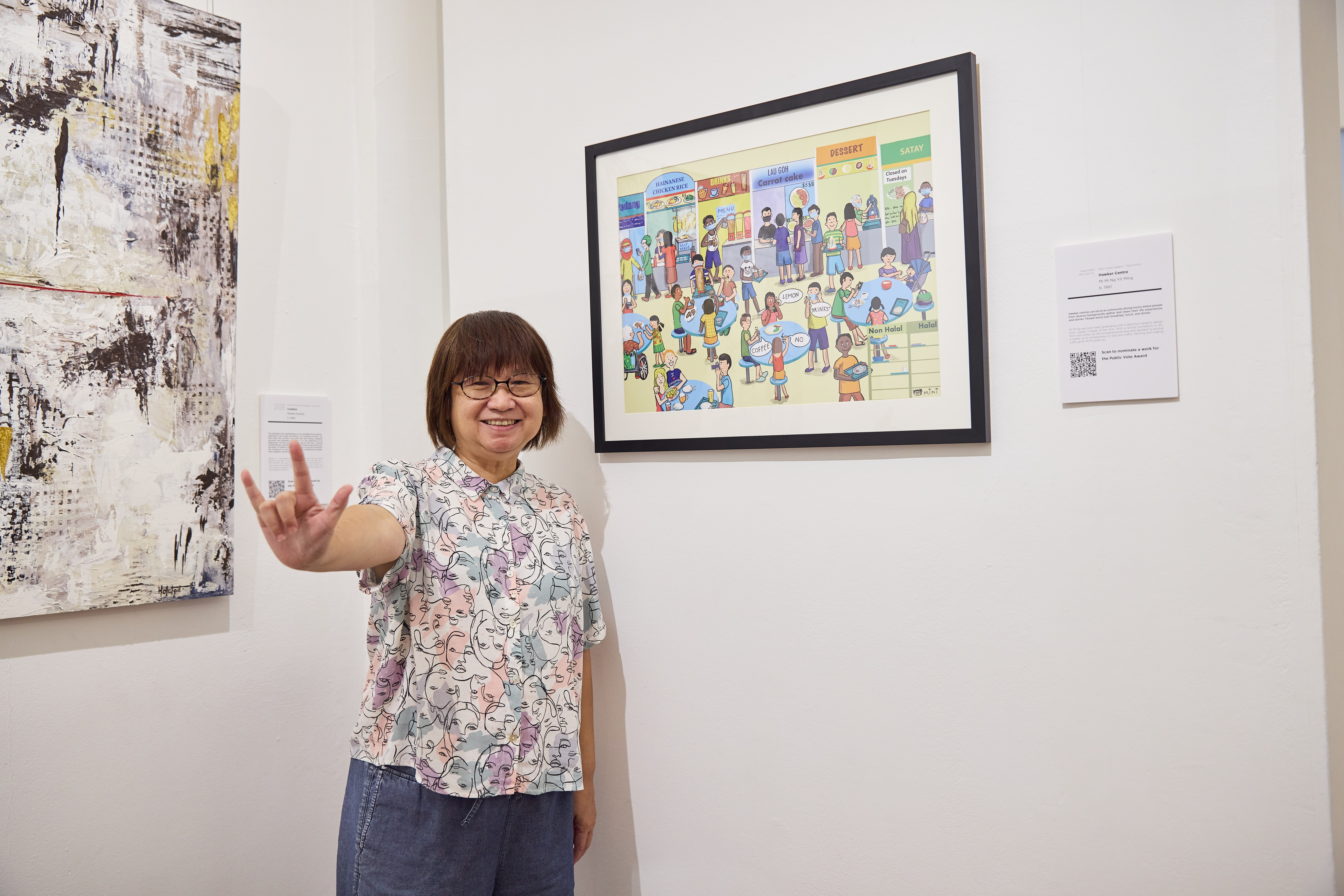 Ms Angela Tan, ART:DIS Executive Director, said: "This Art Prize is a significant platform for the disability community – it celebrates the creative energy of the school-age years, uncovers new talent, and recognises the professional and artistic excellence of artists with disabilities in Singapore. We hope that winners of the Art Prize will gain greater public support and equal access to professional development opportunities."
The winners were selected by a panel of art experts, namely Ms Mae Anderson, Chairman, Art Outreach and Managing Director, Head of Philanthropy Services, Asia, BNP Paribas Wealth Management; Ms Dee Chia, Deputy Director of Audience Engagement, National Gallery of Singapore; Mr John Tung, an independent curator and exhibition-maker; and Ms Adeline Kueh, Senior Lecturer, Lasalle College of the Arts Singapore. Mr Liam Wee Sin, Group Chief Executive, UOL Group Limited, was also on the judging panel.
In a statement, the judges said they were deeply moved by the submissions received, which showcased a diverse range of artworks reflecting the unique perspectives and artistic expressions of persons with disabilities. They added that all the winners demonstrated exceptional skill, artistic vision, and thought-provoking concepts in their respective works.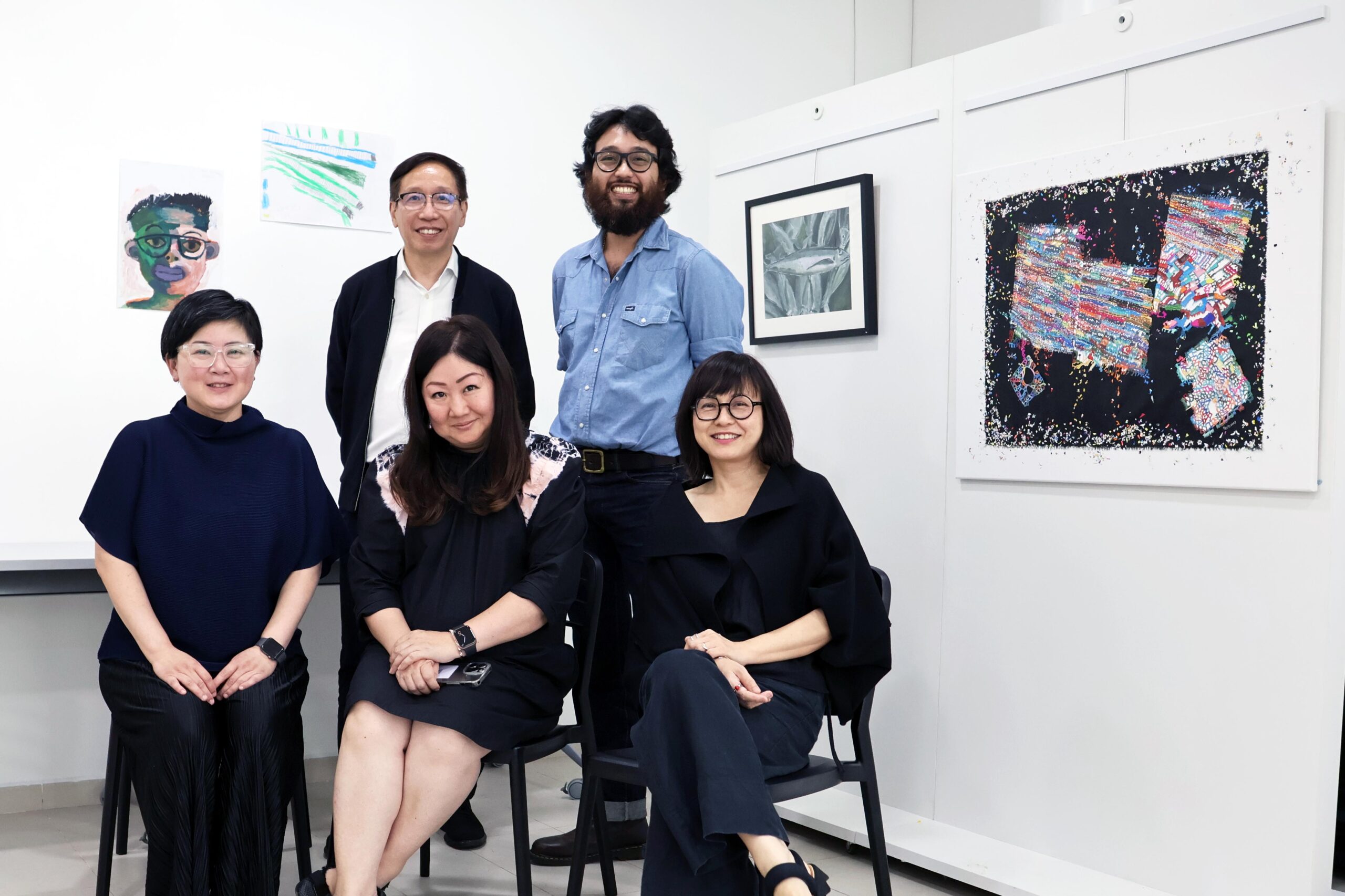 Commenting in Ms Fern Wong's winning entry, Ms Adeline Kueh, Senior Lecturer at LASALLE College of the Arts Singapore, said: "The intricacy of the work superimposed with texts makes this work a standout piece. It invites the viewer to go closer & to figure out the inner-workings of the artist & her thoughts. Having said that, the inability by the viewer to "know everything" due to the ways in which some lines are obscured or removed also suggest the fact that we, as viewers, can't know all that an artist (Like Fern) goes through. Well done & keep up the good work."
John Tung, Independent curator and former Assistant Curator at the Singapore Art Museum, said: "An exceedingly expressive and honest self-depiction that stood out from the other paintings. Nuanced distortions capture all of the beautiful imperfections of ourselves, prompting us to think deeper about self recognition and how others potentially image us."
Mae Anderson, Chairman at Art Outreach and Managing Director at BNP Paribas Wealth Management, said "The prize represents a remarkable step towards inclusivity and recognition of the immense talent and creativity within the disabled community. This initiative sends a powerful message that the disabled community's artistic contributions are not only valid but deserving of celebration and acknowledgement on a significant platform. The diverse range of works and the many thoughtful and well-executed submissions were very encouraging and heart warming. It was a privilege to serve as a judge for this important prize."
Dee Chia Deputy Director of Audience and Engagement at National Gallery Singapore, said "We see a lot of very exquisitely made works showing extreme technical control for the open category. For the younger categories, we also see a lot of exuberant works taken from very raw lenses. The works from the little ones remind us of the beauty of unaltered perspectives. They also depict the beauty of what art can be without over instruction and intervention. Some of the award winning works are also very direct and straightforward interpretations of the artists feelings and thoughts about themselves and life around us. The significance of this Prize is that it is one that is inclusive, that is accepting of alternative ways of expression. This Prize is extremely important for Singapore in positioning our artists with special needs within its larger arts and culture ecosystem."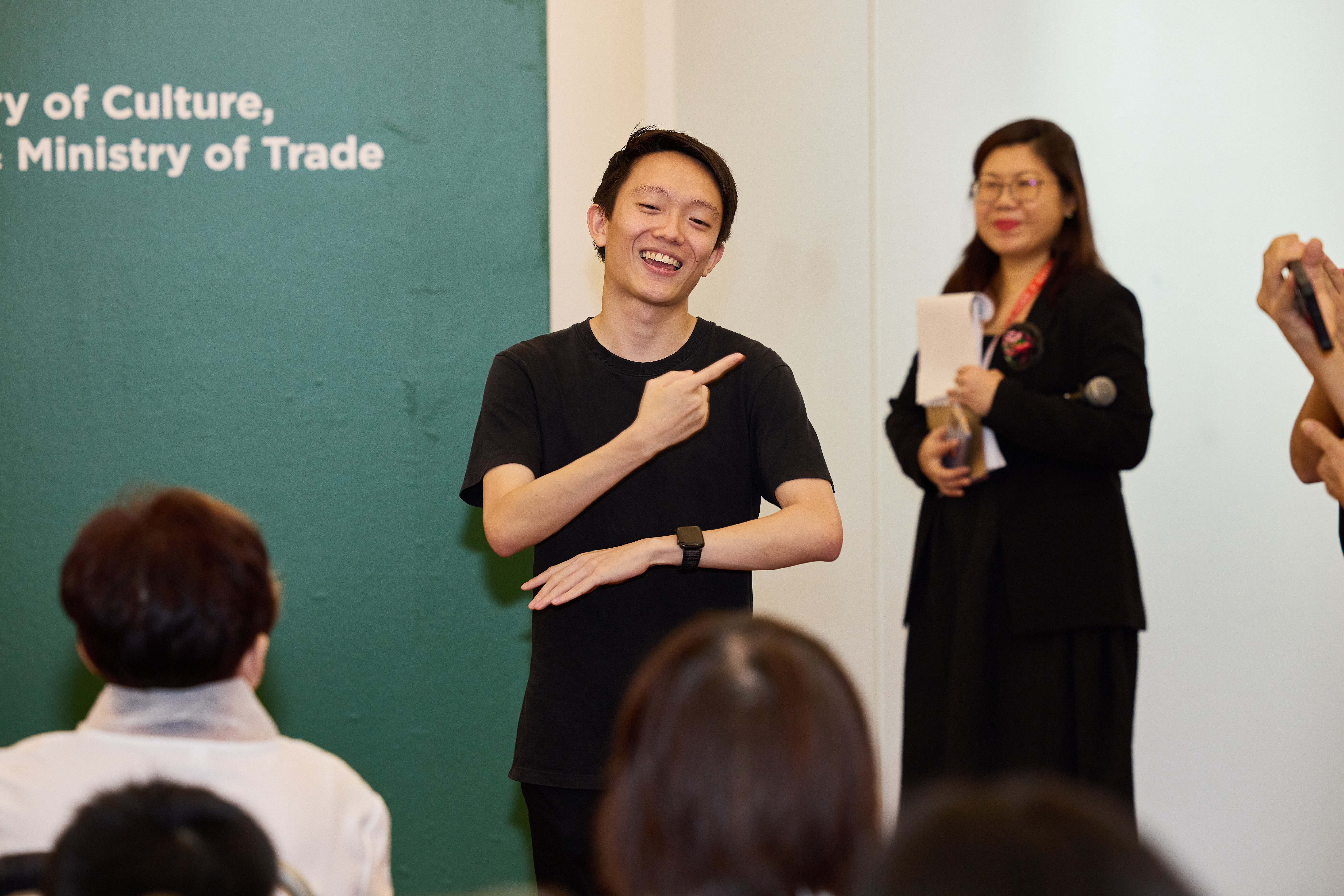 All winning artworks will be showcased at The Arts House (Gallery II) from 5 to 14 August (10am–9pm), in the heart of the Civic District. Members of the public can visit the exhibition and vote for their favourite artworks across all categories, or go online to cast their votes. The dateline to cast your favorite for the Public Vote Award is the 31st of August 2023.
The UOL X ART:DIS Art Prize will return in 2025 to continue its purpose as a catalyst for greater representation, acknowledgement and appreciation for artists with disabilities.
---
is an online showcase and magazine covering Southeast Asia's established and emerging visual artists and art scenes.
All author posts