虚与实 or Virtuality and Reality, is Mr Tan Rui Rong's first solo exhibition. Mr Tan counts Eastern philosophy, particularly the school of Zen Buddhism, as one of his greatest inspirations. By juxtaposing the two series, 虚 (Virtuality) and 实 (Reality), in a single exhibition, Mr Tan hopes to show the duality of perspectives in many situations that we encounter in life. This message is also conveyed through one of his favorite painting styles, where he combines the abstract with the figurative by placing representative images alongside Chinese characters. This theme is seen in his works such as 月出 (Rising Moon) and Gazing 山.
"物质世界是虚与实的融合体;精神世界亦然。绘画的世界呢?"
"The material world is a combination of the virtual and the real. So is the spiritual world. What about the world inside of paintings?"
~ Mr Tan Rui Rong
Mr Tan Rui Rong is one of the few UOB Painting of the Year alumni to have received two Painting of the Year recognition awards for his work. His first award came in 2000 when he won the Highly Commended prize for his piece titled Deep Feelings which brought to light the Miao tribe's concern for the younger generation, shown through the custom of handing down silver from the elderly to the young.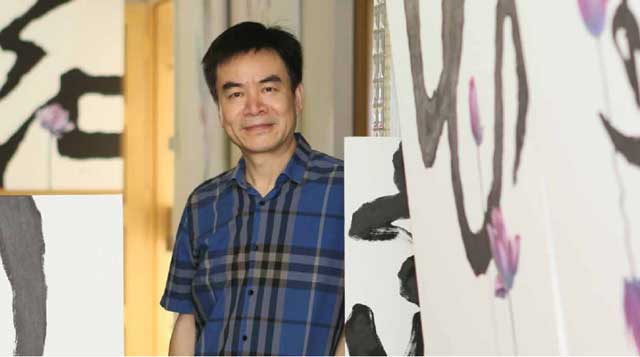 Last year, Mr Tan received the Silver Award (Established Artist Category) in the 2013 UOB Painting of the Year (Singapore) competition for yet another powerful painting titled Gazing 山. Gazing 山 was based on the philosophy of Buddhism Master Qing Yuan Wei Xin who said 见山是山 (a mountain is a mountain), 见山不是山 (a mountain is not a mountain), 见山还是山 (a mountain is still a mountain).The saying's deeper meaning reflects the changing perspectives people have as they progress through different stages in their lives.
Mr Tan discovered his passion for the arts at an early age. With hard work and determination, he earned an opportunity to be trained under famed artists, such as oil painters Xiang Guang (向光) and Jian Ren Yi (蹇人毅), at the Guizhou Art School. Mr Tan also has a strong passion for Chinese literature which is why many of his paintings reflect the sayings of Eastern philosophers and literary masters.
A resident of Singapore for more than 20 years, Mr Tan is the editor of Yuan, a Chinese cultural publication of the Singapore Federation of Chinese Clan Associations, as well as an art lecturer at the Singapore Institute of Management University. Mr Tan is also a board member of Singapore literature society and the director of Arts Theatre of Singapore.
– Venue: UOB Art Gallery, UOB Plaza 1 Ground Floor. 80 Raffles Pl, Singapore 048624
– Start date: 20 Aug – end October
– Opening and closing hours: 9 am till 6.30 pm
---
Online magazine that promotes and markets Southeast Asia's established and emerging visual artists and it's art scenes. And a stepping stone for young aspiring visual artists to showcase their works to the world.
All author posts