Visual storytelling is a powerful tool for increasing our understanding of social issues, be they in our own backyards or distant lands. Whether you are interested in social, environmental or human rights issues, this webinar workshop by The Invisible Photographer Asia (IPA) will give insights into both challenges and best practices.
Through selected case studies, participants will explore past & current trends, voice & participation, and how visual storytelling can bring about change. The session will also provide an opportunity for those planning or working on projects to have expert input into developing projects, including options for detailed post-workshop feedback.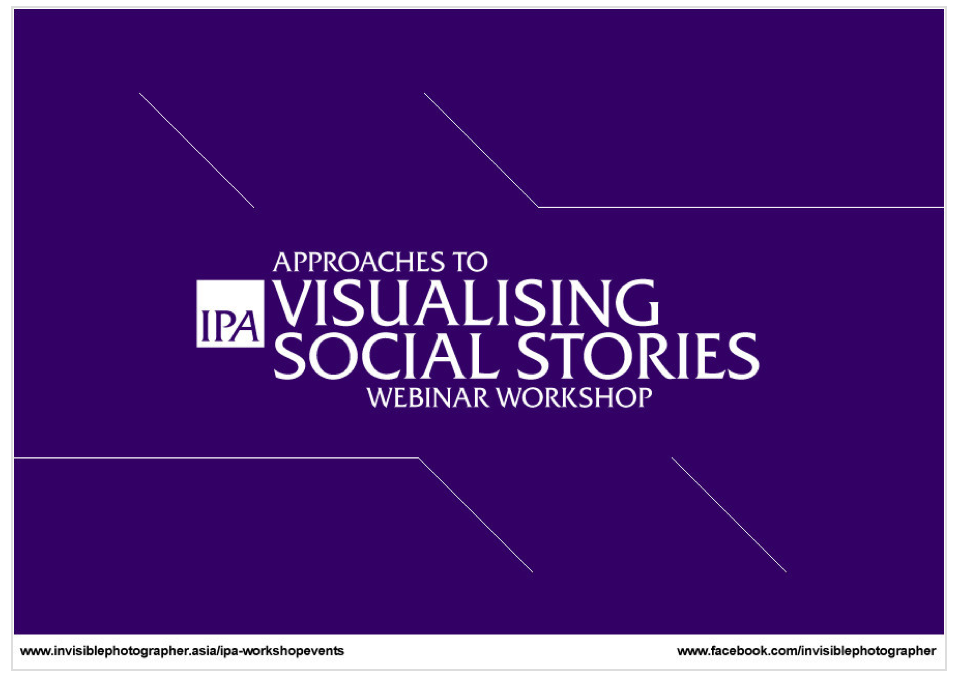 Webinar Workshop: Approaches to Visualising Social Stories is designed by Invisible Photographer Asia and human rights advocate Robert Godden. The workshop will be led and mentored by Robert Godden and facilitated by IPA founder Kevin WY Lee.
The first session of this workshop is scheduled for 8PM–10PM (GMT+8) WEDNESDAY 15TH OCTOBER 2014, and will be limited to a maximum of 6 Participants only.
New Webinar Workshop with Live Lecture and Discussions
DATE: 8PM–10PM (GMT+8) WEDNESDAY 15TH OCTOBER 2014
Program Basic Requirements
– Google+ Account and Hangout capabilities using Video/Voice for Webinar Conferencing. Check here for required system requirements.
– Access to Internet connection. Approximately 1–2 mbps bandwidth.
Workshop Mentors
ROBERT GODDEN
Robert Godden is a human rights advocate specialising in Asia. Rob has worked for Amnesty International for 13 years and now specialises in migrant workers and contemporary forms of slavery. In 2009 he established the Rights Exposure Project blog (http://therightsexposureproject.com) that looks at the use of visuals in social activism. He recently completed the New York University Tisch School of the Arts and Magnum Foundation Photography and Human Rights program.
FEES: $USD80.
For more information, please contact [email protected] or visit http://store.invisiblephotographer.asia/collections/workshops/products/webinar-visualisingsocialstories
Images copyright by The Invisible Photographer Asia (IPA)
---
Online magazine that promotes and markets Southeast Asia's established and emerging visual artists and it's art scenes. And a stepping stone for young aspiring visual artists to showcase their works to the world.
All author posts