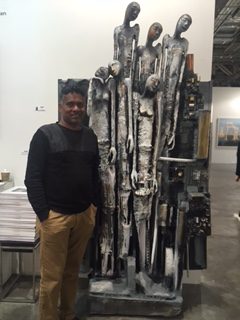 To Ponnusamy Gnanadickam, finding an optimal balance is what his life and art are about.  Known to the art world as P Gnana, he tells me that "art is [his] passion".  It was Singapore that gave him the opportunity to study art; he had come to The Little Red Dot to work for Shell but it was short-lived.  After eight months of his stint at Shell, he answered to a deeper calling and registered for the Foundation in Art course at the LASALLE College of the Arts.  In 2002, he became a recipient of a LASALLE Scholarship which enabled him to complete his visual art training.  He hasn't looked back since graduating with a qualification in Fine Arts, specialising in painting but his oeuvre also includes sculptures.  He founded Gnani Arts with his wife, Ms Vidhya Gnana Gouresan, and for the past 16 years, they have been running this family business together.  Gnana and Vidhya are a great team; Vidhya is his shakti.  It is Vidhya who comes up with the titles for his pieces; it's a joint effort he emphasises as his wife understands his soul and his art.  His son was involved too in naming an oil painting of a white stallion against a golden background: Appa Horse, (200 x 178 cm).  There is a sense that Gnana has found a perfect balance in his family and work life; this is reflected in many of Gnana's pieces.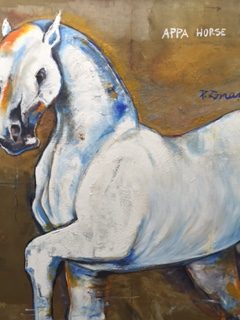 The family unit never leaves our conversation; perhaps it is in the family that Gnana finds a soothing balance, a raison d'être to create.  Gnana doesn't mention if his family in Neyveli, Tamil Nadu, was supportive of his decision to leave a mechanical engineering career to dedicate his life to art.  However, I detect a definite sense of pride for India where he was born and raised; he is rooted to India, he tells me, and Singapore has allowed him to plant new (Indian) roots manifested by his marriage to Vidhya who is a third generation Singaporean Indian.  Gnana is very connected to his motherland and promotes many Indian artists at Gnani Arts; India inspires him to explore novel ideas of art making; he dreams, experiments and pushes boundaries in India.  He explains that monumental pieces benefit from the freedom of space and mind; he cannot be constrained because "art is freedom of expression".  His sculptures are all realised in India where he has a workshop and studio.  He works with no pre-planning and lets the unconscious flow in his creation.  Together with a welder with whom he works alongside, his sculptures develop organically; the welder stands by to fuse the parts together.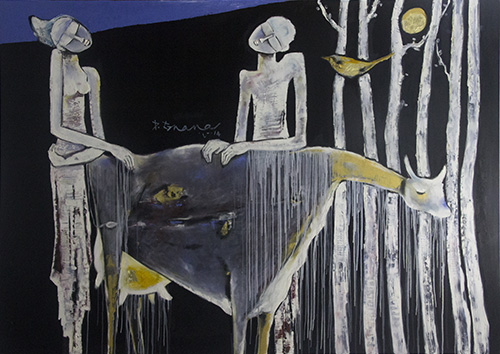 Perhaps it is the importance tied to the freedom of expression that could explain why Gnana favours abstraction in art; in abstraction, the mind's wanderings are expressed artfully through a free flowing of ideas.  However, being a full time artist means that he has to find a balance between what he likes to create and what he can sell.  He is pragmatic about the beast that is the art market.  Gnana looks wistfully away as he tells me why he had to find another way to express himself; abstraction isn't for everyone.  Without compromising his identity as an Indian artist, he chose another beast to address this imbalance he saw between his abstraction and market sales: he chose the cow, a holy animal in India.
The cow, a symbol of his childhood features in many of Gnana's pieces.  He is fascinated by this beast who is strong yet docile and represents for him memories of growing up in India.  He tells me about Pongal, a festival that is celebrated mainly in South India on the 14th of January annually.  Pongal is a festive time for Hindus as they give thanks for new beginnings and remember the significance of the sun's movement northward.  This festival is celebrated with jubilation in his hometown.  Rice is cooked in a new pot until the water boils over, temple bells are chimed, clarinets are sounded, drums are beaten, and conches are called to herald in the joyous occasion of Pongal.
A bronze sculpture with a green patina catches my eye.  Entitled Krishna, a figure – a cowherd in a dhoti – plays a flute sitting on top of a cow who has its head turned towards the flute playing figure; there is a tree in the shape of a lotus bud behind the cow/boy couple.  The boy sits with one leg pendant and the other folded across the animal's spine; he is in perfect harmony perched on the back of his cow, eyes closed in reverential music making.  They are protected under the shady tree.
Gnana's art is figurative in their forms; but his figures are abstract without losing their sense as figures.  This could be Gnana's response to his art teacher who challenged him to remove figures from his work and venture into the abstract.  In Gnana, I sense both the resilience and docility of the cow; the strength to maintain the essence of who he is and the willingness to take on board critique of his work; it is all about balance again.
Kiss of Life Series is a trio of panels (150 x 30 cm, panels sold separately) depicting a singular elongated female head and bust.  The sarong kebaya reminiscent of that worn by Singapore Airlines stewardesses dresses each figure rendered in oil and fabric: one is a stewardess and another her chief with the third in the series draped by a generic piece of batik.  Gnana pays homage to his adopted homeland in this series.  The face takes up the majority of the panel which are long rather than wide; the batik situates these figures in Southeast Asia, in Singapore.  The panels are lacquered, hence the shimmer reflected in the light.  Why the lacquer over oil and fabric?  There is a need to protect the fragility of the batik and a burning need to experiment with combining one material with another.  Here, it is evident that Gnana seeks to find balance in figurative and abstract art; there is also that need to seek balance in pushing boundaries, to see if one material will mix well with another.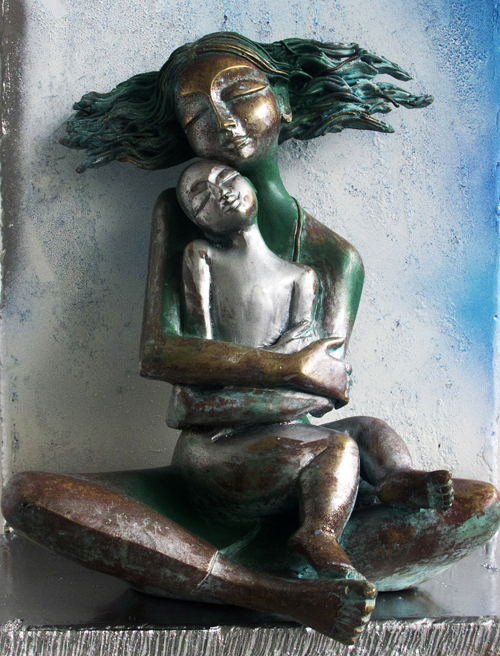 I sense a strong need for protection in Gnana who is almost egoless in his demeanour; the fragility of relationships and the necessity of protection are dominant features in his work.  There is a fragility about the man who sees art as his life source.  He is concerned about the challenges faced by full time artists who must make a living from their art.  His worst moments are when the market is slow to respond to his work; he starts to doubt himself and his abilities.  Don't we all as artistes?  After all, creation cannot exist in a vacuum; the art must flow from the artist's unconscious to conscious viewers and buyers.  His most memorable moments are when his art evokes something in the viewer, after all this is art's raison d'être.  Gnana recounts a moment when an Australian woman was moved to tears by a piece from his Mother and Child Series.  This work has since been sold but it was the woman's emotional response that has stayed with him.
Gnana regales me with tales of being a child and observing little birds that sit on the backs of the cows in his hometown.  As a child, he would watch as the birds pick off the insects from the cow's back; there is kinship in this pairing.  Intrigued, he paints this special bond between the bird and the cow.  He sees the birds protecting the cows from the insects and the cows protecting the birds by feeding them.  We return again to the theme of protection which Gnana also expresses in his art through the depiction of the mother and child.  The mother/child dyad symbolises a deep and innate balance in nature; the overarching theme of interdependence echoes in many of Gnana's work.
Gnana debuted in New York in 2011; he has had many exhibitions in Southeast Asia and India before his American debut.  In Singapore, his works are collected by the Singapore Art Museum and the former President of the Republic of Singapore.  In 2005, a total of fourteen abstract pieces were commissioned by Singapore's Ascendas Pte Ltd and the Tech Park in Chennai.  Internationally, he is collected in Southeast Asia, South Asia and Europe.
What role does he see an artist playing in society?  Gnana set up an arts institution in South India in 1999.  Kalashram has gone on to educate and inspire more than 200 adults in the freedom of art making and art appreciation.
Our conversation closes with Gnana telling me that he is off to New Delhi for another art fair.  There is a sense of satisfaction and contentment as he prepares for yet another journey back to his motherland.  I sense that the contentment comes from having found the balance in being rooted to two nations; the satisfaction is perhaps in knowing that in India he can push art's boundaries and create with freedom.
Eva Wong Nava is a published writer, former blogger and emerging art historian. She combines her love for art with writing personal reviews and anecdotes. Her flash fiction are found in Jellyfish Review and Flash Fiction Magazine. Her art writings have appeared in several independent arts magazines
---
is a British Art Historian based in a nation-state not far from the Equator. She holds an M.A. in Art History from The Open University and writes about modern and contemporary Southeast Asian art because she feels that the region she calls home has plenty of good quality art to offer the world. When not writing about art, she writes Flash Fiction, using visual art as prompts to get her writing juices flowing. She also teaches a creative writing course using the examination of artworks as prompts for writing original pieces. Through dialogues with each other and writing exercises, participants explore the different ways of creative writing and experience works of art through a personal, social and cultural lens. Find her work at CarpeArte Journal.
All author posts