Art lovers and collectors will have the Affordable Art Fair Singapore (AAF) to look forward to in November 16 -18. The Affordable Art Fair has its home in London where it was founded by Wil Ramsay and launched in 1999 with the aim of making art enjoyable, accessible and affordable. Since its initial launch, the Fair has been a leading platform and space for contemporary art from Amsterdam, Brussels, Milan to Hong Kong and Singapore. Established in Singapore in 2009, the AAF has maintained its focus on injecting fun in art viewing and accessibility to art buying in the little red dot.
Aside from exhibitions and sales, the Fair is also involved in a mentoring programme of artists below the age of 35, living and working in Singapore and Southeast Asia. Under the Young Talent Programme (YTP) which was initiated in 2012, up to eight artists are carefully selected by a panel to present their artworks, to an international audience each November, during the run of the AAF. These artists are then shortlisted to participate in a 10-month mentoring programme with veteran Singaporean curator, Seah Tzi-Yan before their solo exhibition at the ION Art gallery the following year. The ION Art gallery has been a partner in the YTP since its launch.
This year, buyers and collectors will be able to view once more the works by the winning entrants at the Winners' Solo Exhibition from 31 August to 16 September at the ION Art gallery.
Showcasing this year are three emerging Singapore-based artists with a list of accolades and awards. Bo Sung Yom is a Korean-born artist who works with found objects and sculptural installations. Faris Nakamura, who is part Indonesian and Japanese, explores the notions of public spaces and its relationship with its users. The only female artist in the group is Xinwei Che who is China-born but brought up in Singapore and her works examine the impact of time on our lives and memories.
Underpinning each series of works are the notions and concepts of identity, migration and remembering. For example, Bo Sung Yom's exhibition is entitled 'Immigration and Customs'. He plays with the idea of customs control as the entryways into new ports of call as well as the customs within cultures and countries. Arriving from Daejeon, South Korea, to Singapore in 2004, he completed his secondary and sixth form education here. His works are reflections of our/(his) irrational fear of losing our identity, culture and customs in Singapore's ever-increasing state of immigration. He is on his way to being a Singapore citizen, he admits. In one installation, we see a HDB block made up of erasers with different national flags, suggesting the new quota of future applicants for this public housing scheme which was initiated in 1960 answering to the national call for public housing. The Merlion, Singapore's iconic mythic beast, is sucking water from a fish tank with a golden straw rather than spewing water from its spout. Inhabiting the fish tank is a beautiful indigo Fighting Fish which pays homage to the Singaporean youth culture of collecting such fish as pets and for fish fighting competitions. These sculptural installations stand on a transparent perspex plinth within which perspex bamboo rods hold the Hanbok. When prompted, Bo explains that it is not customary for Koreans to dry their laundry with bamboo poles hanging from the balconies of HDB flats as seen in Singapore. The melange of Singapore-Korean markers is a mirror to his own sense of paranoia at losing who and what he is as he negotiates his new identity as Singaporean over Korean.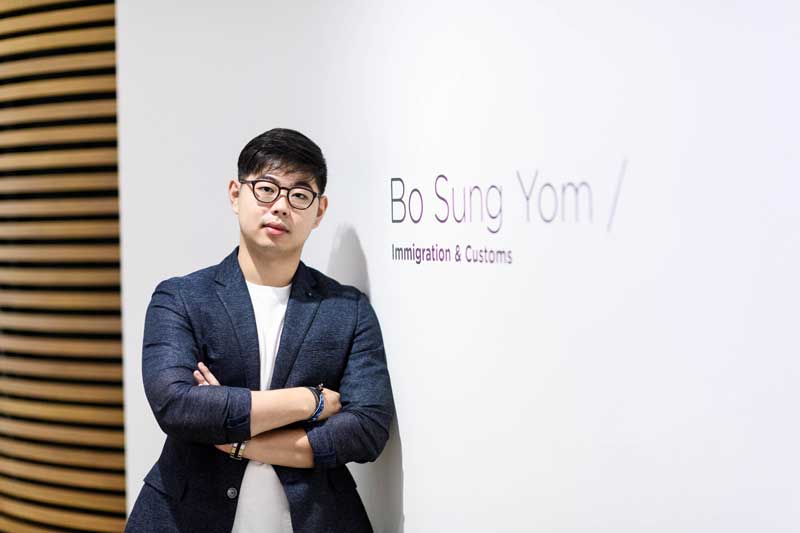 Another work 'Landing Cards (for T5) points to the landing cards issued to visitors entering the United Kingdom. Bo is familiar with England as he is currently pursuing his BFA (Hons) at the Slade School of Fine Arts. His landing cards are displayed in a row where he has jotted down the answers given by his classmates to questions about their living spaces. These replies are then translated and transcribed into objects in an installation piece, 'T5', where he moulds and cuts plastic into the objects that correspond to his respondents' relationships with their living spaces.
Xinwei Che also uses materials to translate and transribe her reflections of the familial space—home—in a series of works entitled 'The Cradle of the House'. Che records one's living space in a series of works using wax as a medium. She creates plastic moulds to give this malleable substance shape. Her wax sculptures stand in ceramic holders that denote their importance, she explains. A motley of oddly-shaped figures allude to the pantheon of gods displayed on altars in most Chinese homes: their disfigurement calls attention to the waxing away of time and the transience of home. She is not religious but is interested in the idea of altars as a marker of home. Home for her is Singapore where she was brought up since arriving from Jilin, China.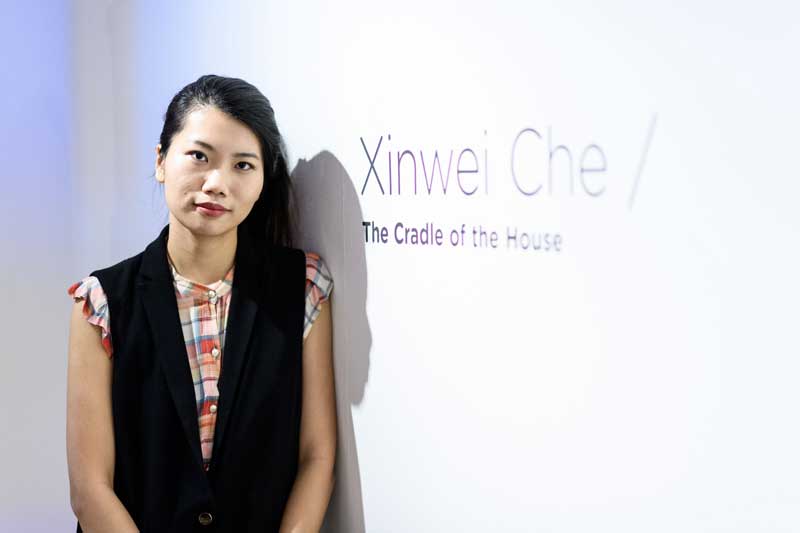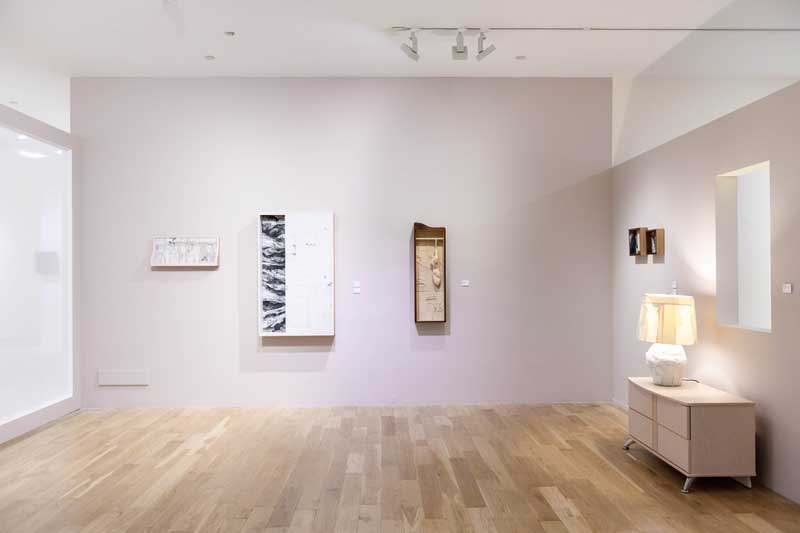 The most geometrically-centric series of works are by Faris Nakamura, entitled 'The Light Between Walls'. Indeed, to see the light in his box-like installations of wood, acrylic and metal, you must really look between the spaces partitioned by walls. Nakamura's series contemplates how disparate and marginalised groups negotiate public spaces: the exposed and hidden spaces in our communities. As someone who identifies gay, he seeks to use his work to start conversations about the idea of same-sex love and the public display of such love. In one work, he uses saga seeds, proverbial and predominant in Singapore's public gardens, as symbols of hidden love. You will have to peer and look between partitions and into windows to find these two red dots.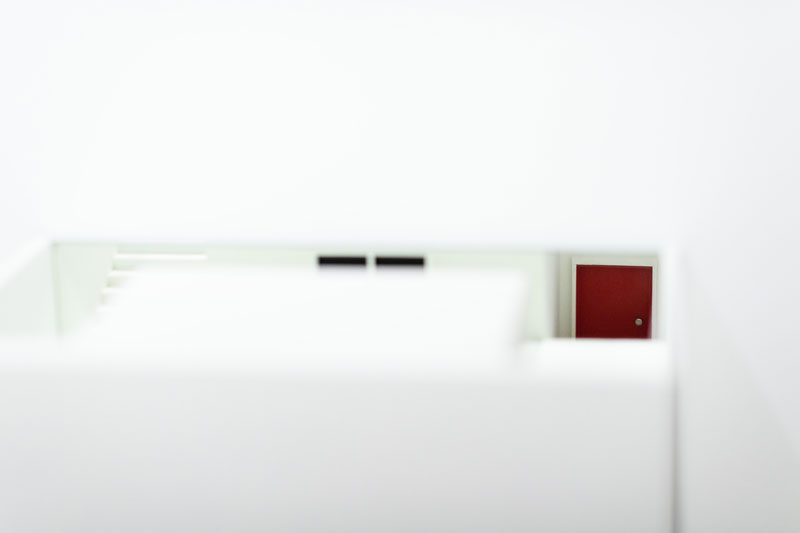 The Winners' Solo Exhibition is on at ION Art gallery until 16 September before being exhibited again at the AAF in November.
Young Talent Programme 2017/2018, The Winners' Solo Exhibition, ION Art gallery, 31 August – 16 September 2018.
Affordable Art Fair Singapore Autumn Edition, The F1 Pit Building, 1 Republic Boulevard, 16 – 18 November 2018.
* This year's fair will showcase exciting new galleries from around the world, making art accessible and affordable to the general public in Singapore and the region.
---
is a British Art Historian based in a nation-state not far from the Equator. She holds an M.A. in Art History from The Open University and writes about modern and contemporary Southeast Asian art because she feels that the region she calls home has plenty of good quality art to offer the world. When not writing about art, she writes Flash Fiction, using visual art as prompts to get her writing juices flowing. She also teaches a creative writing course using the examination of artworks as prompts for writing original pieces. Through dialogues with each other and writing exercises, participants explore the different ways of creative writing and experience works of art through a personal, social and cultural lens. Find her work at CarpeArte Journal.
All author posts