Presenting his first solo exhibition BRAT (兔崽子), Singaporean singer-songwriter Jones Shi Kang Jun (石康钧) expresses his intimate observations on life through his artwork in various forms and media using rabbits as a key motif.
In Chinese, the term兔崽子 (literally translated as "son of a rabbit"; pronounced as tu-zai-zi is used to refer to those who are self-centered and obnoxious. Using rabbits as muses, Jones Shi Kang Jun puts them in different situations to explore concepts like self, dreamscapes and his observations and interpretation of life.
Drawing inspiration from contemporary artists Gary Baseman and Yoshitomo Nara, Jones executes his art in a bold and provocative manner. The process of the maturation of his art through the forms and themes of his artwork is being executed as he experiments with complex forms of artistic expressions – from sketching to painting; to photography and videography.
The sketches displayed presented a whimsical concept for the show. The titles that accompanied are listed individually and they appear almost like song titles. Each title relay a feeling, an experience, and maybe a tune to it. Some of the sketches have been transformed into the actual artwork, and the concept thus come alive.
In a series of three paintings, Jones also pays homage to his greatest design influences including Frank Lloyd Wright, Tadao Ando, and Ludwig Mies van der Rohe. He attempts to convey the extent to which he is in awe of their work by placing a small bunny in each of these eminent architects' masterpieces, giving the impression that one can be immersed in their greatness.
Part of the proceeds from the sale of paintings will benefit the Business Times Budding Artists Fund.
More details of the exhibition can be found at http://www.theartshouse.com.sg/event_details_2011.php?id=277
Venue: The Arts House. 1 Old Parliament Lane, Singapore 179429
Date: 2nd to 7th December 2011 (11am to 9pm)
Admission: Free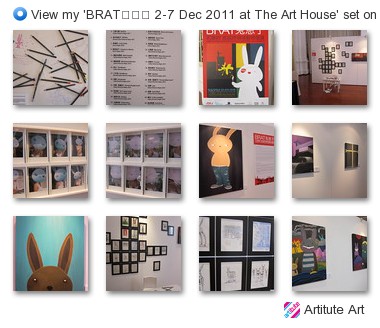 ---
Karen puts her thoughts and ideas onto her "TO BE HAPPY" line of merchandise when she is not doing art with kids or writing about art.
All author posts