In Greek mythology, Clio or Kleio, is the muse of history.
The name is etymologically derived from the Greek root κλέω/κλείω meaning "to recount," "to celebrate," or "to make famous."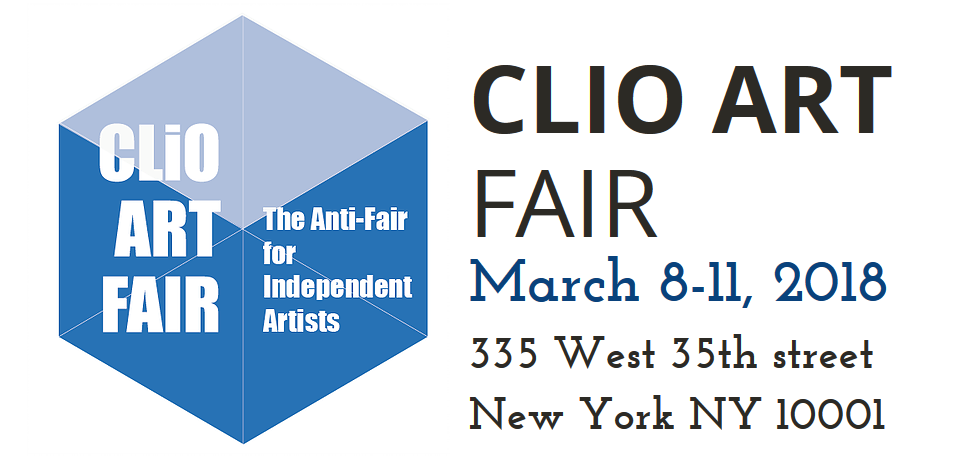 With a nod to its inspiration, CLIO ART FAIR has been created with the idea of showcasing the careers and achievements of already affirmed creative minds. This is the sixth edition of CLIO ART FAIR.
By specifically targeting artists without any exclusive NYC gallery representation, CLIO ART FAIR focuses attention on the kinds of contemporary art and interventions that are being created by independent artists the world over, since 2014.
Without the constraints and usual concerns of the art business, the selected artists have been freed up to use different materials and media and to deviate from accepted art practice definitions. The resulting work being exhibited seeks to foster a dialogue that transcends prescribed geographies, hierarchies, and markets; and to further opportunities for greater expression of new media and ever ground-breaking content.
Thursday, March 8th:
6:00 pm – 9:00 pm VIP Opening Reception
Friday, March 9th:
10:00 am – 12:00 pm Art Lovers Networking Breakfast
12:00 pm – 08:00 pm Public viewing
Saturday, March 10th:
10:00 am – 12:00 pm Art Lovers Networking Breakfast
Sunday, March 11th:
noon – 06:00 pm Public viewing
CLIO ART FAIR, March 8-11, 2018, 335 West 35th street New York NY 10001
---
Online magazine that promotes and markets Southeast Asia's established and emerging visual artists and it's art scenes. And a stepping stone for young aspiring visual artists to showcase their works to the world.
All author posts