HereNow @ SPRMRKT Daily in Robertson Quay showcases one one artwork at a time in a continuous, unceremonious flow that encourages quiet contemplation of the solo piece.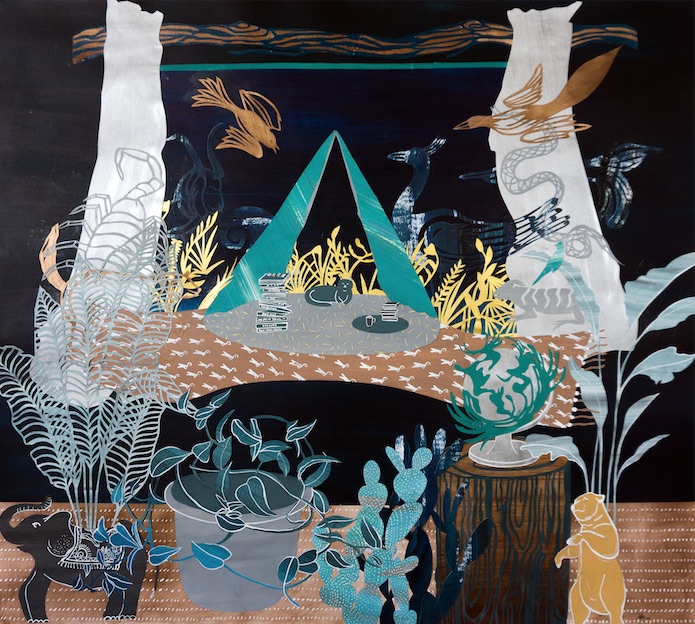 Danielle Tay exhibits a piece titled "I need not much, only my imagination" until 25 July. Tay graduated from the Slade School of Fine Art with a B.A. First Class in 2014 but she had begun her art career far earlier. Her first exhibition was in 2008, and her work has been shown in Singapore, Hong Kong and London. She has also evolved her work style: she has accepted collaboration requests on commercial projects, such as large scale commissioned works for interior spaces.
The Artist Statement – compressed
" This work titled 'I need not much only my imagination' is the third piece in a series which ruminates on the idea of mental space and how challenging it is to achieve a healthy mind in today's fast-paced, technology driven world. This piece ventured more into the internal mind space that we create for ourselves.
Astronomy features in this piece; the constellations, creatures of the sky. For me, this represents the imagination and the stories of the sky. What would we be without imagination? The world would be a much less colourful one.
We are of the external physical world but must not forget our inner space as the imagination is one of our special abilities to be cherished."
The piece is available for sale. Price on request.
---
is an online showcase and magazine covering Southeast Asia's established and emerging visual artists and art scenes.
All author posts