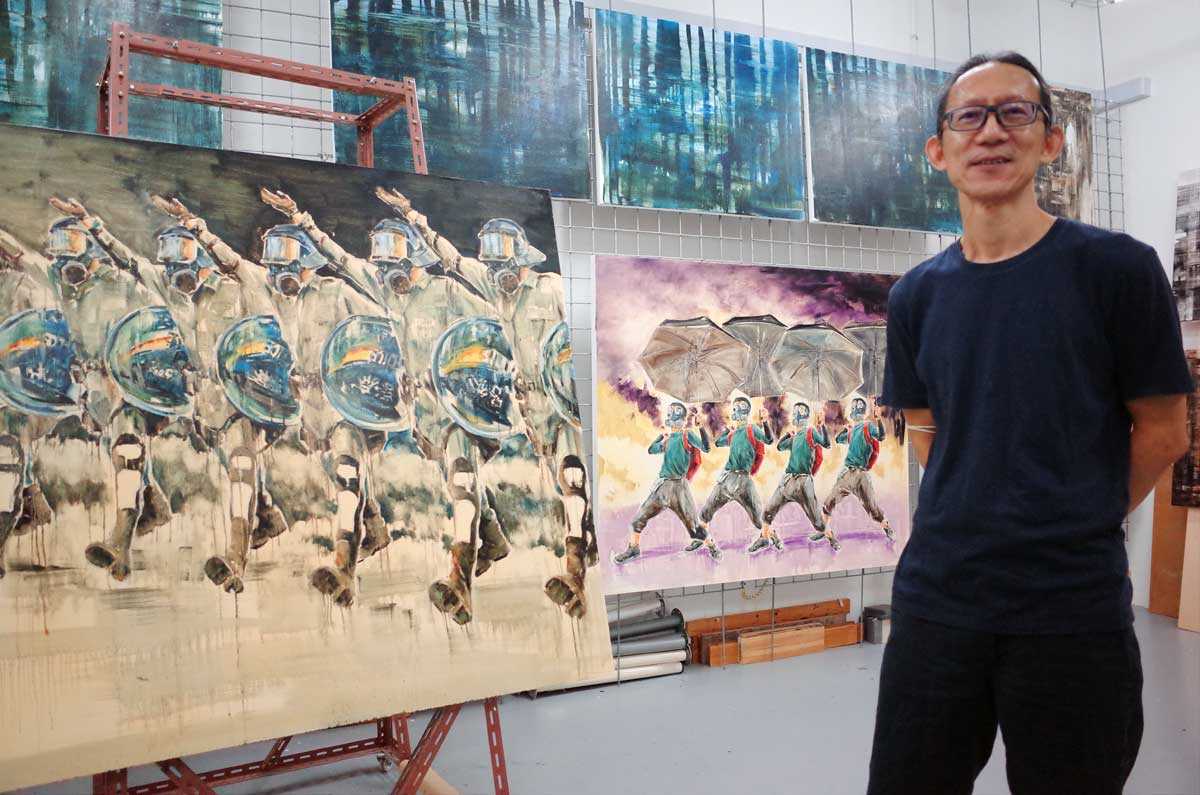 In Plato's ideal society, there are three classes: the ruler, the law enforcer, and the people. We give power to our politicians who govern us with an iron fist or a velvet glove, hoping they will do what's right and with fairness. We trust the law enforcers to protect and keep us safe and wish our fellow citizens are cooperative and play by the rules. However, when these balance forces are not equal, it becomes questionable and causes confusion and disruptions.
Singapore artist Mr Boo Sze Yang's Dancing with Wolves exhibition featured recent political unrests such as the Yellow Umbrella that questioned the governance of Hong Kong and the oppositions and resistances who keep the balance of power in check. However, the award-winning artist, who declared himself a pessimist, was ever so humble and cheerful. He gave Artitute a tongue-in-cheek interview and insights into the ideas and creations of Dancing with Wolves.
Dancing with Wolves was recently shown at AC43 Gallery. It is now available online at their website – https://www.ac43gallery.com/boo-sze-yang-dancing-with-the-wolves.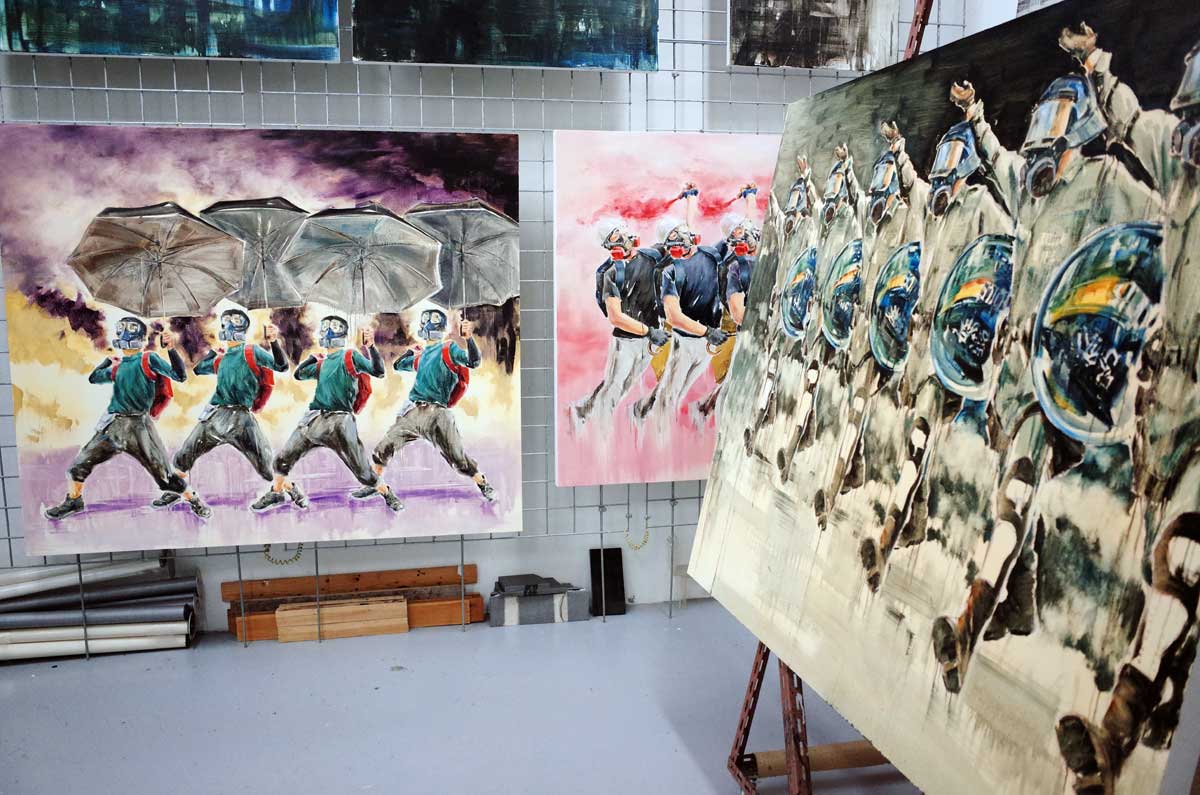 Artitute: Congratulations on your latest exhibition, Dancing with Wolves. Can you tell us how did you conceptualise this exhibition?
Boo Sze Yang: In 2013, I started to paint a painting series on our late Prime Minister, Lee Kwan Yew. I was also trying to move on from my other series of paintings, so I attempted to make some portraiture.
So from then on, I was constantly thinking about this notion of an ideal society and started painting Lee Kwan Yew and put him on a throne. It was Plato's idea about an ideal society, where you talk about a perfect society with three classes of people. The ruler, the law enforcer, and the people.
So this is an accumulation of those ideas since then.
Artitute: This exhibition shows a series of works depicting the political unrest known as the Umbrella Movement in Hong Kong. Can you tell us more about these works and what inspired you to create them?
BZY: I was thinking about this idea of an ideal society that talks about citizens being an accessory to play their part.
In a way, if you think about Platos' ideas. Every group of people has to do and play their part to be in a harmonious kind of relationship. Hence since 2014, I've been thinking about how to put this whole series of paintings together. Consisting of rulers, enforcers and ordinary people. So I started making works and paintings about our ministers and artists like Ai Wei Wei.
The protest in Hong Kong actually had a powerful impact on me because the situation happened very close to us as we are also very close to Hong Kong, so I think that gives me a strong effect. And then with Donald Trump, who had four years in the United States, that made me think about this whole notion of democracy and things that had happened in our society.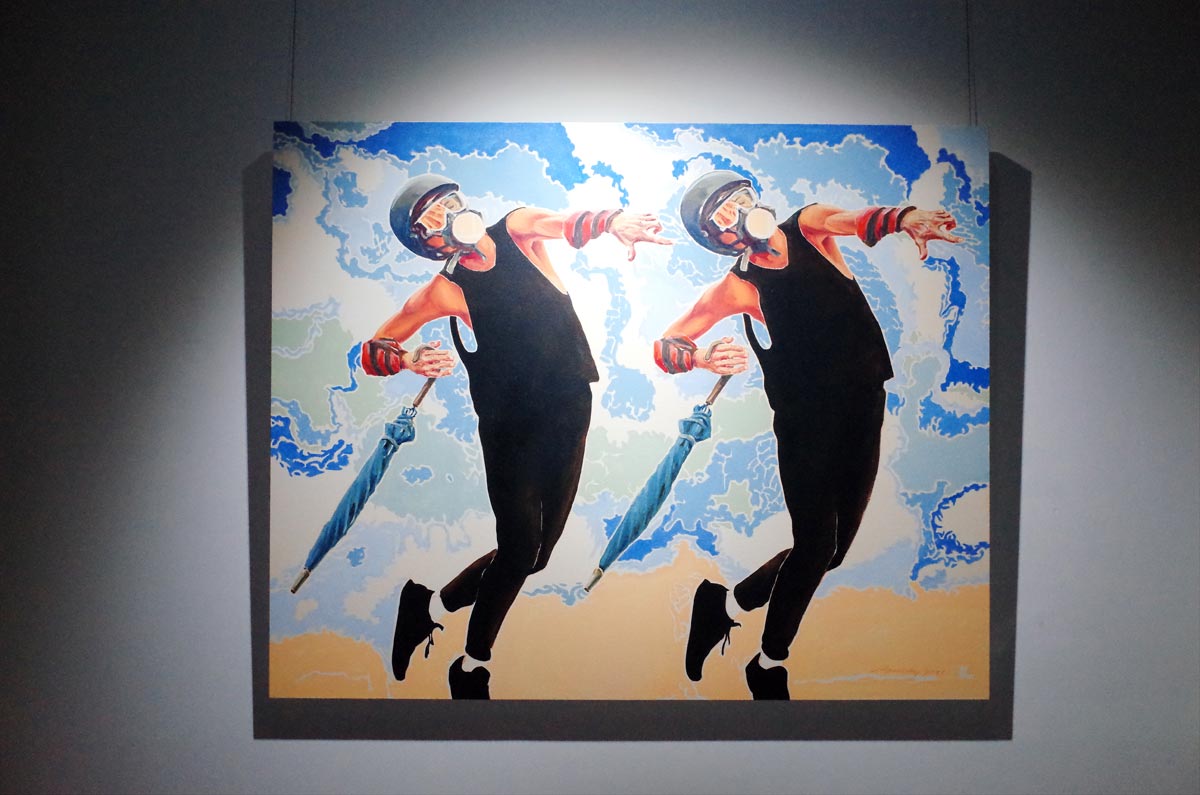 Artitute: We see several politicians in your current exhibition. In your previous works, you have commemorated the late Mr Lee Kuan Yew. However, we see some opposition parties in this series, such as Sylvia Lim and Pritam Singh from the Workers' Party of Singapore and Mr Chiam See Tong from the Singapore Democratic Party. And, another different kind of political figure, Mr Ai Wei Wei. Can you tell us why did you draw their portraits?
BZY: For me, a society needs different voices. So apart from people who are in power, we also need, what I call, the resistances. We constantly need people (like them) to sit on the opposite end and remind the people on the other side. So I decided that we should show people who are in power, but I am also very interested in painting people on the other scale.
The people who are the resistance.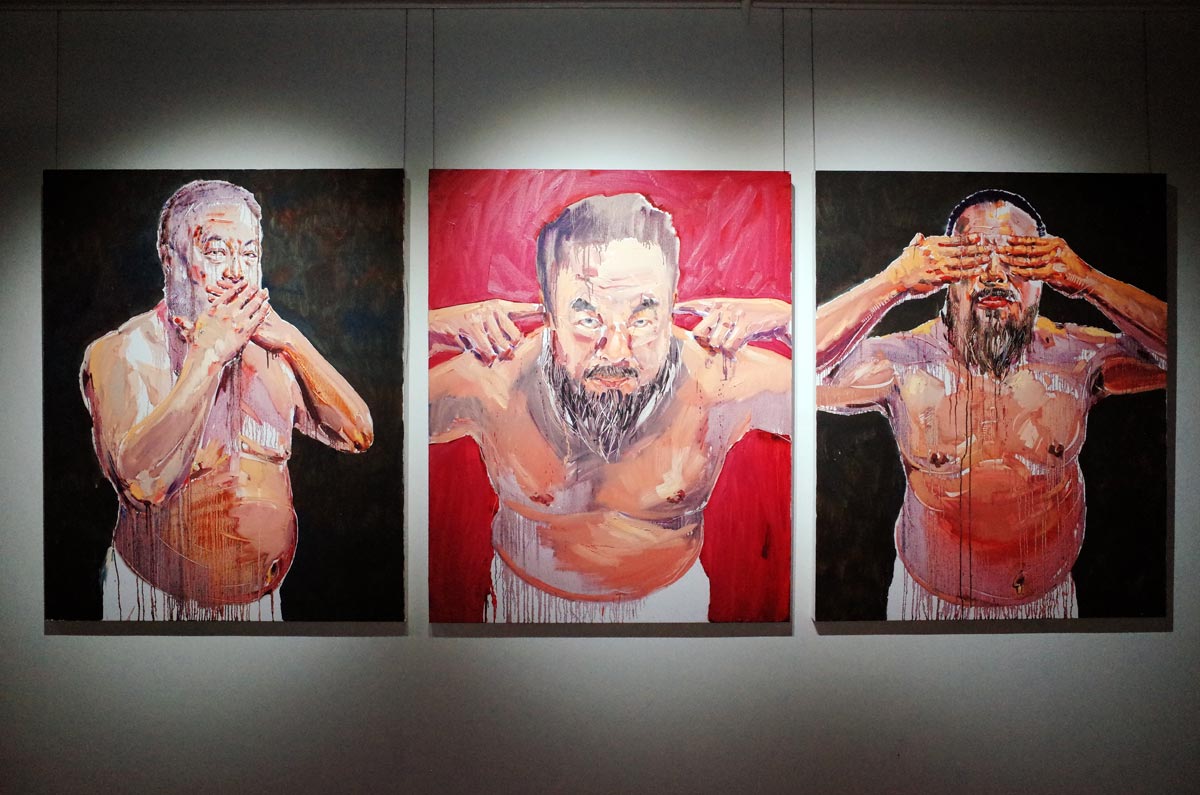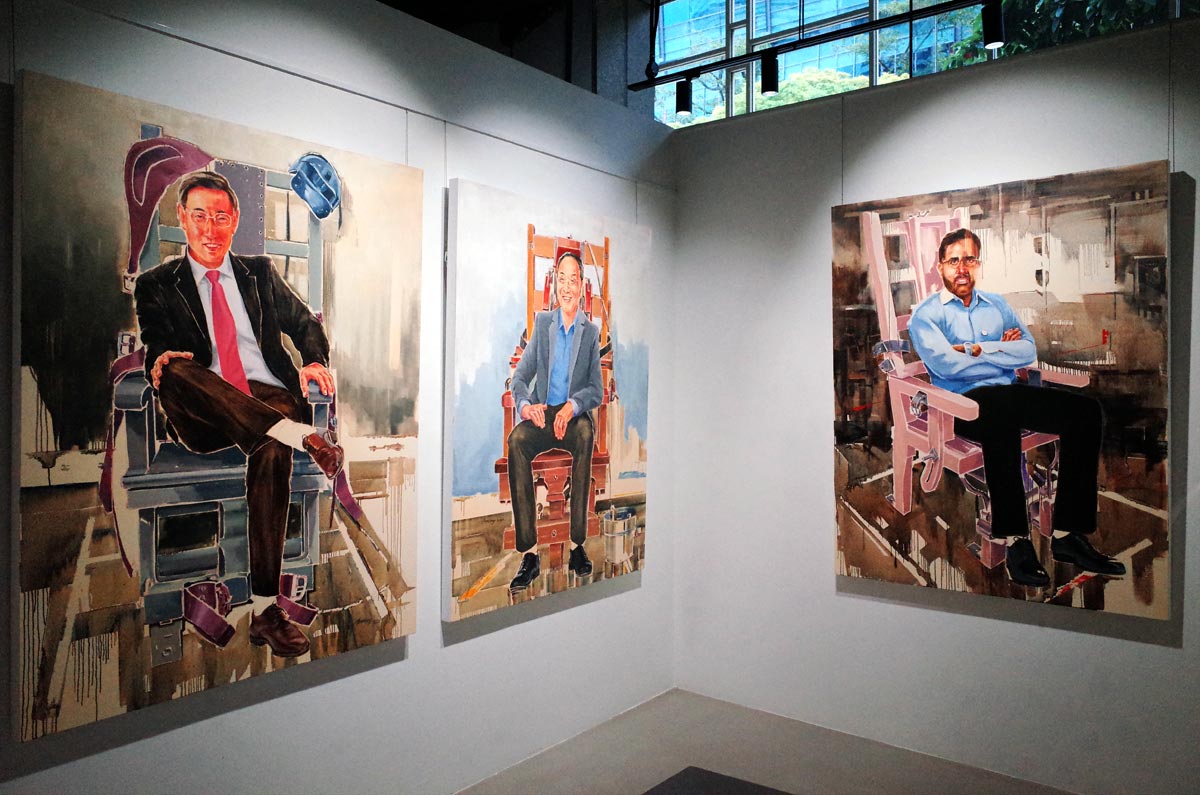 Artitute: You are well known for your still life, landscapes and architecture subjects in your previous paintings. However, there are all figures and portraits with lots of forms and movements in this exhibition. Can you tell us why did you change your subject matter for this exhibition?
BZY: In my earlier works, my Watchdog series, there are figures and images of dogs in my paintings. There were also images of civilians, which I talked about social issues. I don't believe in just working in just a particular mode. Instead, I believe that an artist should move across different series of genres or across various topics. My works reflect on how I felt and how I did at the point in time.
So like I said, I've been thinking about making portraits since two zero one three, and then some things happened in the last few years, which gives me a lot of bullets to do my works. which is relevant to the time As Society changes, people also need to change, which I think change is necessary, and it brought about a good chance.
Artitute: We heard that you were previously unwell and had recovered from Cancer. Can you share with us how your illness had impacted you and the creation of your artworks?
BZY: In the last three years, I went through quite a lot in terms of health as in 2017 I was diagnosed with colon cancer. I went through chemotherapy, had surgery and recovered. And at the end of 2017, I was given a clean bill of health and only did six months of chemotherapy. And now it's just an annual checkup.
I thought I had gone through one major surgery; however, in 2019, I had a heart bypass. Fortunately, during one of my checkups, the doctor found that a few arteries were blocked. Hence, I went through another major surgery and had a heart bypass to clear 4 arteries.
But I survived.
I always tell people I'm a very pessimistic person, and when my wife and I got married, we decided not to have children as I feel that the world is not getting better. But actually, deep down, I think I'm very optimistic because I will always take it head-on with a positive attitude when I encounter any problem. And I survived with this cancer and my heart bypass, so it's a good thing. However, the health scares didn't' really my way of making my artwork. Instead, it makes me more aware of my health, so these days, I exercise at least three or four times a week by jogging and cycling.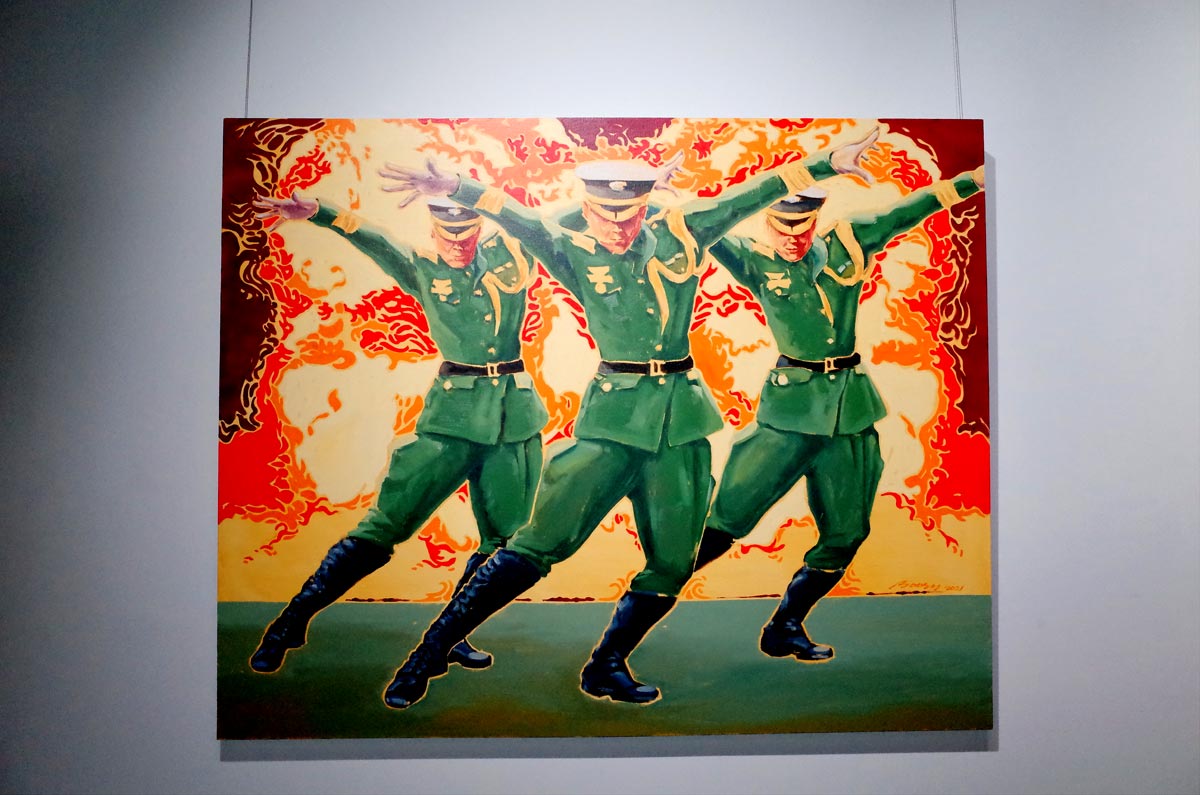 Artitute: On this last note, what would you like your viewers to take away from this exhibition, "Dancing with Wolves"?
BZY: This is a difficult question because different people have different viewpoints and perspectives. However, when I do my works, I like my works to tickle (humour) people a little bit and giving some clues of what I want to say; although, some of the results are pretty obvious. I would like them to think about it when they encounter it, especially in the situation that we are in. Even with abstract paintings. To view things with some imagination. Rather than giving you an answer, as an artist, we often question.
Unfortunately, we cannot provide all the answers. That's why artists are often misunderstood, and people perceive us to be fake.
Artitute: So, you would like your viewers to come in with an open mind and question the works they see in this exhibition?
BZY: Yes, I would like them to question or think about the (human) situation. Especially in the situation in Hong Kong, as nobody knows who is right or who is wrong. So it's tough to tell you. And over in Singapore, some things appear to be correct, but at the same time, you are not too sure.
Hence, there's no one fixed answer.
It's always ambiguous and grey, and that's why my paintings are always grey in the past. But humans are very colourful, so I need to use more colours to express that emotions or situations.