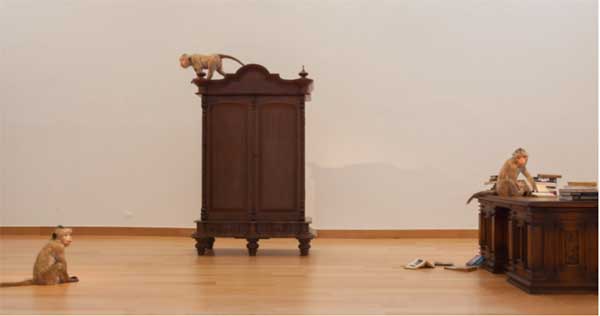 Now in its third year, the Prudential Eye Awards – happening at the MasterCard Theatres – Sands Theatre at Marina Bay Sands on 19 January – will showcase the best emerging artists and art works from across Greater Asia, with representing artists from Thailand, Vietnam, Cambodia, Indonesia, China, Taiwan, Japan, India and Bangladesh and Singapore.
Some 10 awards will be given out, including that of the Lifetime Achievement Award, which recognises an internationally recognised artist for his or her lifetime contribution to Asian contemporary art and for inspiring others to pursue careers in this field.
During his illustrious career, Sakain Krue-On has re-conceptualised a gallery as a space for meditation, the area outside a German castle as a paddy field and a Biennale pavilion into a tourist office (in collaboration with four other Thai artists). His works have consistently addressed Thailand's traditions from a contemporary perspective and his practice is rooted in concerns specific to Asia. With experience of exhibiting both at the Venice Biennale (twice) and Documenta, the artist has taken these local concerns to a global stage.
The critical discourse and questioning of societal behaviour lies central to Krue-On's work. This was evident in "Terraced Rice Field", his installation for Documenta 12 in which Krue-on created a 7,000 square metre terraced rice field outside the 18th century Schloss Wilhelmshöhe museum building. This process of re-siting a rice field from Asia to a location associated with Enlightenment Europe raised subtle questions about identity, colonialism and globalisation, as well as the tension between western capitalism and Thai traditions.
In another acclaimed work, "Monkeys in the House", the artist depicted his own living environment in Ratchaburi with three life-sized monkey models meddling with a cabinet and a working table filled with books on politics, religion and the economy.
Niru Ratnam, Director of Prudential Eye Programme said: "Whilst other successful Asian artists have sited their practice within a global language of contemporary practice, Krue-On continues to work through nuances specific to Asian cultural identity. For this, and for his international success, he is the winner of the Lifetime Achievement Award at the third
Accompanying the awards is a public exhibition at ArtScience Museum which will run from 16 January to 27 March 2016. The exhibition will shine the spotlight on 39 works from the 15 shortlisted artists for the Prudential Eye Awards in the following categories: Digital/Video, Installation, Painting, Sculpture and Photography. This is the second year that Marina Bay Sands is hosting the prestigious awards ceremony and the exhibition.
For the first time ever, the Prudential Eye Awards Ceremony on 19 January is open to the public. Admission is complimentary, and tickets can be redeemed at http://entertainment.marinabaysands.com/events/eye0116.
---
Online magazine that promotes and markets Southeast Asia's established and emerging visual artists and it's art scenes. And a stepping stone for young aspiring visual artists to showcase their works to the world.
All author posts