Venue: Artistry Space, 17 Jalan Pinang
Exhibition date: 04.09 – 30.09.14
Artistry Space today announces the newest body of work by Singapore-based artist Susan Olij, in which she addresses the facets of the world's most visible transactional matter: money.
Olij delves into the values, role and artifact of the common bank note, provoking her audience to consider this complex relationship that touches all. Using some of the most celebrated makers of the fashion world as the subjects of her notes, the artist plays with the values, iconography and irony the fashion world embodies.
In reverse spirit, Olij's work sparks the audience to consider what, who and why the specific individuals are represented in their own pockets and culture. The association of fame and fortune are challenged.
"This exhibition ties together for me the obvious and the invisible, value and worth, as well as addressing the most quotidian work of art that we all transact with on a daily basis, all over the world, the bank note." said Olij.
Olij also reflects on the dialog regarding her home and the position it holds in the world economy. The Economist intelligence Unit (EIU) having recently published their Cost of Living Survey placing Singapore as the most expensive city to live in out of 131 cities globally, creates room for reflection of what this means and the bank note's role in this categorization.
Susan Olij was born in Indonesia and grew up travelling and living in the UK and the USA. She enjoyed a successful career in the fashion world of New York before relocating to Singapore where she completed her MA in Fine Arts. Olij continues to reside in Singapore and when she is not making art, or teaching in LaSalle College of the Arts Design Faculty, she seeks out stories often handed down from generations through her travels, hangs out in HDB's and Kopitiams observing and drawing Singaporeans. She also runs a life drawing group that meets in differing urban environments.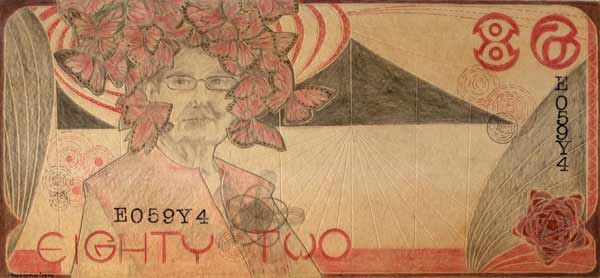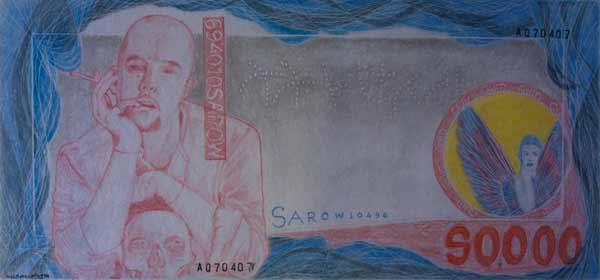 ---
is an online showcase and magazine covering Southeast Asia's established and emerging visual artists and art scenes.
All author posts