Calling all aspiring illustrators and art enthusiasts!
The National Library Board (NLB) invites you to create a visual impact in our library spaces, and inspire a creative culture within the community!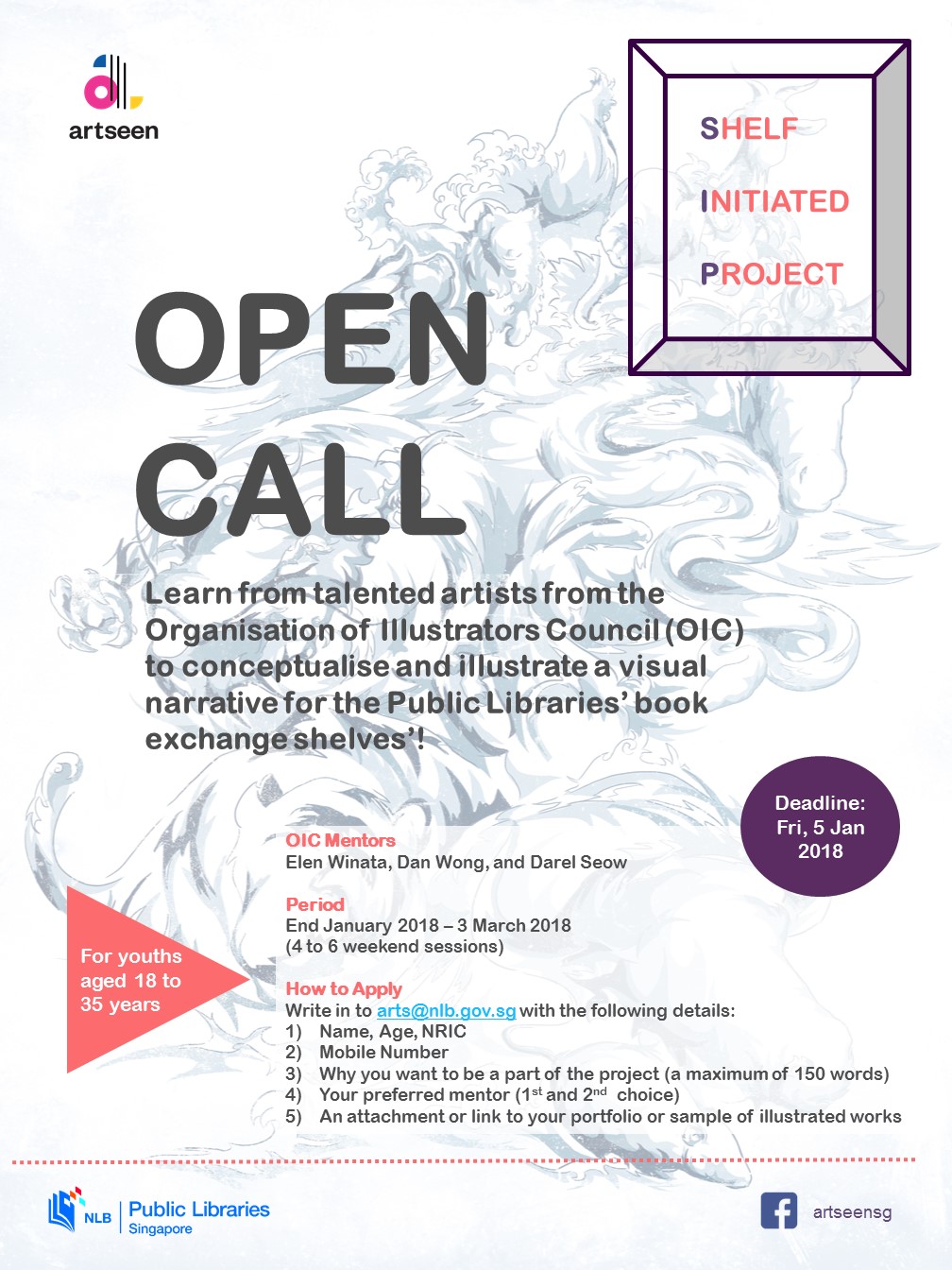 The National Library Board is looking for 3 groups of youths who are passionate about the arts and visual storytelling, to lead the Shelf Initiated Project (SIP) at Woodlands Regional Library, Jurong Regional Library and Central Public Library. Learn first-hand from experienced artists, on the illustration techniques and conceptualisation skills required to develop an original and distinctive visual narrative for a library shelf, inspired by a piece of literary work.
For participants aged 18 to 35 years.
Aspiring illustrators and hobbyists are welcomed.
Period:
End January 2018 – 3 March 2018 (4-6 weekend sessions)
How to Apply:
Write in to [email protected] by 5 January 2018 with the following details
1) Name, Age, NRIC
2) Mobile Number
3) Why you want to be a part of the project (a maximum of 150 words)
4) Your preferred mentor (1st and 2nd choice)
5) An attachment or link to your portfolio or sample of illustrated works
*Note*
– Successful applicants will be split into 3 groups, with each group assigned an artist-mentor.
– Sessions will be held at either Woodlands Regional Library, Jurong Regional Library or Central Public Library. Each group will be allocated a library venue and shelf to work on.
– Each session will be 2 to 3 hours long.
Artists' Bios
Elen Winata's works span across different mediums such as illustration, digital, design and advertising. Her works are known for their clean lines and vibrant colours, which are held together by simple but thought-provoking ideas.
www.elenwinata.com
Dan Wong's illustrations and paintings usually follow a Singaporean-centric theme, with a satirical light. Dan places great emphasis on entertaining, provoking, and finally rewarding his audiences with his work.
https://danwong.carbonmade.com
Darel Seow is a visual storyteller who illustrates the tales of the natural world through his unique brand of wry wit and whimsy. He believes in the draw of storytelling as a means of engagement, creating experiences that simultaneously excite and educate.
www.darelseow.com
For any enquiries, please email [email protected]
Thank you!
---
Online magazine that promotes and markets Southeast Asia's established and emerging visual artists and it's art scenes. And a stepping stone for young aspiring visual artists to showcase their works to the world.
All author posts