Singapore, 30 August 2016 – Synergraphic Design celebrates its 30th anniversary with the opening of, Fluid, a special exhibition dedicated to the innovation and art of glass making. The exhibition will showcase highlights from Synergraphic's Design rich history of glass art and design, including innovative techniques and collaborations with artists.
Fluid is a visual chronology of Synergraphic's major milestones from its inception from 1986 till present. The exhibit will be more than just a visual treat. It will feature a live demonstration area during the workshops conducted by Synergraphic's Chief Artisan Mr Woo Meng Fye and hands-on space for visitors to have an experience with various glass materials.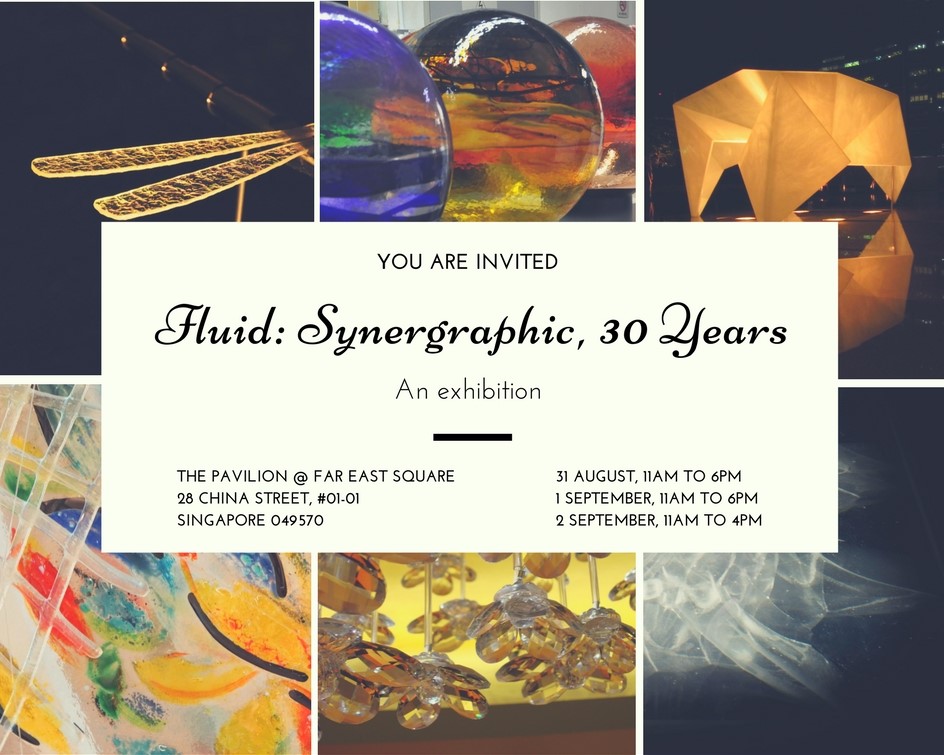 To create a more interactive atmosphere, Florence will be unveiling her latest artwork, Titled: Major | Minor. The inspiration for this piece came from the time when Florence had to discard her daughter Sara's very first piano because it could no longer be tuned. She wanted to conserve the past and somehow preserve the memories. The artwork thus fluidly beholds the past, present and future. Visitors to the exhibition are invited to pick up a pen and write their wishes onto the right panel of the sculpture, making it an interactive artwork that also serves as a commemorative piece.
The event was graced by Mr Jeffrey Ho Kiat, Executive Director of the Design Singapore Council. Being an art enthusiast, he recognised Florence Ng's achievements and contribution to our Singapore design landscape. He highlighted some examples of her work such as the cast glass signage of One Raffles Quay, the glass features in St Regis Hotel and the Partners Monument that stands at Taipei 101. He also mentioned Singapore's first national art glass exhibition in 1993 which Florence organised.
Synergraphic's founder and artist, Florence Ng is a pioneer in shaping the Singapore's glass making landscape. She serves as a role model to her team and design community with her vision of bringing innovations in glass making to Singapore. Florence launches a commemorative coffee table book "Fluid: Florence Ng, Synergraphic 30 Years" which features behind the scenes images as well as rare insights from 10 major projects spanning 30 years of her work. The book encapsulates her journey in spearheading a glass art movement in the region. The chapters reveal more details about glass fundamentals, breaking boundaries, pioneering glass art forms in Singapore as well as Synergraphic's culture and their team of immensely talented artists. The aim is to create greater awareness for the art of glass making as many are still unfamiliar with the breadth of such works.
"I am passionate about the idea of sharing the knowledge, experience and inspiring people with the various possibilities in glass. I hope that this event acts as a springboard for future collaborations and as a platform for practitioners, audience to be inspired. I would like to thank everyone for taking the time to join us in celebrating Synergraphic's 30th anniversary as we take a look back at how far we've come since 1986." said Florence Ng, Synergraphic Founder and Artist.
The exhibit is also a time for Synergraphic to give back to the community by donating a percentage of the sales of the coffee table book to Culture +, a fund managed by the Global Cultural Alliance (a subsidiary of The RICE Company).
Synergraphic is now one of the most renowned glass art companies in Southeast Asia and works with clients throughout the region including Brunei, China, India, Hong Kong and Japan.
About Synergraphic Design
Synergraphic Design pursues quality and innovation in glass art and design. We specialise in providing concept, design, fabrication and installation of decorative, sculptural and structural glass art works for architectural and interior spaces.
Since its inception in 1986, Synergraphic has become one of the foremost glass art companies in South East Asia, having taken on many notable commissions and projects such as the "Crystal Glass Tower" in Jerudong Park, Brunei, "The Partners' Monument" in Taipei 101, Taiwan, feature glassworks for The St. Regis Hotel, Singapore, and more.
Believing in the art of glass, Synergraphic is the ideal partner for architects, designers and artist seeking to turn their visions into reality.
For more information, please visit: http://www.synergraphic.com.sg/
---
Online magazine that promotes and markets Southeast Asia's established and emerging visual artists and it's art scenes. And a stepping stone for young aspiring visual artists to showcase their works to the world.
All author posts