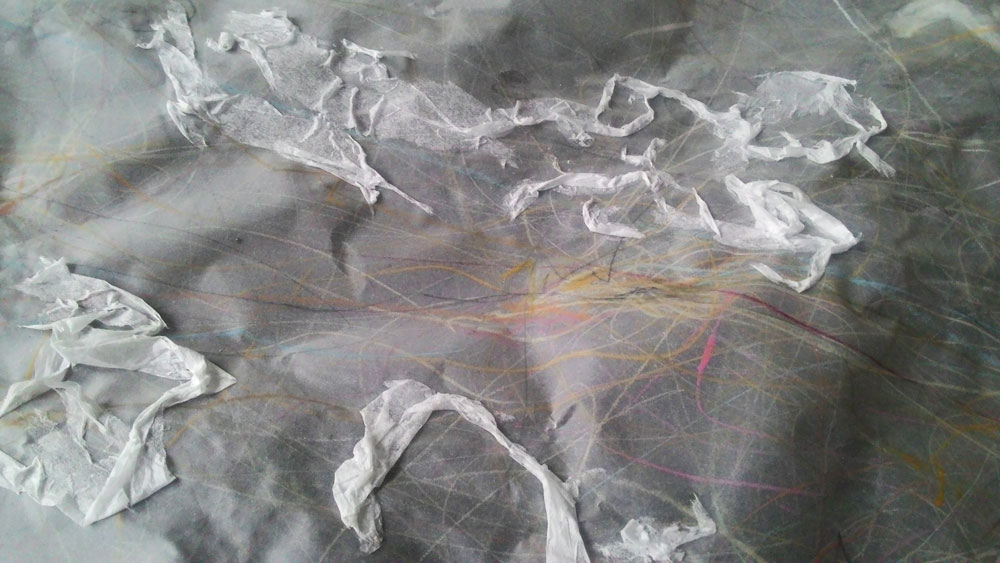 As collaborating artists Denise and Nandita share essential analogies not only concerning their professional background as they both found their passion for art by experiencing different realms on their journey. It is their affinity to natural aesthetics, to forces and polarities of life and organic components that provide a crucial harmonious flow to their working relationship.
By Nandita's experimental sculptural attitude to work with materials and Denise, the former scientist's researching and integrated meditative drawing process they developed a sensitive understanding of the complexity and matter of their work, in a sense of material as well as the subject itself.
Cells as building blocks of life represent the fundamental physical unit of being. Whether formed to a bark of a tree or perfectly shaped to an animal organ tissue, cells are throughout exposed to a balancing act of essential contrasts, such as growth and decay, integration and differentiation or simplicity and complexity.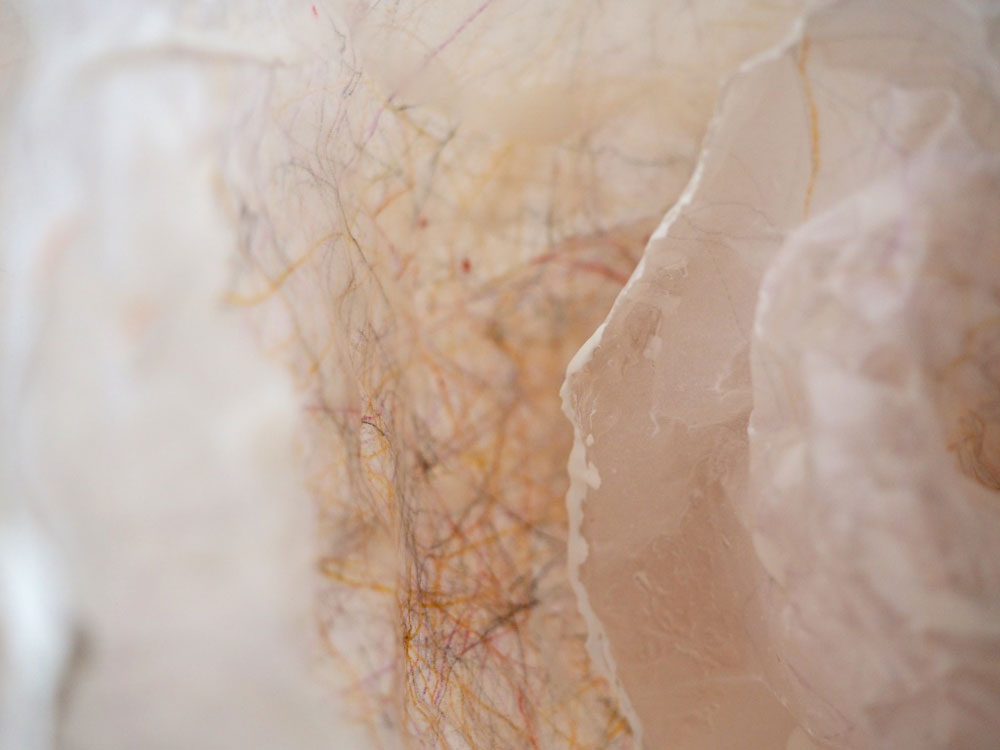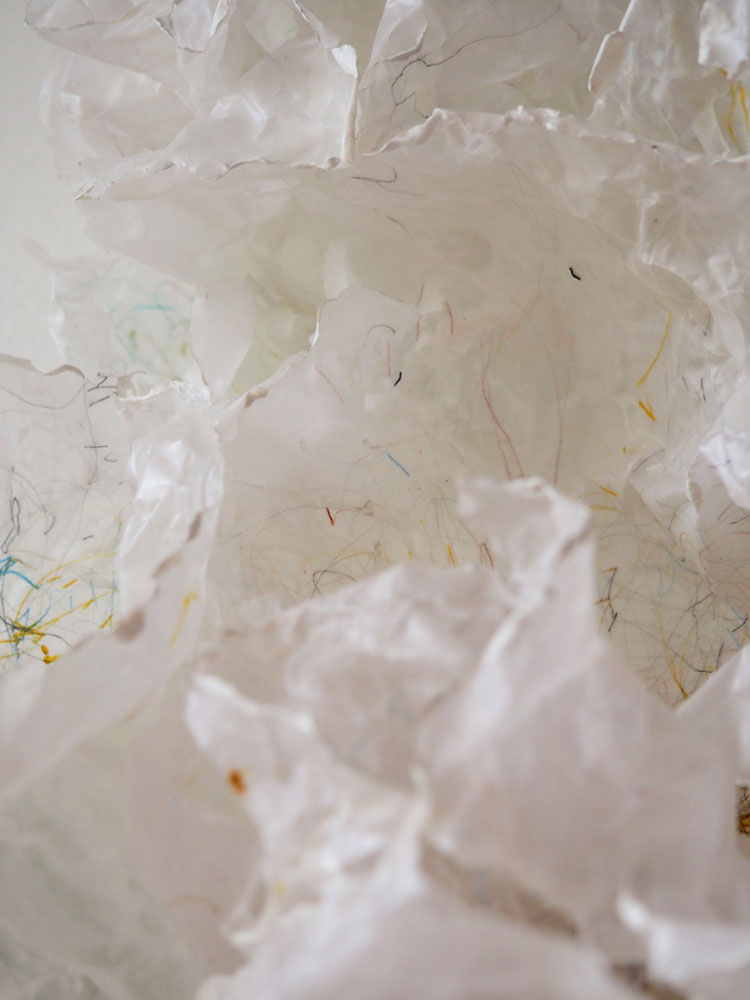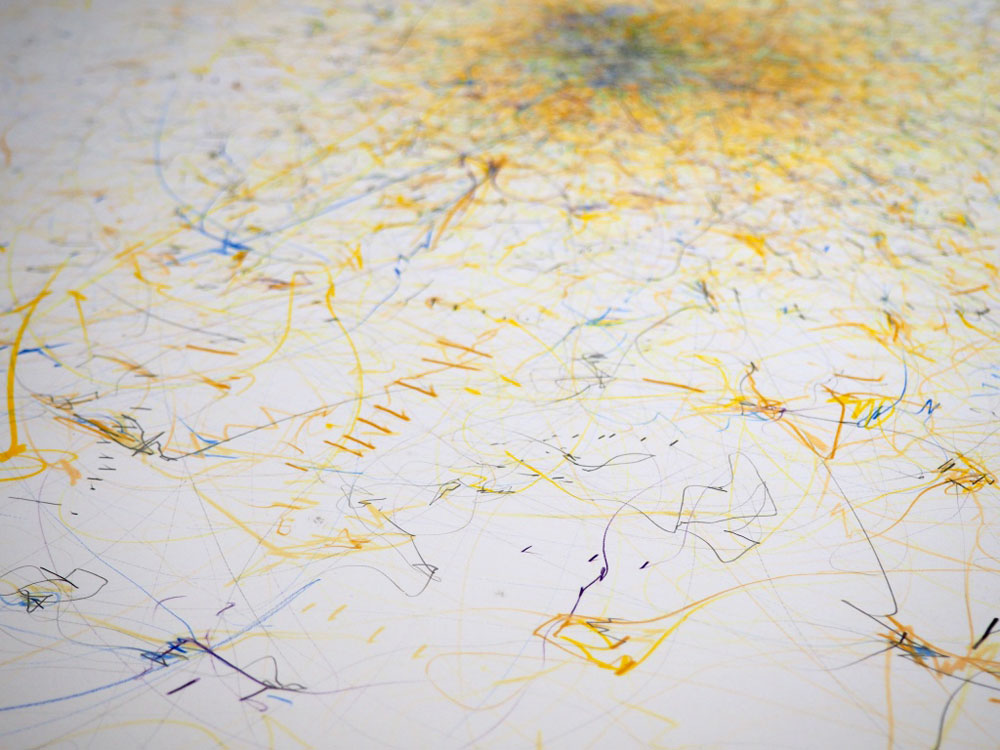 The installation 'The Essential Rhythm – a drawing into space' invites you to have an insight into the fragile universe of dualisms hidden behind solid stability. It's an experience of etheric vibration uniting the linear and the chaotic as well as the dynamic and the static.
Denise's and Nandita's collaborative working process can be described as an organically growing, symbiotic melting pot of different cultural and educational experiences. They both were exploring each other's mark making and found their inspiration in their reaction on each other, where two different approaches started to converge into one union.
Denise and Nandita will also be having a featured collaborative installation at the Affordable Art Fair on the 12th – 15th November at the F1 Pit Building.
Without Title VI, 2015, Mixed media on paper
Newspaper, grass, coffee, lentil seeds, sesame seeds,
beeswax, acrylic medium, varnish, paint, chicken wire
About DENISE K. SCHELLMANN – INSTINC's recent Austrian artist in residence Denise Schellmann, is art student in the masterclass of 'Art & Science' at the University of applied arts of Vienna since October 2014, after she successfully completed her doctoral theses in natural sciences at the University of Vienna in 2011.
http://www.deniseschellmann.com
About NANDITA MUKAND – Nandita Mukand local artist at INSTINC, graduated at the top of her class from LASALLE College of the Arts (in partnership with Goldsmiths, College of London) in 2014. Since then she has exhibited (including a solo show) in Singapore and Australia. Recently she was invited by the Hawkesbury Regional Gallery, Australia to exhibit as their first international artist-in-residence.
About INSTINC SOHO – Established in 2004, INSTINC is an artist-run institution that promotes a new language of art. Following the tradition of painting, INSTINC has pushed the paradigm to realize a wide array of art forms, including but not limited to installation, performance and video art. One of INSTINC's key missions is to encourage collaboration, cultural exchange and sharing of ideas in contemporary art with local as well as international artists. Therefore in 2009, INSTINC's international artist residency program is launched. INSTINC aims to establish an exciting platform where artists and public can engage with contemporary art and critical discourses. To further promote the contemporary art scene in Singapore, in 2011, INSTINC spearheads its inaugural "Squares Invasion" Painting Competition in search of artists in the forefront of contemporary painting.
Opening reception: 27 November 2015, 7.00pm – 9.00pm
Exhibition Dates: 28 November & 29 November 2015
INSTINC
Address: 12 Eu Tong Sen Street, #04-163,[email protected], Singapore 059819
Opening Hours: Saturday & Sunday, 11am – 6pm
"For entry to the gallery, please dial unit number using the intercom at the entrance of the building."
---
is an online showcase and magazine covering Southeast Asia's established and emerging visual artists and art scenes.
All author posts