The Wisdom Beyond Borders series of art exhibitions and related programs started in Thailand with its meaningful mission of reviving traditional proverbs through contemporary art. We learnt from proverbs expert and author, Professor Mineke Schipper of The Netherlands, that different cultures curiously wrapped similar folk wisdom.

Professor Mineke Schipper speaking a few words at the opening reception of Wisdom Beyond Borders
Singapore(-based) artists Mr William Sim, Ms Diana Francis, Mr Andy Yang, Mindflyer and Mr Dominic Fonde, amongst others, kindly contributed their valuable art works which were auctioned off on 16 Feb 12 in aid of Thai flood victims.
ANDY YANG
Mr Andy Yang put to good use his past working experience with tight deadlines. He searched for an appropriate proverb in Malay (which he can read), got the ravishing red paint in 2 types of finish, moved his canvas in various ways to get the abstract effect and completed his art work in about 1 week.

Mr Andy Yang with his art work contributed to this cause
DOMINIC FONDE
Mr Dominic Fonde wrote his text, based on his research, and illustrated to great detail, all on glass! The artist, who specialises in glass art, chose a proverb that reflects the misconception one has for others simply by judging their appearance and conduct. The same goes for crows that are very much misunderstood as a nuisance to society.

Mr Dominic Fonde with his art work contributed to this cause
MINDFLYER
While Mindflyer's art looks bright and whimsical, the work has a deeper meaning. The chosen proverb, translated from Malay, reminds us that we should appreciate everyone or events that happened around us, no matter how small or insignificant they were, as they contributed to our success.

Mindflyer with his art work contributed to this cause
DIANA FRANCIS
Ms Diana Francis' limited edition prints had raised thousands of dollars for good causes through international organisations. Nevertheless, she contributed a valuable original painting to the auction, partly because she has always been interested in proverbs. A family in harmony will prosper in everything (Chinese proverb) is a warm scene of a child and parent bonding over a traditional trade.

Ms Diana Francis with her art work contributed to this cause
WILLIAM SIM
The ever kind and considerate Mr William Sim generously contributed a pair of mid-sized paintings although his works have been collected internationally. They depict the harmony between Thailand and Singapore.

Mr William Sim with his art works contributed to this cause
The original Thai Folk Wisdom art exhibition and the auctioned Singapore art works are exhibited until Thu 8 March 2012, at the Ngee Ann Cultural Centre, Tank Road (near Clark Quay MRT station).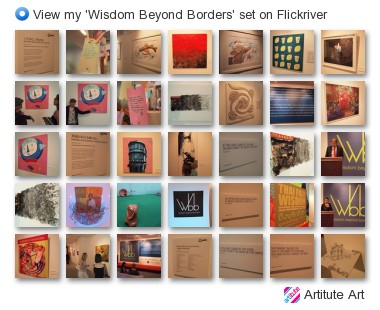 ---
has more than 35 years of experience as a Singapore arts consumer who started as an almost reluctant kid. Her arts interest grew, but alas, faster than her wallet.
All author posts