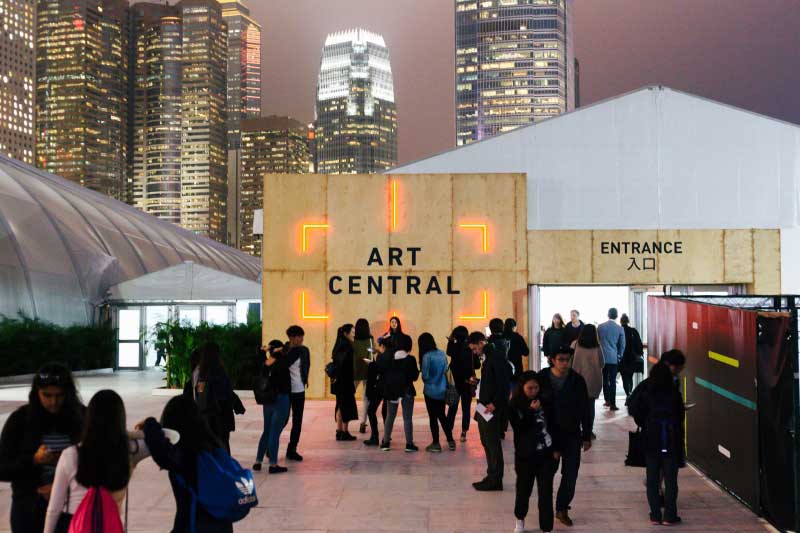 The second edition of Art Central has been a remarkable success, with over 32,000 buyers, collectors and members of the art-loving public flocking to see Hong Kong's most dynamic contemporary art fair. With First Night (Monday 21 March) attracting 4,500 guests eager to be among the first to see the fair, Hong Kong Art Week was welcomed in style.
In its second edition, Art Central displayed a distinctly Asian edge with an ambitious program that included large-scale installations, engaging panel discussions and performance art. Over 100 galleries were on show in the architect designed temporary structure on Hong Kong's Central Harbourfront, 75% of which were from Greater Asia. From the talks program to the curation of experimental film, the spotlight was firmly on Hong Kong as a global center for contemporary Asian art and visitors were encouraged to explore, discover and redefine their boundaries.
Tim Etchells, Co-Founder of Art Central said "The inaugural Art Central was a huge success in 2015, and we approached the second edition committed to once again over-delivering on expectations. Art Central 2016 saw us raise the bar on the quality of galleries and the depth of public programming, while also further defining the personality of the fair. Art Central's identity is unlike any other fair in Hong Kong or Asia – it's dynamic, edgy and challenging."

"It's this difference that collectors, buyers, the art-loving public and our galleries have so enthusiastically embraced. With many galleries reportedly having sold works to buyers they have met for the first time at Art Central, the fair is creating new opportunities, connections and experiences at many levels," said Tim.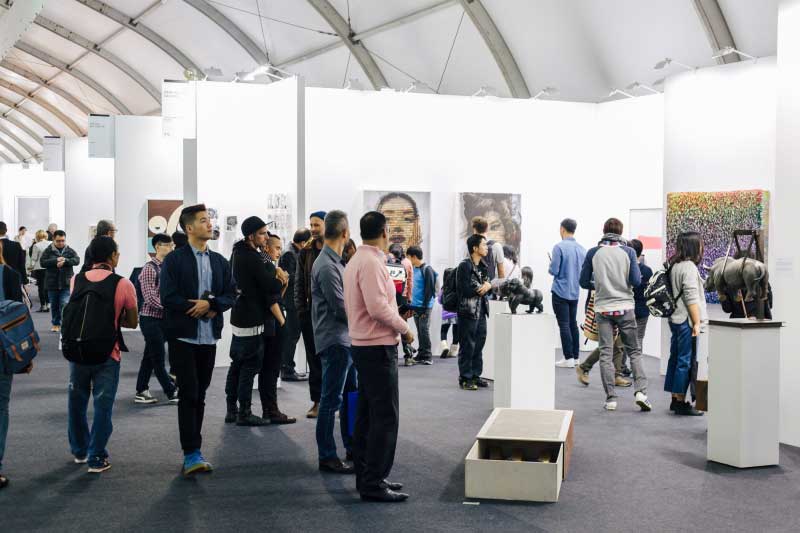 Richard Koh, Owner of Richard Koh Fine Art, Kuala Lumpur said: "This was our gallery's second year at Art Central and we were happy to see that the fair was even bigger and better than in its first year and we have made great sales and built a lot of new contacts. Many guests have commented that the atmosphere was vibrant and exciting; they felt the art work was edgy yet approachable, with opportunities to discover new exciting artists and unexpected pieces."
John Martin, Director and Founder of John Martin Gallery, London said: "Art Central has become a focal feature on the stretch of Central Harbourfront. It certainly makes a big statement and brought in the crowd with an amazing numbers flocking to the fair, from seasoned art collectors to students. We are very happy with sales this year which have been incredibly strong."
Brian Wallace, Director and Founder of Red Gate Gallery, Beijing said: "The quality of work shown at Art Central is always stimulating and engaging and this year the quality was even better. We have seen very good sales with a receptive crowd interested in Asian contemporary art who have been asking a lot of questions. The Hong Kong art scene has really taken off in the last couple of years, Art HK established the city as Asia's art hub, and it's great that we now have Art Central and Art Basel both on at the same week, with both fairs feeding off each other."
Sydney Townsend from Gazelli Art House, London said: "As a London-based gallery, Art Central has helped open up doors for us in Asia. Bringing our artist James Ostrer's works to Hong Kong has been an opportunity to show his works to a new audience, and we have had a really exciting response with a lot of institutional interest and new project opportunities."
In 2016 Art Central launched three curated projects, MEDIA X MUMM in partnership with G.H Mumm Champagne,ROUNDTABLE X 4A (curated by 4A Centre for Contemporary Art, Sydney) and SCREEN X EXPERIMENTA (curated by Gina Wong Director of Experimenta, Hong Kong). These projects reflected the new media theme of the 2016 fair and highlights included durational performance 'The Flying Buck' by Abdullah M.I. Syed within ROUNDTABLE X 4A which brought to the fore inherent narratives of institutionalism, capitalism and consumer culture, particularly in the context of the art market and the force of economic powers within.
Maree Di Pasquale, Fair Director of Art Central said "Art Central 2016 presented some of the world's most celebrated museum quality works alongside works by exciting emerging artists. Over 500 artists were on show, and a number of these artists are well known and highly collected in their home cities, however not in a global context. It's this element of discovery that runs within the DNA of Art Central and makes the fair so engaging for visitors."
"Art Central is an Art Week favorite not just for the art, but also for the dining and social elements that add to the energy and vibe of the fair. From First Night to the Mumm Harbour Party – two of the hottest Art Week parties – to the Absolut Art Bar, the street food area and main fair restaurant Belon, Art Central was the place to be during Hong Kong Art Week."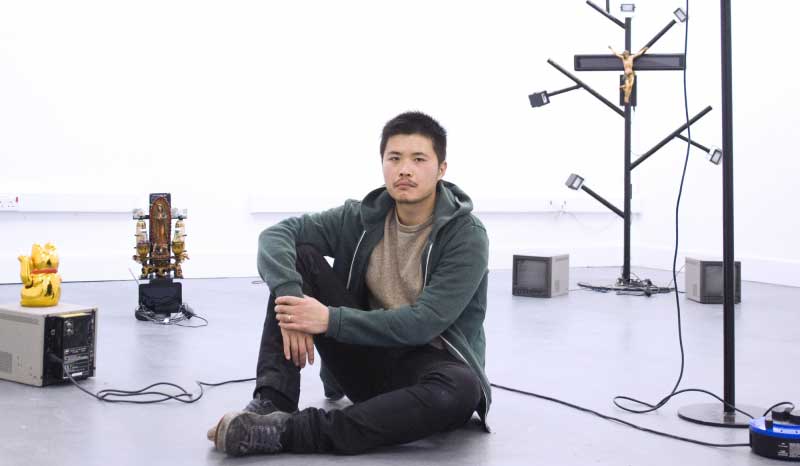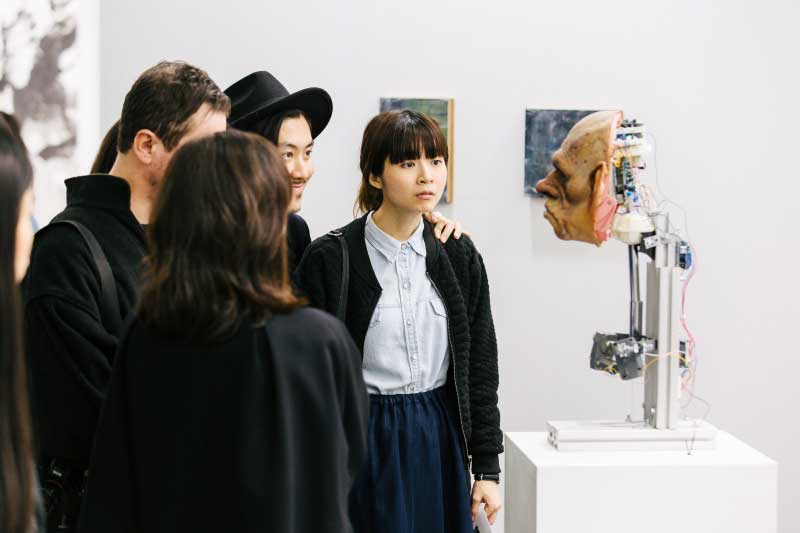 Taiwanese artist Ting-Tong Chang who is represented by Christine Park Gallery, London, was announced the winner of the 2016 RISE Award sponsored by J.Crew and was recognised as the most promising emerging artist. Ting-Tong Chang's drawings and animatronic sculpture Robinson pays particular attention to the relationship between science, technology and society engaging and questioning the concept of contemporary utopia. Chang also presented a site-specific durational installation and live performance The Colosseum which explored two interrelated issues: the truth claimed by art and the logic of spectacle. The 360 degree painting depicted the Art Central fair as created over the course of the six day fair.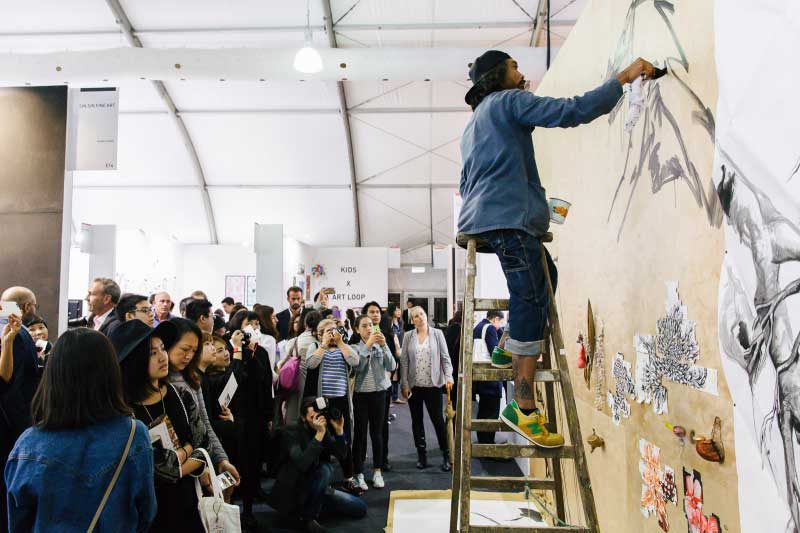 Gallery highlights included Sin Sin Fine Art (Hong Kong) from the host city, a new gallery addition, presenting a dual show by Indonesian artists S. Teddy Darmawan and Bob Yudhita Agung, two artists of different backgrounds yet unified by their spontaneous yet powerful expressions on how they survived life's challenges.
GALLERY HYUNDAI (Seoul) presented a cohesive selection of Korean monochromatic paintings including museum quality works by Park Seo Bo and Lee Ufan; Richard Koh Fine Art (Kuala Lumpur) presented Haffendi Anuar, Saiful Razman, Wong Perng Fey and Yeoh Choo Kuan as a focus on Southeast Asia; Gana Art (Seoul) presented five Korean artists within a curated show titled Beyond the Visible; Hive Center for Contemporary Art (Beijing) highlighted generations of contemporary Chinese art with names such as Shang Yang, Liang Quan, and Wei Dong; TEZUKAYAMA GALLERY (Osaka) exhibits Hirohito Nomoto, Kazumi Nakamura and the work of multimedia artist Satoru Tamura and Red Gate Gallery(Beijing) presented a Chinese contemporary group show that includes Li Xiaofeng, Ye Sen, and Zhang Zhaohui.
International names included, Michael Goedhuis (London, New York) presenting the aesthetic trajectory of ink artists from classical works by names such as Liu Kuo-sung, through to mould-breaking avant-garde paintings by Qin Feng; Schuebbe Inc (Düsseldorf) exhibited an international group show with 50's German artist collective SPUR (Helmut Sturm, HP Zimmer, Lothar Fischer and Heimrad Prem) alongside emerging artists Nashun Nashunbatu, Tianhong Sheng and Christian Schoeler; and Galerie Forsblom (Helsinki), a new addition to the gallery line-up this year, featured works from Manolo Valdés, one of the most established contemporary artists of Spain whose work is included in prestigious collections such as the Metropolitan Museum of Art and the Museum of Modern Art in New York.
---
Online magazine that promotes and markets Southeast Asia's established and emerging visual artists and it's art scenes. And a stepping stone for young aspiring visual artists to showcase their works to the world.
All author posts