Art Stage Singapore, Southeast Asia's flagship art fair, opens its sixth edition from 21 to 24 January 2016 (Vernissage on 20 January) at the Marina Bay Sands Expo and Convention Centre. With its newly conceptualised Southeast Asia Forum, the Fair presents a bold new vision for contemporary art from the region, reaching new audiences and further positioning Southeast Asian contemporary art in an international context. As a catalyst for contemporary art in Southeast Asia, Art Stage Singapore 2016 continues to be innovative and proactive in creating art markets, matchmaking segmented Southeast Asian art scenes with each other and making connections with wider Asia and the world.
The Fair's sixth edition distinguishes itself yet again with its game changing content. It consistently drives contemporary art in Southeast Asia through its strong commitment to develop the region's art markets and bring international attention and esteem for Southeast Asian art.
"When we decided to create an international art fair in Singapore six years ago, our main target was to support the Southeast Asian art scenes and to promote and position them in the international art world. Art Stage Singapore has never been a fair, which only tries to benefit from local or regional economic growth. On the contrary, from the very beginning, we have made significant financial and personal investments to match make the region's art ecosystem with collectors, curators, museum directors, artists and galleries from all over Asia and the world. We take our responsibility seriously as a flagship art fair and catalyst. Art Stage Singapore is fully engaged and committed to Singapore and the region and will spare no effort in further creating a robust art market in this exciting part of the world," says Lorenzo Rudolf, Founder and President, Art Stage Singapore.
Southeast Asia Forum
In its 2016 edition, Art Stage Singapore will introduce the Southeast Asia Forum, which aims to emphasise the balance between art, commerce and content. An extension of the Southeast Asia Platform exhibitions at the Fair from 2014 to 2015, the Forum is a thematic programme that takes a more focused and deeper view into broad global issues that also affect our immediate region and lives.
This initiative draws attention to contemporary art's significant place in the development of modern society and the central role the artist plays in the context of Southeast Asia. Moving beyond artistic discussions, the Forum will take a broader approach towards contemporary art by situating it outside the art world community and connecting it to the larger society, thus growing the range of contemporary art by involving individuals from other fields.
The inaugural Southeast Asia Forum is titled Seismograph:- Sensing- the- City- –- Art- In- the- Urban- Age.- Comprising two symbiotic parts – an exhibition and a talk series, it is centred on the theme of urbanisation. Cities not only shape our environments, spaces and interactions; they also shape our roles, functions, ideas, beliefs and identities, on different levels and in different spheres – as individuals, communities and 'cityzens'. The Southeast Asia Forum makes the case for art to be regarded as part of the urban DNA. In the same vein that designers and planners build and shape cities, art explores visceral depths of human existence and civilisation by making the invisible visible. Contemporary art is a reflection of our time, and artists are instrumental to how we sense, measure and interpret perceived reality. The Forum will explore the role of artists as seismographs of society's pulses and will cast light on Southeast Asia's rapidly urbanising landscape.
The Forum's exhibition component will survey the role of artists in the evolution of contemporary societies across Southeast Asia. The projects to be presented in the exhibition will focus on 19 artists who relate to issues and sentiments of extremely rapid urbanisation in their own countries. The participating artists include Lim Sokchanlina (Cambodia), Aliansyah Caniago (Indonesia), Aditya Noval (Indonesia), Tintin Wulia (Indonesia), Chong Kim Chew (Malaysia), Moe Satt (Myanmar), Zoncy (Myanmar), Felix Bacolor (Philippines), Norberto Roldan (Philippines), MM Yu (Philippines), Sherman Ong (Singapore), Robert Zhao Renhui (Singapore), Marvin Tang (Singapore), Anon Pairot (Thailand), Piyarat Piyapongwiwat (Thailand), Navin Rawanchaikul (Thailand), Sutthirat Supaparinya (Thailand), Tiffany Chung (Vietnam) and UuDam Tran Nguyen (Vietnam).
The Forum's talk series will bring together architects, urbanists, social scientists, men and women of letters and artists to examine, through their different perspectives, the challenges of urbanisation and how cities can be re imagined through different ways of seeing, learning and cooperation. In creating encounters between observers, thinkers and planners in these different fields, the Forum seeks to bring about more inter disciplinary understanding and collaboration in shaping the underpinnings of cities as they continue to evolve, parallel to shared global conditions. Among the highlight speakers are renowned Dutch architect Rem Koolhaas; celebrity auctioneer Simon de Pury; internationally acclaimed global thinker Saskia Sassen, Lu Xun, Sifang Art Museum Founder and Director, thoughtOleader Andy C. Pratt and Tim Renner, Permanent Secretary for Cultural Affairs in Berlin.
Exhibitor Highlights and Leading Galleries at the Fair
Art Stage Singapore will present a diverse range of carefully selected galleries from across Asia and the world, featuring 173 galleries from 34 countries. Galleries that will be exhibiting at the fair hail from Argentina, Australia, China, Columbia, Finland, France, Germany, Indonesia, India, Israel, Italy, Japan, Kazakhstan, Lebanon, Malaysia, the Philippines, Saudi Arabia, Singapore, South Korea, Spain, Switzerland, Taiwan, Thailand, Turkey, UAE, United Kingdom, the United States and Uruguay. Returning exhibitors include top international, regional and Singapore based galleries such as Artinformal (Philippines), ARNDT (Singapore/Berlin), Finale Art File (Philippines), FOST Gallery (Singapore), Galleria Continua (Italy), Nadi Gallery (Indonesia), Ota Fine Arts (Singapore), Pearl Lam Galleries (Hong Kong/Singapore), Richard Koh Fine Art (Malaysia), ShanghART Gallery (China/Singapore), Tomio Koyama Gallery (Japan), STPI (Singapore), Sundaram Tagore Gallery (Singapore/Hong Kong/New York), Arario Gallery (Korea), Sullivan & Strumpf (Australia), Wei Ling Gallery (Malaysia) and White Cube Gallery (UK), among others.
Following through the concept of Art Stage Singapore as an Asian fair, there will be a strong showing of Asia based galleries at Art Stage Singapore 2016 with 133 exhibitors (around 75 percent) coming from across Asia. 37 of these galleries are Singapore based. The significant presence of these galleries will underscore the Fair's Asian identity and reinforce its position as the matchmaking point for collectors, artists, gallerists, curators and art enthusiasts in Asia. 71 new galleries will debut at Art Stage Singapore in 2016. They include Aspan Gallery (Kazakhstan), Galerie Forsblom (Finland), Gallery Ward (United
Arab Emirates), Giorgio Persano (Italy), Hafez Gallery (Saudi Arabia), Flowers (United Kingdom), Martin Browne Contemporary (Australia), The Columns Gallery (Korea), Mo J Gallery (Korea), Taka Ishii Gallery (Japan) and XOist (Turkey), among others.
Several notable regional artists will also be presenting works at the fair. Hailing from Singapore are David Chan, Ruben Pang, Donna Ong, Jane Lee, Jimmy Ong and more. Other artists include Shooshie Sulaiman and Ali Nurazmal Yusoff from Malaysia, Mujahidin Nurrahman, Nyoman Masriadi, Kinez Riza and Syagini Ratna Wulan from Indonesia and Alfredo and Isabel Aquilizan, Ronald Ventura, Nilo Ilarde and Raybert Ramos from the Philippines.
Public Artworks and Special Exhibitions
Several artworks will be exhibited in the public areas of the fairground. Initially put together by Dada 100 Zurich 2016 association in Cabaret Voltaire, Dada-on-Tour is presented in Singapore by Bruno Art Group.
It is a multimedia installation celebrating the 100th anniversary of Dadaism in 2016. By entering a "nomadic" tent, visitors get the chance to discover the visions and actions of 165 Dadaists such as Jean Arp, Hugo Ball, Marcel Janco, André Breton, Marcel Duchamp, Baroness Elsa von Freytag Loringhoven, Francis Picabia, Sophie Taeuber Arp and Tristan Tzara, among others.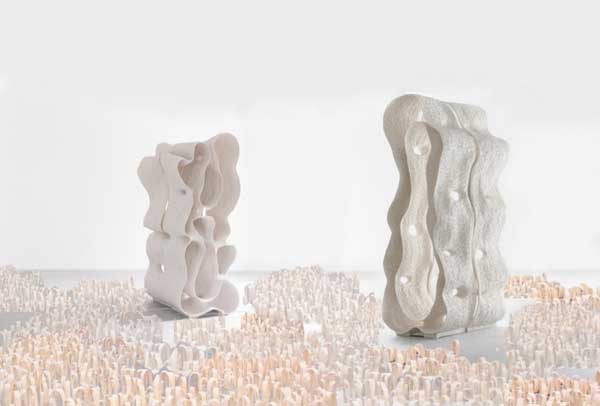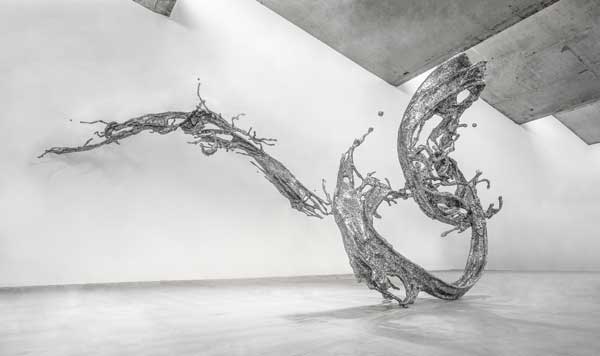 Several artworks are exhibited at the public areas of the fairground, promising visitors artistic encounters beyond the gallery booths. At the entrance, visitors are greeted by Netscape, a massive motion sensitive installation by Thai artist and designer Ploenchan "Mook" Vinyaratn. A new wooden sculpture specially made by Spain's leading artist, Manolo Valdés (presented by Galerie Forsblom), will also be featured. Thai artist, Anon Pairot, will also present a curious artwork series, Sweet-Word-#HAPPY,-#LOVE,-#LIFE,-#FAITH. This year's Fair also sees a special exhibition of photographs and oil paintings by Swiss artist Hannes Schmid, well known for his iconic 'Marlboro Man' in the 1990s, with support from Bank Julius Baer.
Video Stage
Video Stage also returns this year with a selection of new materials from across Asia. Today, video art has established itself firmly worldwide as an exciting genre. No longer seen as 'esoteric', video art enjoys a large audience base and devoted collectors. Continuing Art Stage Singapore's collaboration with NTU Centre for Contemporary Art Singapore, Marc Glöde and Mark Nash present their selection of video works entitled Velocity. Additionally, Video Stage will also display works by Aspan Gallery (Kazakhstan), ChiOWen Huang (Taiwan), Cemeti Art House (Indonesia), Aike Dellarco and ShanghART (China), The Ferry Gallery and Numthong Gallery (both Thailand). A classic work by Peter Fischli and David Weiss (Switzerland), "The Way Things Go" (1987) will also be shown.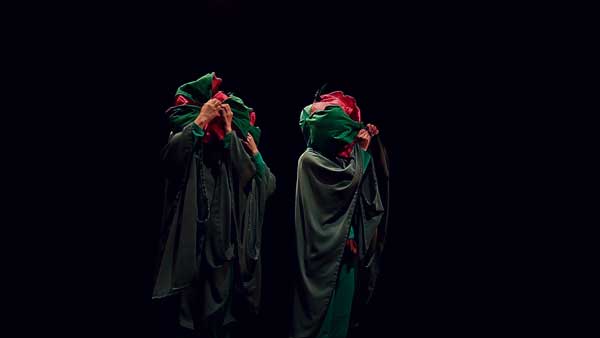 International Visitors and Collectors
As the leading contemporary art event in Singapore and the region, Art Stage Singapore is the meeting point for international art collectors and art professionals. High profile visitors to the Fair in 2016 will include Ann Demeester, Director of the Frans Hals Museum | De Hallen Haarlem; Lee Yongwoo, Founder, Gwangju Biennale and President, International Biennial Association; Joan Jonas, artist and representative for the United States Pavilion at Venice Biennale 2016; Paul Ha, Director, MIT List Visual Arts Center, USA; Hou Hanrou, Artistic Director, MAXXI Museum, Rome; Mami Kataoka, Chief Curator of Mori Art Museum, Tokyo; Yuko Hasegawa, Chief Curator at Museum of Contemporary Art, Tokyo and Daniel Bell, Celebrated Political Scientist, Tsinghua University.
Art Stage Singapore 2016 is the anchor event of the Singapore Art Week and takes place from 21 to 24 January 2016 at Marina Bay Sands Expo and Convention Centre. Main Partners of Art Stage Singapore 2016 include Marina Bay Sands, Le Freeport and Kingsmen with Official Partners Ruinart, Singapore Airlines and LG. Strategic Partners of Art Stage Singapore 2016 include Economic Development Board (EDB), Singapore Tourism Board (STB), National Arts Council (NAC), National Heritage Board (NHB), the Singapore Art Museum (SAM) and the National Gallery Singapore, with Official VIP Lounge Designer ASYLUM and Official Hotel Partner Rendezvous Hotel Singapore, among others.
For more information, log on to www.artstagesingapore.com
---
Online magazine that promotes and markets Southeast Asia's established and emerging visual artists and it's art scenes. And a stepping stone for young aspiring visual artists to showcase their works to the world.
All author posts