If size was a measure of strength, neither Han Sai Por (b. 1943) nor Singapore would reckon for much. But like the little Red Dot which despite its physicality has established itself as an economic powerhouse, Singapore's iconic sculptor, though petite in size, has also quietly worked her way to a formidable position in the art world through determination, passion and hard work.
The 72 year old sculptor who first studied art via part-time courses at NAFA in the mid 70's went on to do her degree in Fine Arts in the United Kingdom in 1979. Upon her return, she was chosen to be one of the first two art teachers at the Nanyang Girls High School's newly established Art Elective Programme. Later, she also taught at Nanyang Academy of Fine Arts,  LASALLE College of Arts and National Institute of Education in Singapore  before becoming a full- time artist in 1996 at the age of 52.
Han's works have been exhibited extensively, locally as well as internationally. She has participated in shows in Japan, Korea, China, India, Canada and Italy and was awarded Singapore's highest cultural award, the Cultural Medallion in 1995. At home, her public works are located in landmark locations all over the island:  the Esplanade, Capital Towers, National Museum of Singapore, the Istana and the Changi Airport being some of these.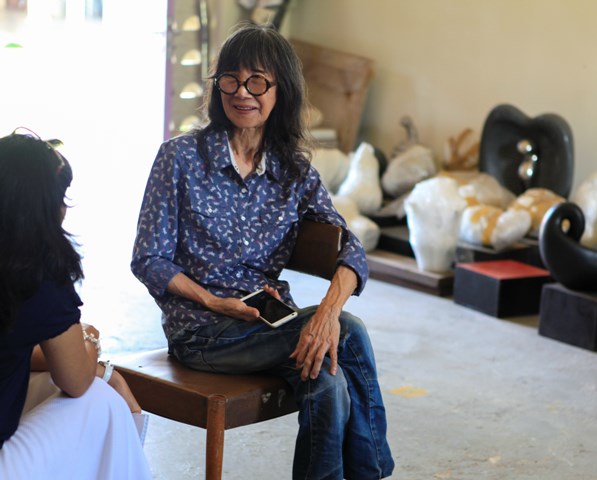 In most conversations about contemporary art in Singapore, sculpture rarely comes up. Artists today have a plethora of materials and methods at their disposal and the highly urbanised Garden City does not exactly encourage artists to be inclined toward natural materials like stone granite, marble or wood. That is precisely why Han Sai Por is such a gem in the art landscape of Singapore. Over the years she has worked in a variety of media: stone, granite, marble, bronze, glass, paper and wood, to name a few, but her stone sculptures are what people remember her work most by. When asked how she came to work in stone, Han says that while she was studying in England, one of her lecturer was a good stone carver and under him she developed her skills. Stone is a common and popular medium for sculpture in the United Kingdom and so it was an obvious choice for her whilst she was there. However, when she returned to Singapore, it wasn't so easy to acquire stone or granite and she often had to travel to Malaysia to source her materials from the quarries there.
Han's work process is multi-level and starts with sketching the concept that she has in her mind on paper. She then converts the two dimensional concept into a three dimensional one by making a mock-up in clay to make sure that she has all the facets worked out. Only once that is finalised, does she begin work in the material of her choice.  For Han, the medium is her language: she says that the idea and concept behind the work as well as the location and surroundings of the installation drives her choice of material. For example in her Black Forest (2011) series, she used wood, charcoal and bone to express her ideas about the environment and changing landscape; and for her work Shimmering Pearls (1999) at Capital Towers, she chose to work in coloured glass as the installation was to be immersed in water and lit up from underneath. Han states that she learns from the material by handling it; and that every material has its own philosophy. "You may want to use a certain material but its characteristics may not be suitable for the artwork or the location where it will be installed. For example, certain kinds of wood may appear solid and hard on the outside but may be too soft to sculpt from the inside. This can only be understood once you handle the material and work it with your hands."
The tools that Han uses to work her materials are also special. She uses power tools to sculpt materials like stone, granite and marble and often travels to China to work as the resources and technology to handle large and heavy stone is available there.
In 2014 Han did a residency at the Singapore Tyler Print Institute. The experience was an interesting one for her as it was the first time she was working with pulped paper which is hard to control and mold. The more than 30 works that Han produced at the residency were exhibited as a series titled Moving Forest (2013) and were in a variety of media (cotton pulp, powdered pigment, ink, and thread) and produced through various techniques (sculpture, prints and drawings).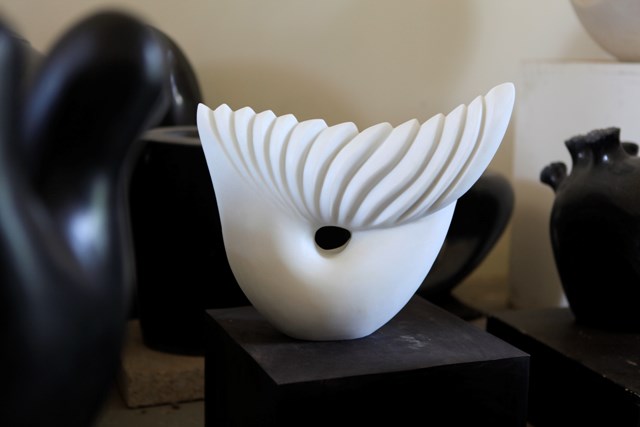 Aesthetically, Han's organic work is gentle and soothing. There is a sense of flow and seamlessness in her creations which evoke a contemplative and mellow reaction – which of course is dynamically opposite to the reality of the material that she is working in. Her works blend into their environment so effortlessly that the casual observer will often not realize that there is an artwork in their midst. But Han has not always worked on themes of environment and nature. She reveals that her first piece of work was a sculpture of herself which she did not like and therefore destroyed. Visually, Han's work is always organic looking and there is never aggression or harshness in her work. Perhaps it is a reflection of the artist personality herself who is a soft spoken and gentle figure.
Of contemporary art trends, Han says that nowadays "we want something new all the time. We want to forget the old as soon as something new comes along. Our culture wants to get out from the old ways. We don't have a culture that develops progressively. There are better art schools and facilities and more emphasis on conceptual art nowadays".
Han sculpts most of her work herself so we asked her what she thinks of the recent tendency for contemporary artists to conceptualise the work and then outsource its production. Han's reply is that "if it is conceptual work then it really doesn't matter who makes it as the idea or concept is more important. An artist can produce what they want even if they do not have the skill to do it themselves -skilled technicians in India and China can do the work". For now though, she says she still prefers to work with her own hands, though maybe one day she will do the same too, she adds with a smile.
One of the biggest challenges that Han currently faces is the lack of open space to work in. In the early days of her practice, she lived in the Changi area and used her kitchen space to do her work. At present she has a studio in the Goodman Art Centre but given the nature of her work, this is not an ideal work space. Unlike the other occupants of the Centre, Han's work creates sound, heat and debris that does not fare too well in a closed environment for herself or her neighbours.
As we close our conversation, we ask Han what is the one thing that she would like people to know about her or for her work to be remembered by. Her reply is a simple one: She wants people to remember her as a sculptor and not as a stone carver. The material shouldn't define her she says. She has worked in many other materials and has chosen each material based on the concept. For her, the material has never defined the work. "Working in stone is hard… the sound, the dust the hardness. I will not say I enjoy working in stone but I enjoy the process and if the concept suits stone then I work in it".
---
is an independent writer on contemporary Asian art and culture. She is also a docent and enjoys facilitating the decoding of contemporary Asian art.
All author posts