Lately you must have seen these unusual stickers with quirky captions stuck on the pedestrians crossings across Singapore. Singapore have always been associated as a straight laced country. With bubble gum bans and street art needing to apply for licenses. So with the appearance of these quirky round stickers, it bring smiles to every stressed up Singaporeans who does nothing but work our butts off, in order to pay for the raising cost of living in Singapore. And not to forget to compete with the ever increasing foreign workers for our jobs.
I have been taking those quirky stickers as part of a street art. And since our government has been encouraging art to be part of everyday life. The stickers were a breath of fresh air.
However, yesterday, Artitute found out that the person behind the stickers and a few road signage with the word, "My Grand Father's Road", who is a 25 year old lady, also known as the Free Sticker Lady, have been arrested and may face fine, 2 years jail and even canning.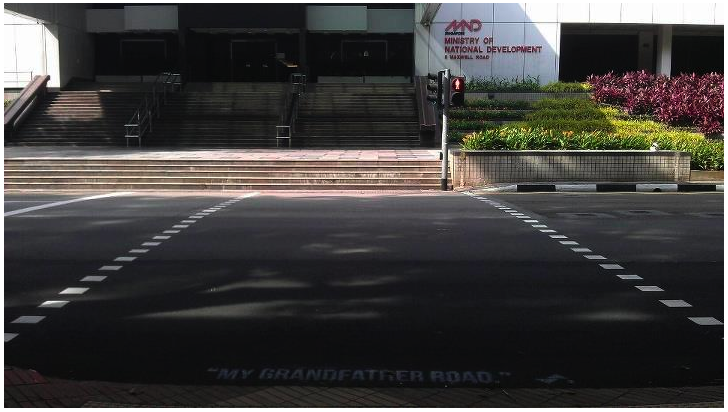 My Grandfather Road – Free Sticker Lady Arrested. Photo by URA
"A person who is convicted for vandalism shall be punished with a fine of up to S$2,000, or jail up to three years and caning."
I do agree that the graffiti of the words on the roads may have gone a bit too far. But does the punishments need to be that intense? Canning?!? Is that even necessary? What about those folks who have convicted rape, robbery and death by speeding? They only get away with fine or jail time. How about canning for these folks instead?
Is Singapore moving backwards to the 90s? As this penalty reminds us of the Michael Fay graffitti incident in 1993. Ever since Micheal Fay's verdict and sentence to four months in jail, a fine of S$3,500, and six strokes of the cane, Singapore has been notoriously known as an austere nation who punishes anyone who vandalize public property.
LTA or URA should consider working with this creative talent to come up with some campaigns. Especially a road safety campaign targeting at the crazy foreign drivers. Heck, even NAC should start thinking about collaborating with the Free Sticker Lady for the upcoming Biennial or Singapore Arts Festival. We hope that the authorities will lessen her charges and drop the canning and jail time.
Photos credit – http://skl0.tumblr.com/
Latest updates:
Petition letter to lesson the charges of the Free Sticker Lady have been set up by a lady, Stephenie Choy. Please check out the Facebook event page and sign the petition here.
---
is the owner and founder of Artitute, loves to attend fancy art exhibition, shares them with her friends, dabbles in amateur printmaking and photography and is a crazy cat lady.
All author posts