The 30 shortlisted artworks were brought to Hong Kong and is currently exhibited at Christie's Hong Kong gallery. The judges will score the artworks live and pick the winner who is awarded a prize of US$30,000, a trophy and the title. The winning artwork becomes property of The Sovereign Art Foundation (who then lends the work out to patrons, partners and institutions) and the remaining 29 finalist artworks are sold at auction with the proceeds being split evenly between the artists and The Sovereign Art Foundation.
To encourage interaction with the prize and to increase exposure for the artists, the public are invited to cast their vote online or in person for their favourite artwork displayed in the exhibition. This artist is awarded The Schoeni Prize and US$1,000.
The winner will be announced on the Gala Dinner & Charity Auction on the 8th May at the Four Seasons Hotel, Hong Kong which the 29 finalists' artworks will be auctioned during the event.
Artitute's Top 6 shortlist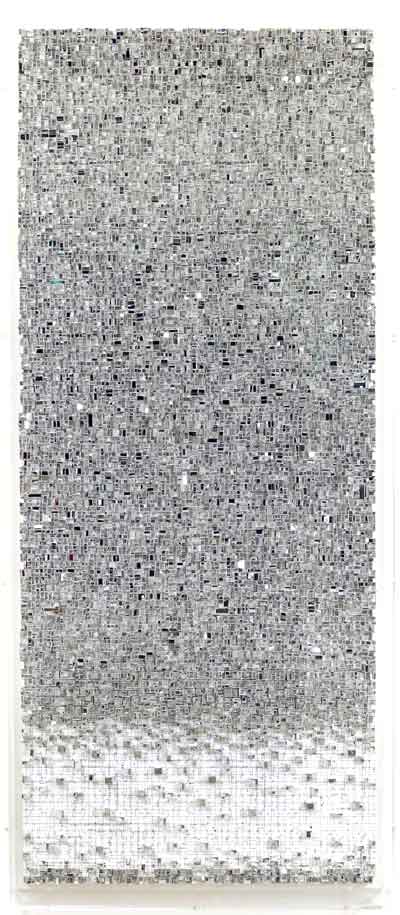 Katsumi Hayakawa was born in 1970 in Ibaraki, Japan. After graduating from Nihon University in 1992, he went to the United States and received his M.A. from the School of Visual Arts. Since 2009, he has developed stereoscopic plane expression by creating perspective in his works. His most recent works are three-dimensional installations and wall works made out of paper and glue. The pieces are initially read as a whole – a pulsating arrangement of regular shapes and volume – then as an assemblage of individual components that make up the holistic sculpture.
Reflection 1508M is composed of about 15,000 mirrors and paper cubes on which various lines and signs are printed. Each mirror is neatly placed facing each other so that they create diffused reflection and give the viewers a visionary illusion. The viewer cannot recognize if they are seeing the actual printed sign or a mere reflection in a mirror. This is his study of the uncertainty of the way of seeing, and the ambiguity of recognition.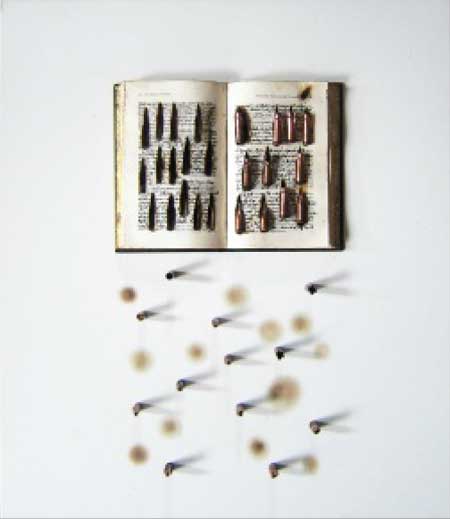 Kingsley Gunatillake is a painter and installation artist whose formal training includes a BFA from the Fine Art University of Colombo. He has been a visiting Senior Lecturer in Visual Arts for many years at University of the Visual and Performing Arts in Colombo and is a founding member of the Vibhavi Academy of Fine Arts, the most alternative non-government visual art education institute in Sri Lanka.
Living in a country beaten by a war for 30 years, Kingsley tried to address the social, political and cultural issues of the time trough his art; to ultimately confront the war and its violence. Having list the innocence of childhood to the insurrection of Sri Lanka;s south, where thousands of youth disappeared or were killed and over 97,000 books were burnt in one of the most violent examples of ethnic biblioclasm of the 20th century, Kingsley ask provoking questions with Killing Books: What do these books offer? Words or wisdom or bullets of destruction?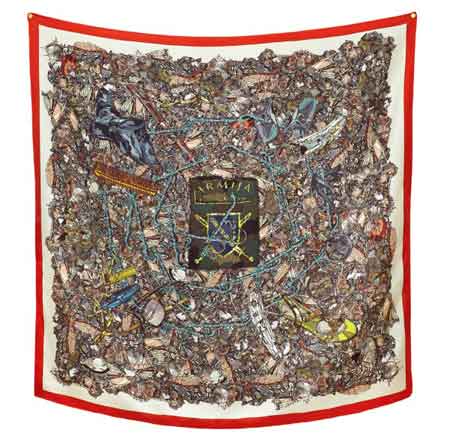 Born 1983 in Manila, Philippines, Pio Abad works across sculpture, installation, photography and print. His practice is mostly concerned with the study of history and its attendant acts of commemoration, speculation and revision. His artwork, taking on the form of domestic accessories, glides seamlessly between historical events, enacting quasi-fictional combinations with their leftovers to pose significant questions for the present.
This piece is part of an ongoing series of unique digital prints on silk, and for the artist, each piece serves as a contemporary interpretation of the vanitas still life, with its references to commemoration, domesticity and mortality. In this particular case, objects bearing specific histories of loss and degradation are transferred onto a luxurious surface to tell a more universal narrative, with the ethics of representing history through something viewed as frivolous coming into play. Each silk square serves as a reminder that ultimately every image, personal or ethnographic, traumatic or heraldic, ends up being co-opted and mistranslated by capital and the human desires that drive it.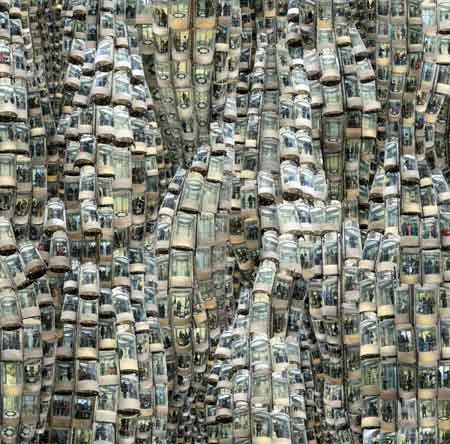 Born in 1979 in Korea, Jiyen Lee attained a Bachelor of Fine Arts from Seoul's Hongik University before going on to pursue his postgraduate education at Goldsmiths, University of London, where he graduated with a Master's Degree in 2010.
To create Above the Timberline 4, Jiyen took around five thousand digital photographs of various people traveling in elevators in Seoul – the aim being to compose the pursuit of accumulation of different times. The aggregation of a multiple moments results in the a creation of an imaginary space, consisting of fragments of different times, but simultaneously existing within the same space. This artwork engages its audience to experience a unique spectacle, which blurs, transgresses and perhaps even negates the boundaries between what we call "beginning" and "ending", "centre" and "periphery", "individual" and "collective", "private space" and "public space", and eventually "local identity" and "global identity". In short, people within these photographs resonate with this created time and space, within the limitless boundaries.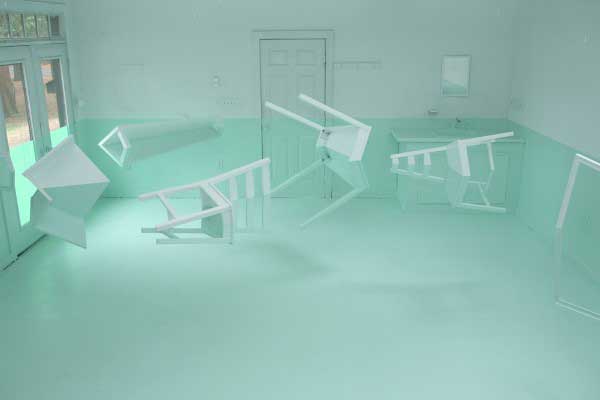 Born in Seoul, Korea, Kyung Woo Han attended the Skowhegan School of Painting & Sculpture in the United States, has an MFA in Film, Video and New Media from The School of the Art Institute of Chicago, and graduated from Seoul National University with a BFA in sculpture. He won a Pollock-Krasner Foundation Grant and NYFA fellowship in 2010, was chosen for Smack Mellon Hot Picks and the artist residency program at Yaddo in 2009, and was selected as an AIM artist at the Bronx Museum in 2008. He was also a Swing space artist at LMCC, an AHL foundation visual arts winner in 2007, and an Asian Cultural Council Rockefeller Brothers Fund grantee in 2006.
This particular piece is based on the theory that "the only absolute thing in the world is that nothing is absolute". Green House is a deceiving optical illusion made of distorted, suspended and symmetrical chairs, floating in what we could take for water. It explores the concept that people's perception of artwork can be influenced by the personal experience that person goes through at the exhibition space. Thus, people's perception acts as general standard, rather than an absolute standard for understanding things. Once viewers see the actual installation, they realize the whole setting is intended to cause deception.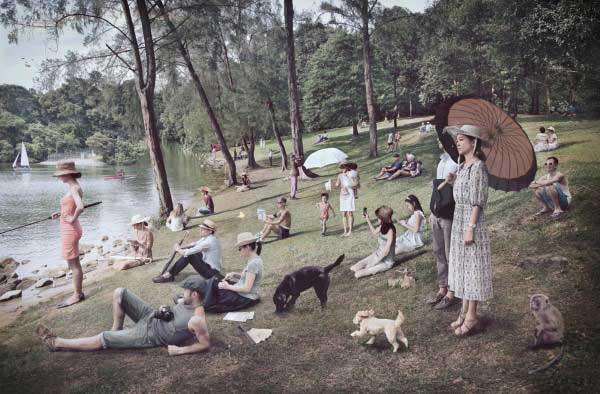 Eugene Soh was born in Singapore in 1987 where he now lives and works. He obtained a Bachelor of Fine Arts from the Nanyang Technological University, School of Art, Design and Media, Singapore in 2013. His new media art explorations include the establishment of the virtual art gallery Gallery.sg as a site for webart exhibitions.
This particular piece was shot over multiple sessions and created in homage to Sunday Afternoon on the Island of La Grand Jatte by Georges Seurat. Like his previous photo composite works, the models in the image are everyday people, present during various Sunday afternoons at Upper Pierce Reservoir, in Singapore. With elements of everyday life alongside uniquely Singaporean imagery, it's a fresh take on an old classic. As Soh states, "Many things have changed since the 19th century when the original Sunday Afternoon was painted. I wanted to address some of those changes while reflecting upon current social developments and create an image that is recognisably Singaporean."
---
is an online showcase and magazine covering Southeast Asia's established and emerging visual artists and art scenes.
All author posts