The annual UOB Painting of the Year (POY) competition is one of the longest running art competitions in Singapore. Its past winners include iconic modern and contemporary Singaporean artists like Chua Ek Kay (1991), Anthony Poon (1983) and Goh Beng Kwan (1982) who are now synonymous with Singapore's fast developing art scene. The prestigious art award was initiated in 1982 and marks its 33rd edition this year. Initially only for Singaporean artists, the UOB prize has gradually been restructured to include the neighbouring countries of Malaysia, Thailand and Indonesia. The competition, which was initiated to provide a platform for emerging talent, has also since last year been split into two categories; one for emerging artists and the other for established artists who have a proven track record.
Cash prizes are awarded for the best painting from each country as well as for a Southeast Asian Painting of the year. The winning artists from each country also have the opportunity to compete for a month-long residency programme at Fukuoka Asian Art Museum in Japan.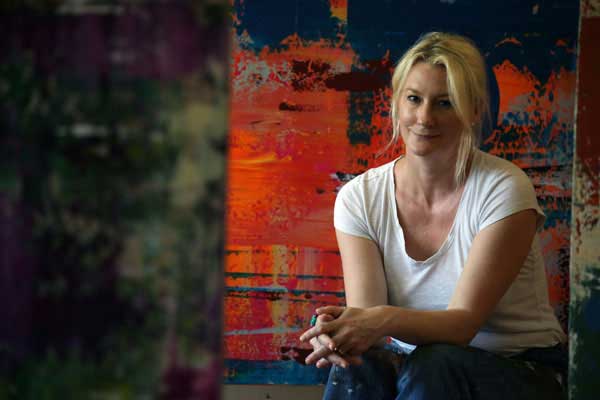 As part of its efforts to raise the awareness and appreciation of Southeast Asian artists and arts, UOB Bank has opened up its UOB Art Gallery to its Painting of the Year alumni to exhibit their latest artworks. The first Painting of the Year artist to exhibit at the new gallery is last year's winner for both the Singapore and Southeast Asian Painting of the Year Awards, Stefanie Hauger.
A designer turned artist, Hauger lives and works in Singapore. Her winning entry, Space Odyssey was inspired by mandalas and created using physical movements to manipulate paint. We spoke to Stefanie to find out more about her, her work, winning the award and what is next for her:

Space Odyssey by Stefanie Hauger
Durriya Dohadwala (DD): You have a background in designing and had a successful career as a designer before you gave it up to become a full time artist in 2011.  How and why did that happen?
Stefanie Hauger (SH):  When I was at art college I loved the fine arts very much, especially life drawing and sculpture, but something inside told me to try the commercial route of design. So I studied Industrial Design instead and then Design for Disability. That eventually led to my entry into the world of Interior Architecture which became a long career, 15 years. It was during this time that I saw a gaping hole in the Singapore market for decorative lighting and in 2002 I started my retail business Vanilla Home which I owned and ran for 11 years. I spent all this time selling other people's creations and as the years went by I realized more and more that I wanted to go back to creating things by myself, using my hands again and my design knowledge. This then led to designing my own collection for Vanilla Home with a factory in Argentina but deep down there was a desire to get more hands on with the actual execution of the creation. I knew that painting was a huge part of my life as my mother is a very prolific and successful artist and I had been watching her for 20 years at work. I suppose I felt that I had a story to tell in paintings and so one day I picked up the brush again and the next chapter began…
DD: Your work is very lively and colourful, with a lot of energy in it. What inspires you in terms of themes and what is your preferred medium and material?
SH: As a result of my career in interior architecture, notably hotel design where everything is on a grand scale, I am not afraid of scale or of colour. I am very aware of the impact a painting, can make in an interior and I know that wonderful effects can be achieved when one pushes these to their limits. I was also a fabric designer for some time at school and at college and have always adored the brilliance of colours in fabrics. I am definitely not a taupe/beige/grey person although I am experimenting with this as well as there is a strong market for it. At the end though I want to stay true to what I love, namely strong colours, with my paintings so I always start out with a hugely vibrant palette and then work away at it until it is less challenging. I have found that people can deal with strong colour on a small scale better than on a very large scale, so I am currently working on how I can make colour more palatable. In terms of themes I generally start out with a technique that I am developing. Then as this technique evolves, meaning begins to form within it, and then the narrative begins and I hone down the technique to work within the narrative. I am experimenting all the time with different mediums so there is no preference as such, but at the moment I am working with acrylics.
DD: What drew you to participate in the UOB POY competition?
SH: I had heard of the UOB POY competition and found it an alluring and challenging project to work on. It is always good to have a goal when you are painting and this competition spurred me on enormously to push myself harder and further.
DD: How did the work Space Odyssey come about?
SH: I had been working on my Mandalas series for a little while, in small scale so far, and people kept commenting that the paintings looked like planets. And thus the narrative began, as described earlier. I then embarked on larger paintings and several where I was specifically trying to achieve the 'planet from space' effect. The UOB POY competition landed on my desk and I knew that I wanted to create a beautiful image of a perfect planet for UOB. Colour choices and scale had everything to do with it, it had to be a painting that you could totally immerse yourself within for it to work…it was an amazing piece to work on as it literally opened itself up to me as I was working on it…I am so thrilled with the way it turned out as there is absolutely no room for error with this technique.
DD: How has winning the UOB POY changed things for you? In terms of opportunities and the way you work?
SH: Winning the UOB POY has been a massive validation that my decision to become a full time artist was the right one. The art world is so tough and subjective, so full of critics (although I strongly believe this to be a good thing) but also full of lovers of creation and celebration, of questions and also hopefully answers. Artists need to keep challenging and working outside of boundaries to achieve this. Winning the prize has allowed me to do this, to believe that pushing boundaries and working within unchartered territory is acceptable and valid. It also made me work extra hard at producing a body of work that shows the different ways that I think about and approach art, which hopefully the exhibition New Horizons demonstrates. The UOB POY prize is a huge honour and it has opened many doors for me in the art world. It is a globally recognized award and my win even reached the shores of France. This naturally took me from being an unknown young artist to one whose horizons were instantly broadened and sharpened and I became part of the Singapore art community which has been a wonderful development. Working with the UOB POY team on several projects has also been a great pleasure and I very much look forward to our continued collaboration.
DD: What are you working on next after the Mandalas and Moments series? 
SH: I am currently working towards my next solo exhibition for The Podium Lounge at Ritz Carlton Millenia Singapore during the 2014 Formula 1 Singapore Airlines Singapore Grand Prix. Last year I launched a sculpture exhibition there and this year it will be paintings which will try to capture the F1 spirit…another wonderful challenge for an artist!
New Horizons  – A solo exhibition by Stefanie Hauger

The artist's 1st solo exhibition, titled New Horizons, at UOB Plaza 1, is part of a series of exhibitions at the UOB Art Gallery that will feature the latest collections by the UOB Painting of the Year alumni. Now till 11 August 2014, at UOB Plaza 1, 80 Raffles Place, Singapore 048624.
The competition is now open for 2014 and is inviting entries from both emerging and established artists from Singapore, Malaysia, Indonesia and Thailand. Open Call details and application forms can be found at  www.uobpoy.com. The deadline for entry is October 12, 2014.
Images Credit: Courtesy of UOB Painting of the Year (POY)
---
is an independent writer on contemporary Asian art and culture. She is also a docent and enjoys facilitating the decoding of contemporary Asian art.
All author posts