A couple of months ago, I stumbled upon an Instagram account, under the handle @ChineseWhiskers, that was filled with Hong Kong shops and their furry little occupants. Cats. I was even more delighted to learn that Dutch artist, Marcel Heijnen, who was formally based in Singapore, was the person behind these photographs.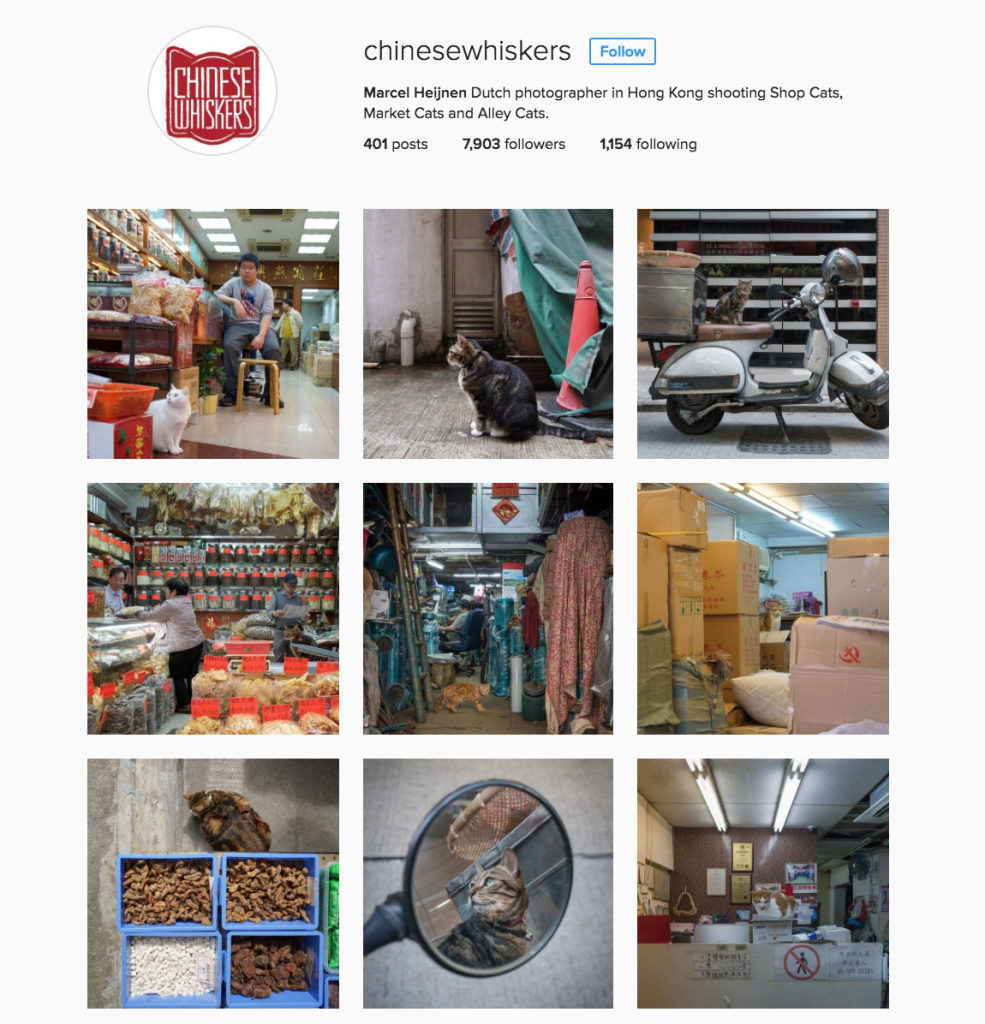 Hong Kong's shop cats are the little emperors of their retail kingdoms. When photographer Marcel Heijnen moved to the city he was immediately drawn to these photogenic mouse-hunters, and this book is the charming result. While the cats are undoubtedly the furry celebrities of his photographs, each shot delivers an insightful context of Hong Kong's traditional trades. From dried fish and rice to paper offerings, the backdrop of each shot presents a portrait of Hong Kong's local culture.
I had the chance to meet up with Marcel one morning and after a lovely chat over coffee he invited me to join him on a tour to visit the shop cats at Sai Yun Pun. As a cat lover, I was thrilled and accepted his invitation. During the tour, I noticed how the shop owners and cats immediately warmed up to Marcel. And with obvious pride and attachments, they told us little stories of the felines. Except for one or two occasions when the shop owners, who were obviously camera shy, turned us away. Marcel has the uncanny ability to spot every cat in the shops even though they were almost camouflaged by their surroundings.
"In most modern cities there will be all kinds of rules and regulations against cats in shops. Not in Hong Kong, and I'm grateful for that. Here we can still witness this wonderful symbiotic relationship between human and feline, and the very reason for it harks back to why we domesticated cats in the first place, centuries ago: mice-catching and companionship.

And yes, it's about the cats. But it kind of isn't at the same time. It's just as much about the context; these chaotic-yet-organically-organised traditional Chinese shops that form beautiful photogenic subjects in their own right. Places in which time seems to have stood still, devoid of branding and all the other modern-day retail trickery we've grown accustomed to." – Marcel Heijnen
Marcel Heijnen will be launching his books and prints, in his upcoming pop-up exhibition at Blue Lotus Gallery in Hong Kong.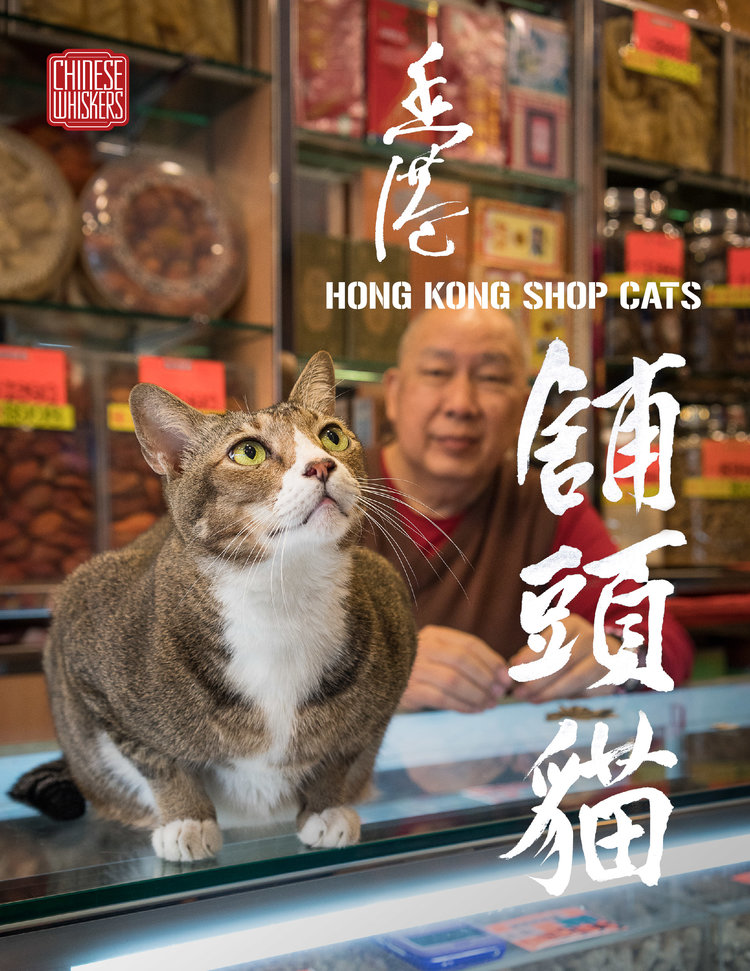 'Hong Kong Shop Cats'
by Marcel Heijnen
Pop-Up Exhibition and Book Launch
organized by Blue Lotus Gallery
9 — 11 December 2016
ABOUT THE EXHIBITION:
Hong Kong Shop Cats is a playful project bundled in a very affordable book (HK$250) consisting of a series of photographs by Marcel Heijnen, introduction and cat stories by Catharine Nicol, haikus by Ian Row and calligraphy by old master Taiyuan Sensan. Hong Kong Shop Cats doesn't only narrate the stories of the main protagonist; the shop cat, it also give us a unique insight in the traditional shops they inhabit.
The cats are believed to be lucky by their owners. They are each an essential part of the life, business and family of the shops in which they live and hunt. While some were sought out by the shop owners for their hunting skills, other cats made the decision to adopt a shop themselves, just turning up and making it their home.
In certain areas, like Sheung Wan and Sai Ying Pun, where many of the cats in this book live, you'll find almost every local shop has a cat. Owners believe the mere smell of cat heralds danger to mice, so even if the, ahem, less fit among them have lost their hunting instincts, just being in residence is enough.
The shop owners, without fail, have grown to love their feline companions. Not only for the company they offer day in, day out, but also for their business skills. The cats, especially the playful ones, bring customers into the shop by enlivening the atmosphere and providing a friendly welcome. They create an extra bond with the customers and can even exert some of their mysterious influence in boosting sales. It seems the cats' lucky reputation is more than just a legend.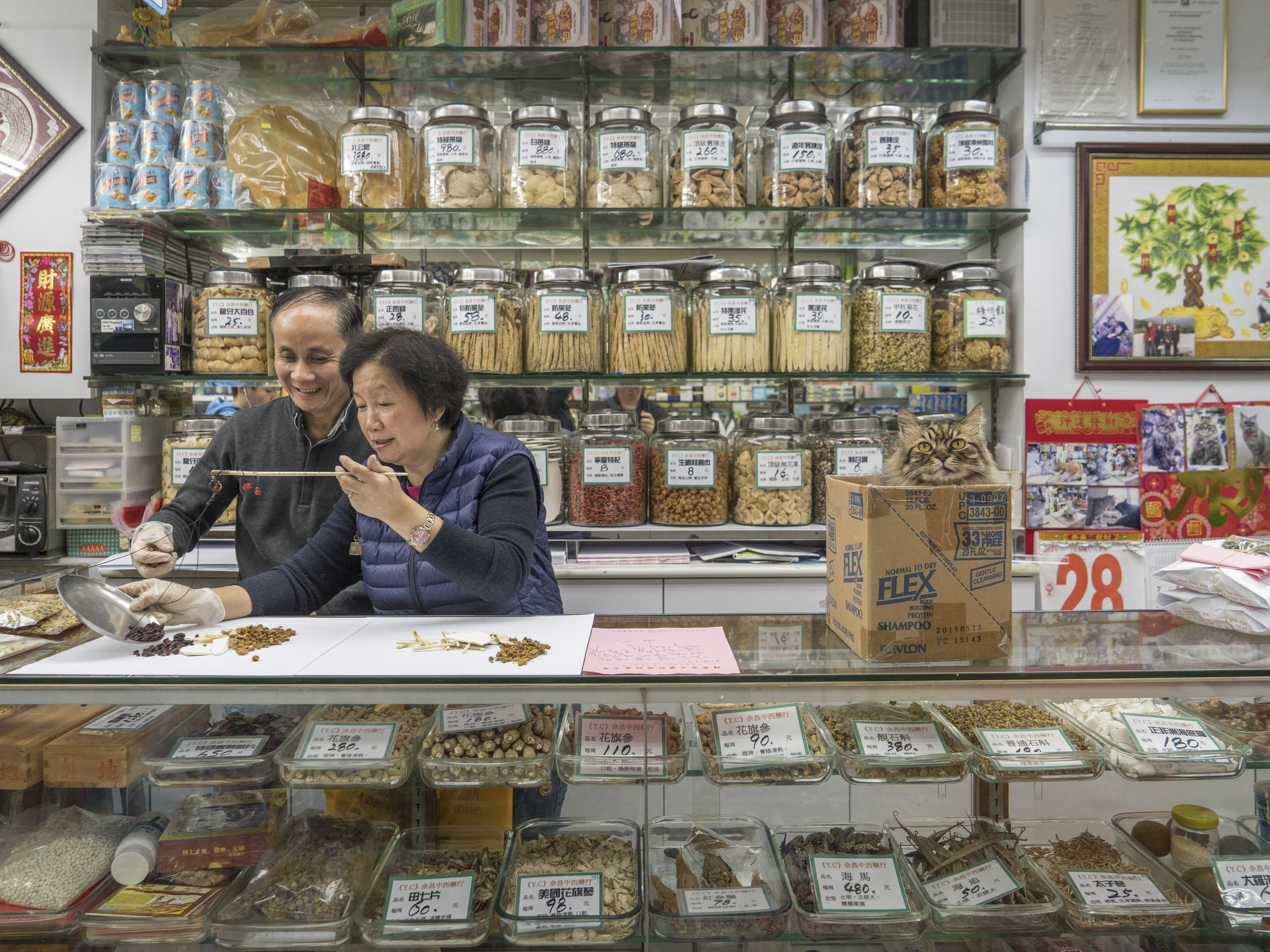 ABOUT THE ARTIST:
Marcel Heijnen is a photographer, designer and musician. Originally from the Netherlands, he has called Asia his home since 1992. Self-taught in nearly everything he does, Marcel's creativity is driven by a general curiosity about life and its meaning.
He works, often concurrently, on a number of photo series, capturing vastly different aspects of life in Asia, but with urbanisation and impermanence as underlying themes. This is his second photography project bundled in a book, and the first in the Chinese Whiskers series.
---
is the owner and founder of Artitute, loves to attend fancy art exhibition, shares them with her friends, dabbles in amateur printmaking and photography and is a crazy cat lady.
All author posts